WAGF 2019 - Abbe May & The Swamp Stompers at Settlers
Strings Attached: The West Australian Guitar Festival | Friday Night feat. Abbe May & The Swamp Stompers at Settlers Tavern, MR
About this Event
ABBE MAY
One of the strong women of the Australian music industry with much respect across radio, blogs and venues around the country, Abbe May has been named by Western Australian Music as WA's best singer 9 times and has been nominated for 27 WAM awards, winning 21 since she began performing original music in 2008. Abbe May is an ARIA, WAM, AIR, AMP and J Award, winning and nominated artist, the hand-picked guitarist for Peter Garrett's Alter Egos and a champion of the LGBTQIA+ community.
A constantly evolving artist, she has performed at a myriad of summer music festivals including Big Day Out, Meredith, and Pyramid, and supported Neneh Cherry, The Preatures, The Black Keys, Midnight Oil, The Motels, Art V's Science, Tim Rogers, Adalita, Magic Dirt, Emiliana Torrini, Killing Heidi, You Am I, Peter Garrett, Bob Log III, Kim Salmon, Dave Graney and Claire Moore.
Abbe is known as an exciting performer and phenomenal singer, songwriter and guitarist, a poetic, insightful, hardhitting lyricist and visual artist who harnesses and openly expresses her sexuality without shame. She has spent the past four years creating her fifth studio album "FRUIT", released to tremendous acclaim in 2018. Named Album Of The Year in the 2018 WAM awards and shortlisted as one of the nine most important albums of 2018 by the Australian Music Prize, it is her most succinct and powerful declaration of identity yet. A melodic, upbeat and soulful collection of songs made to honor the lives of those who are 'other'.
With sly humor, Abbe graduated from her critically acclaimed early explorations of rock and blues to become a guitarslinging, beat-driven, iconic performer with an atmospheric cocktail of indie riff-rock, gospel, soul and electronica.
https://www.stringsattachedfestival.com.au/abbemay
─────────────────────────────────────
THE SWAMP STOMPERS (NSW)
'Catchy grooves, intelligent songs and youthful hunger – this band has the right mix of potions to take Australian blues and roots to the next level.One of my absolute favourites.'' Lloyd Spiegel Music
The Swamp Stompers play funky rock and blues with heavy grooves. Emerging from the dirty backwaters of NSW, the band sounds like the musical lovechild of John Butler Trio, Led Zeppelin, and Red Hot Chili Peppers, with three-part harmonies, catchy guitar riffs, and didgeridoo soundscapes setting this original blues-rock trio apart from the pack.
https://www.stringsattachedfestival.com.au/theswampstompers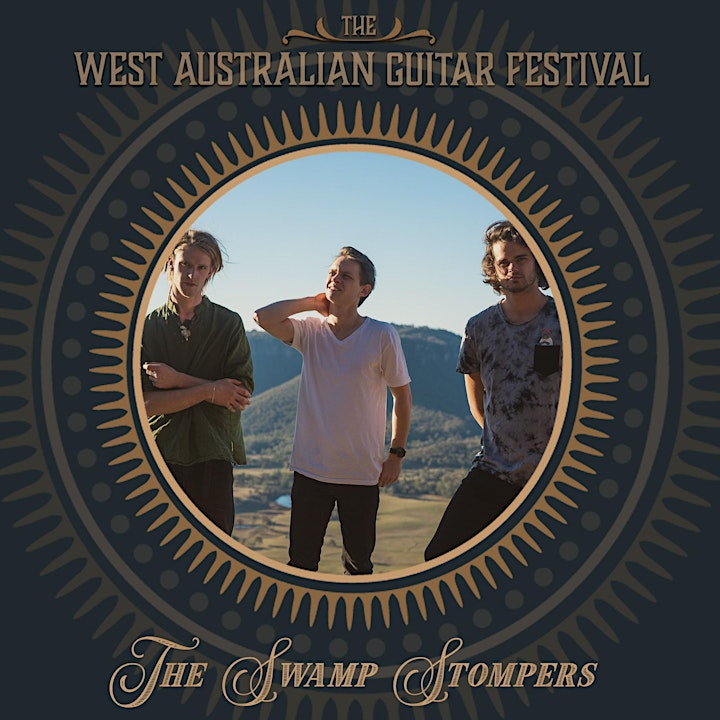 THE SWAMP STOMPERS | SHADOWS ON THE WALL
THE SWAMP STOMPERS | WISHING I HAD YOU