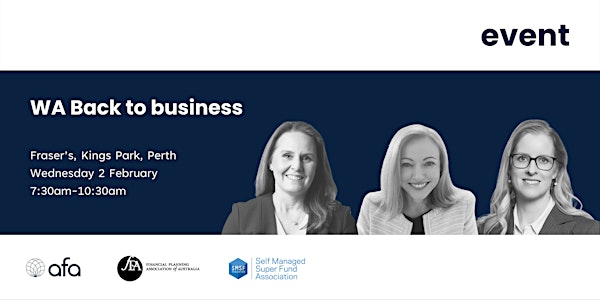 Event Information
Location
60 Fraser Ave
60 Fraser Avenue
West Perth, WA 6005
Australia
The WA state committees of the AFA, FPA and SMSFA are excited to bring you WA's Back to business Event
About this event
The WA state committees of the AFA, FPA and SMSFA have brought together a range of quality speakers who will help you launch into a successful 2022.
- Julia Schortinghuis (Lighthouse Capital) will host a panel session that looks at the next generation of advisers. Where will they come from and how can your business benefit by supporting them?
- Jemma Sanderson (Cooper Partners) will provide a range of advice opportunities for your clients to consider in 2022.
- Sue Viskovic (Elixir Consulting) will share insights from recent research that will help drive you to success in business.
Agenda
7.30am - Arrival/networking
8.00am - Welcome
8.10am - Julia Schortinghuis hosts "How can we build the next generation of financial advisers?"
8.50am - Jemma Sanderson presents "Strategies to consider for our clients in 2022"
9.25am - Sue Viskovic presents "Positioning your business for growth in 2022"
10.00am - Summary & networking with sponsors
10.30am - Event finishes
Meet our guest speakers
Julia Schortinghuis
Julia Schortinghuis has been working in financial services since 1994. Her career began in commercial lending with the National Australia Bank, after which she worked as a stockbroker at Merrill Lynch. In the late 1990s she was promoted to the role of Vice-President within the funds management division.
Julia joined the Lighthouse Capital team in 2006 and, as a Certified Financial Planner, works directly with clients to assist them with achieving their financial goals and objectives. Julia also hosts the Good Money Habits podcast.
Jemma Sanderson
Jemma is one of Australia's leading advisors in relation to SMSFs (awarded SMSF Adviser of the Year in 2017, 2018 and 2019), and is highly regarded for her expertise in this area. She advises in all aspects of operating a SMSF including compliance with the complex rules surrounding SMSFs, contribution strategies, commencing pensions, borrowing strategies, investment considerations and structuring in light of the investment rules, succession of SMSFs and liaising with the ATO in dealing with fund breaches, enforceable undertakings and ATO audits.
Jemma's experience includes developing business and estate succession plans, establishing appropriate structures to protect personal and family wealth from being exposed to any unforeseen business or personal events, and project managing family settlements.
Jemma is a regular presenter on superannuation and SMSFs for the Taxation Institute of Australia, Institute of Chartered Accountants Australia and New Zealand, CPA and the SMSF Association across Australia. Jemma is the author of the Taxation Institute's popular publication the SMSF Guide, now in its ninth edition, and is the author and convener of the Taxation Institute's Graduate Diploma in Applied Tax Law Advanced Superannuation unit.
Sue Viskovic
Sue Viskovic is the Founder of Elixir Consulting; a proud mother of four; a sought-after speaker; a business coach; and author of a number of books and programs designed for advisers. An active contributor to, and advocate of, the financial advice profession, Sue is passionate about the important role that quality advice can play in society.
With over 20 years' experience in financial services, with roles spanning banking, funds management, advice and licensee services, Sue has built her career and her business on helping financial advisers, accountants and risk specialists to improve the way that they run their businesses and deliver advice.
Sue has participated in numerous industry committees and volunteer programs – from raising funds for the Future 2 Foundation, to her two terms as Chapter Chair for the FPA in WA, mentoring for the Macquarie University Lucy mentoring program, and assisting others to improve the profession and their personal career. She has judged numerous industry awards, and is currently a judge for the Female Excellence in Advice Awards for the AFA. Sue was thrilled to receive the Mentor of the Year Award for the Women in Financial Services Awards in 2015, and the Practice Management Consultant of the Year award in 2018.
Date and time
Location
60 Fraser Ave
60 Fraser Avenue
West Perth, WA 6005
Australia