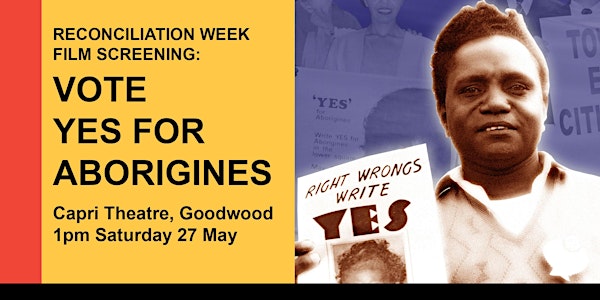 Vote Yes for Aborigines Screening - Reconciliation Week Screening
Location
Capri Theatre
141 Goodwood Road
Goodwood, SA 5034
Australia
Description
The Don Dunstan Foundation with Reconciliation SA present screening of'Vote Yes for Aborigines'
Recognising 50 years since the 1967 Referendum. Please join us for light refreshments with special guest speakers followed by the screening of 'Vote Yes for Aborigines'.
The film revisits those involved with the 1967 Referendum and the social attitudes and influences that led to the event, featuring former Prime Ministers, politicians, historians and campaigners.
More than just marking a time in history, VOTE YES FOR ABORIGINES interrogates the success of the Referendum and addresses current debates about what is meant by Australian citizenship and values and how they relate, if at all, to Aboriginal history, identity and culture.
---
You may also be interested in other events the Don Dunstan Foundation is hosting during National Reconciliation Week including:
---
Presented by the Don Dunstan Foundation, in collaboration with Reconciliation SA, Finders University, The University of Adelaide, BHP Billiton and the South Australian Government Aboriginal Affairs and Reconciliation Division.