About this Event

WHAT IS VOICE for LIFE?
VOICE for LIFE is the RSCM's acclaimed guide to training choirs and singers of all ages.
VOICE for LIFE (VFL) is a scheme that provides a framework for choral singers to develop their vocal skills, their musical understanding, and their knowledge of the repertoire. VFL is:
•A structured guide to vocal training
•Complete with supporting resources to enable teachers and choir trainers to deliver the program with confidence.
•Designed for use in schools, churches and other community choirs
. There are five levels in the scheme, for singers of any age from beginners through to advanced singers. There are four workbooks (five if you count the White preparatory one). After you complete the Dark Blue workbook you are eligible to wear the RSCM medallion on a dark blue ribbon. Completion of the other workbooks provides a similar pathway to achieving a RSCM medallion on a matching ribbon.
.The RSCM Singing Awards run in parallel with the Voice for Life scheme.
The workshop will provide an overview of material in the Dark Blue workbook, to allow a choir, or individuals, to prepare material suitable for the RSCM BRONZE level singing award. Musical components reviewed include:
MODULE A - Using the voice well
MODULE B - Musical skills and understanding
MODULE C - Repertoire
List A - Hymn
List B - Psalm
List C - Anthem or Song
List D - Anthem
MODULE D - Belonging to the choir
MODULE E - Choir in context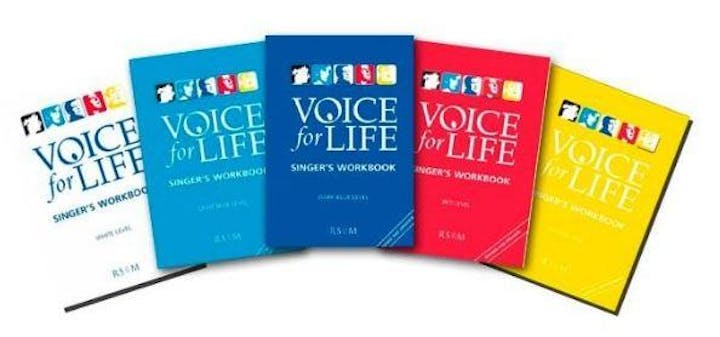 WORKSHOP PROGRAM
10 – 10.30am Session 1 – Module A – Using the voice well
Presenter: Ross Cobb
Repertoire – Bronze List A – Hymn
Repertoire Presenter: Ross Cobb
10.30-11.00am Session 2 – Module B – Musical Skills and Understanding
Presenter: Philip Reichardt
11-11.15am Bronze Level - Sight-singing and Aural Tests
Presenter: Michelle Lee
11.15-11.45am Morning Tea
11.45-12.30pm Session 3 – Module C – Repertoire
Presenter: Ross Cobb
Repertoire – Bronze List B - Psalm
Repertoire – Bronze List C – Anthem or Song
12.30-1.15pm Lunch
1.15-1.30pm Session 4 – Module D – Belonging to the Choir
Presenter: Meg Matthews
1.30-2.30pm Session 5 – Module E – Choir in context
Presenter: Meg Matthews
Repertoire – Bronze List D - Anthem
2.30-3pm Afternoon Tea
3-3.30pm Voice for Life Bronze Exam – Meg Matthews, Pamela Summers
3.30-4pm Review of Repertoire - Ross Cobb
4pm Close
WORKSHOP PRESENTERS
Ross Cobb | Philip Reichardt | Meg Matthews
Michelle Lee | Pamela Summers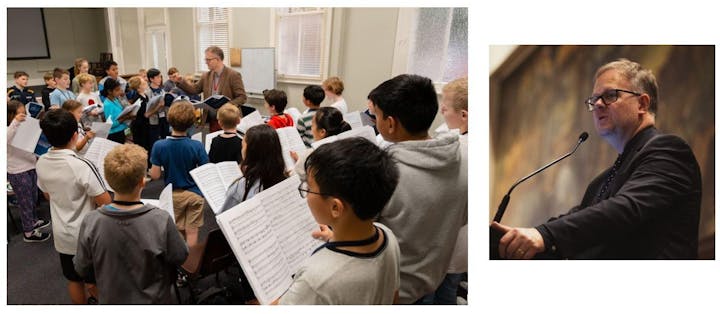 Ross Cobb
Ross Cobb has been the Music Director and Cathedral Organist at St Andrew's since 2005. He is responsible for the huge range of music across our Cathedral- Choirs, Orchestra, Cathedral Brass and our contemporary bands; overseeing the development of traditional and modern music at all gatherings. He is also the Organist of our Cathedral School as well as serving as the Chairman of the NSW branch of the Royal School of Church Music, also leading church music country-wide as President of RSCM Australia.
Ross was previously Director of Music at Christ Church Clifton in Bristol, and St Barnabas Kensington, London in the UK. A graduate of the Royal Academy of Music & King's College London (where he was organ scholar as well as at St Michael's Cornhill), he was also involved in the music at Holy Trinity Brompton & All Souls, Langham Place. He is passionate about the role of music in reaching all with the good news of Jesus. Ross is married to Georgie and they have three young sons.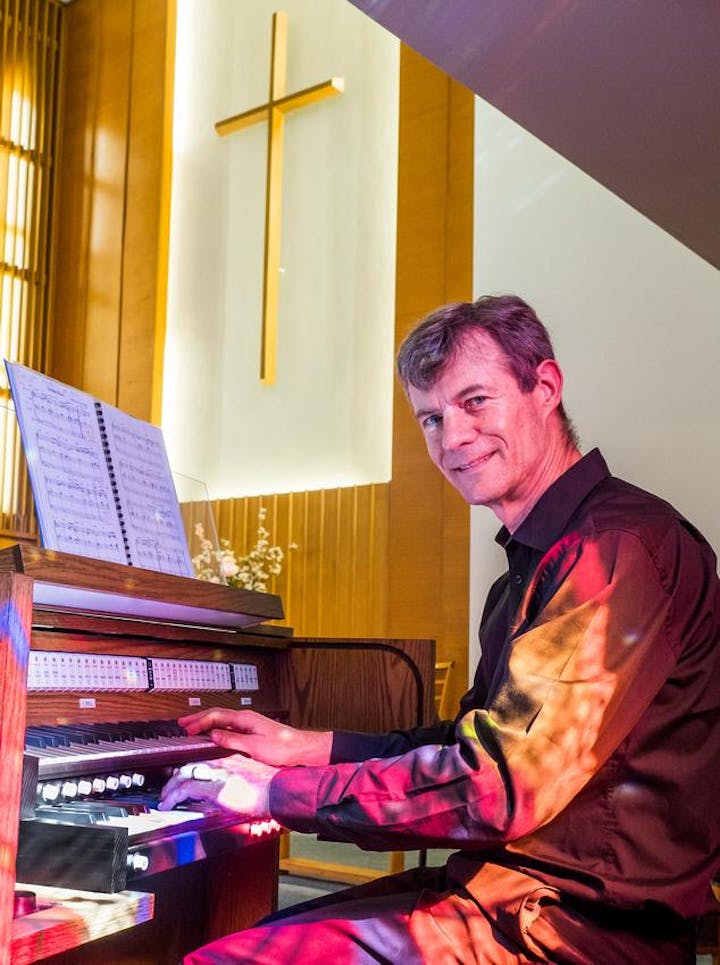 Philip Reichardt
Philip Reichardt has served as the Director of Music at the Anglican Parish of Hunters Hill since 2016, where the style is mainly traditional but also extends to Jazz, Celtic and Contemporary. Apart from his duties with the choir and accompanying services at Hunters Hill, Philip plays a wide range of music, including giving occasional organ recitals and also being a member of a local rock band that focusses on songs from the 1970's to 1990's. Philip is the Secretary of both the National Council and the NSW Branch of the Royal School of Church Music and also a member of the Organ Music Society of Sydney.
Meg Matthews
Megwenya (Meg) Matthews B.A. Music Hons. ARSCM has been involved with music all her life...at school at Sydney university, church, radio broadcasting on 2MBS FM now Fine Music, (the Hosanna programme).She has taught music in secondary schools (St Catherine's Waverley, St Ives High School, Abbotsleigh, Loreto Normanhurst and Knox Grammar School) and has been involved in adult education through WEA, Opera Australia, Sydney and Macquarie universities.
Matching her passion for quality church music, she was, for over ten years, the NSW Chairman of the Royal School of Church Music (RSCM) after which she was awarded the ARSCM in Peterborough Cathedral UK in 2011. During that time she conducted the choir at St Swithun's Pymble and went with them to conduct a week of services in Lincoln Cathedral in the UK. Having attended many RSCM Summer Schools in a number of different states, she recognised the value of the Voice for Life scheme and applied to the UK to be an examiner. After completing a series of graded testings, she was accepted as an examiner for the Bronze and Silver Awards.
These days, Meg is a free lance lecturer in music for a number of adult groups including at her home in North Turramurra, for Northside Opera at Lindfield, local Probus Clubs and The Womens' Club in the city. Annually, she gives pre-concert talks for the Willoughby Symphony Orchestra and more recently has given the pre concert talk at the Sydney Opera House for Sydney Philharmonia's performances of JS Bach's St Matthew Passion. This month she will do the same but the work is Requiem by Dvorak.
Meg is married to Stephen and they have two daughters - Cecily and Ingrid, and four grandchildren.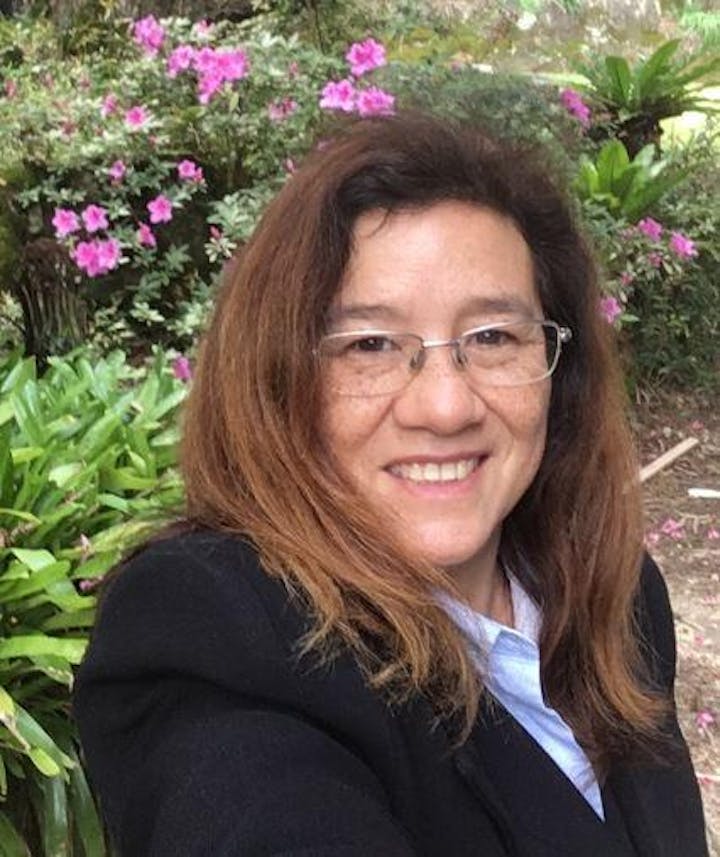 Michelle Lee
As Choir Director at St Albans Anglican Church, Epping, Michelle considers church music a tremendous opportunity to celebrate the wealth of our Christian Worship heritage whilst impacting others with the Gospel of God, and entreating the transformational power of God in peoples' lives.
After studying at the Sydney Conservatorium of Music, Michelle travelled to London where she studied privately for the L.T.C.L. As well as teaching at her private studio in North Turramurra, continues to perform and has experience in both contemporary and traditional church services, leading, singing and/or accompanying the congregational singing on piano, keyboard, or organ. Along with her husband and three children, Michelle enjoys a scenic bushwalk, a roaring fire on cold nights, engaging conversation and heart-warming story-telling.
Pamela Summers
Pamela Summers is a member of the RSCM NSW Committee and is the NSW contact officer for Voice for Life enquiries. She has sung in various Sydney church choirs, starting with the junior choir at St Giles' Church Greenwich. Since 2009, she has been a member of the choir at St Swithun's Church Pymble and is also a member of the Mater Chorale. She has been Vice President of Sydney University Musical Society and Secretary of Sydney Chamber Choir. She holds a Bronze RSCM Singing Award.
Workshop participants will receive a packet which includes the Dark Blue Workbook (recommended retail price $10). The workshop includes lunch and refreshments.
TICKET COSTS:
STANDARD $35
RSCM members $25
FREE to members of the public who join the St Albans Choir as a regular member - please contact the St Albans Church office to join the choir: office@eppinganglicans.org.au