Description
Too much information, too little time, and it's challenging to get people engaged and involved. Add to that a team that's distributed remotely or working over several locations and you've got a challenging working environment to lead, communicate and influence.
Bring the power of productivity, performance and engagement to every meeting, workshop, conversation and session you lead or attend.
This is the year to bring the power of live visuals, templates, icons, images, posters, charts and graphic recording to your workplace, team, project and program of work.
Hand drawn visuals are the way to explain, engage, influence and persuade - whether you're a leader, presenter, trainer, project manager, scrum master or developer.
And relax.... you don't need any drawing skills - there are no pre-requisites for this program!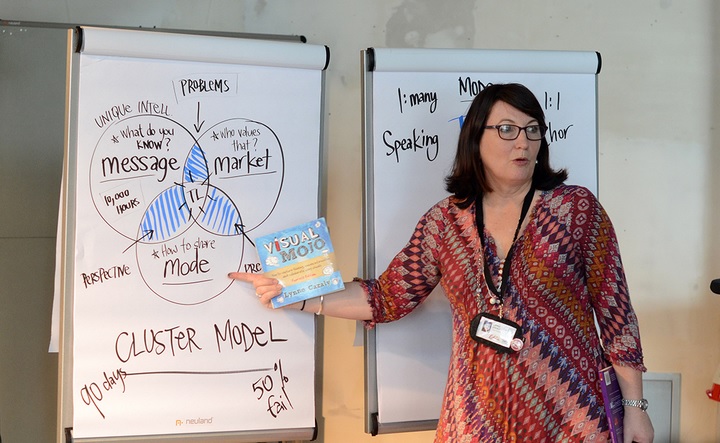 Learn the techniques, icons, templates, tools, maps, models and metaphors for working with groups and teams with Lynne Cazaly, communication and collaboration expert and trainer of facilitators, graphic recorders and visual practitioners.
VISUALS are the words, images, post-its, sketches, scribes and other methods of capturing information and conveying it to the people on the team, on the project and across the business who need to know. … identify key themes and concepts to present visually, boost your visual literacy skills and vocabulary, capture and present visual summaries on flip charts, boards, tablets or workbooks, and build up a visual dictionary of icons you can call on at a moment's notice.
WHAT PEOPLE SAY about this workshop...'
Awesome workshop. Nicely developed - simple drawing at start encouraged confidence. All excellent! - Jan Williams - Nomad 8
Lynne, simply superb. You are a great facilitator and model your message so well. Great structure, rich content, learning - Yamini Naidu
Absolutely brilliant!!! Have progressed from ugly stick men +++ - thanks :-). Very useful tools and opportunity to practice. Got more than I expected! - Michelle Feenan, Engagement Plus
Reinforced my ability to communicate by giving me instruction and pointers for visual language components, opportunity to practice, opportunity to share stores with others – Tim Mansour, AAP
Fantastic course, can't wait to put it into practice. Thanks for a wonderful, well paced, informative workshop. – Paul Hellpell, Woolworths
Working towards building my confidence in helping me facilitate workshops. Inspires me to want to learn, practice further – Martyn Frank
Totally awesome! Engaged the entire time and learned lots and met some clever people to boot! – Michael Rembach
Includes all materials you'll need for the day: markers, flip charts, visual journal, workbook
You'll also receive:
over 100 icons
8 templates to use while you're facilitating
a copy of Lynne Cazaly's 160 page book 'Visual Mojo'
access to Lynne Cazaly's 9-module online visual thinking program 'Visual Mojo'
…. that's an additional $450 in value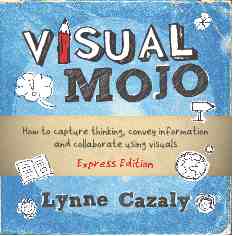 includes a free book and access to the online learning program!
NOTE that Lynne Cazaly is not affiliated with any specific supplier or product range. You'll get independent and experienced thinking, advice, support and training in the program and create and develop your own style, skill and expertise. You won't be copying a set of standard icons that other people use. This program is about helping you think, sketch, share and sense make. You'll get plenty of icons ... but it's so much more than that.
Contact Lynne for more details or questions or if you'd like your employer invoiced for the workshop.
This program is also available in-house. Contact Lynne Cazaly and she can run the program at your workplace, for your team. In that way, everyone will have the skills to engage, inspire, influence and facilitate using visuals.
e: info@lynnecazaly.com w: www.lynnecazaly.com