Location
ACBO Meeting Room
Level 1
2 Queen Street
Melbourne, VIC 3000
Australia
Description
Leading a meeting, team or group? Do you do that without using visuals… so everyone just sits (or stands) around and talks? Noooooo! It will be dull and disengaging after about … six minutes. That just won't inspire anyone to do their best work!
2014 is the year to bring the POWER of live visuals, templates, icons, images, posters, charts and graphic recording to EVERY workshop, meeting, presentation or session you lead. No drawing skills required - no pre-requisites for this program.
The people at your meetings will LOVE you for it. They'll get more done, enjoy doing the work … and it will be awesome. Every meeting you lead will be AWESOME!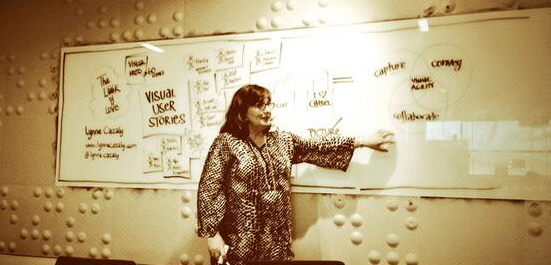 Learn the techniques, icons, templates, tools, maps, models and metaphors for working with groups and teams with Lynne Cazaly, communication and collaboration expert and trainer of facilitators, graphic recorders and visual practitioners.
FACILITATION helps you find the vital balance between getting people engaged, listening to their input yet still driving towards the outcome. … giving you greater skills and confidence to lead and facilitate on projects, in teams, groups and in workshops.
You'll gain insights into how to get people to participate, contribute, discuss and decide, without the unnecessary 'round and round' that sometimes goes on. Process design, facilitation techniques and how you handle yourself and the group all contribute to effective facilitation skills.
VISUALS are the words, images, post-its, sketches, scribes and other methods of capturing information and conveying it to the people on the team, on the project and across the business who need to know. … identify key themes and concepts to present visually, boost your visual literacy skills and vocabulary, capture and present visual summaries on flip charts, boards, tablets or workbooks, and build up a visual dictionary of icons you can call on at a moment's notice.
WHAT PEOPLE SAY about this workshop...
Reinforced my ability to communicate by giving me instruction and pointers for visual language components, opportunity to practice, opportunity to share stores with others – Tim Mansour, AAP
Fantastic course, can't wait to put it into practice. Thanks for a wonderful, well paced, informative workshop. – Paul Hellpell, Woolworths
Working towards building my confidence in helping me facilitate workshops. Inspires me to want to learn, practice further – Martyn Frank
Totally awesome! Engaged the entire time and learned lots and met some clever people to boot! – Michael Rembach
Includes all materials you'll need for the day: markers, flip charts, visual journal, workbook
And YES there's more!
You'll also receive:
over 100 icons

8 templates to use while you're facilitating

a copy of Lynne Cazaly's 160 page book 'Visual Mojo'
access to Lynne Cazaly's 9-module online visual thinking program 'Visual Mojo'
…. that's an additional $395 in value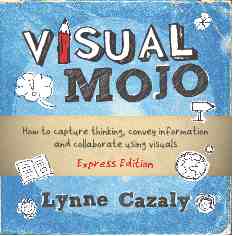 includes a free book and access to the online learning program!
Contact Lynne for more details or questions or if you'd like your employer invoiced for the workshop.
e: info@lynnecazaly.com w: www.lynnecazaly.com