Visual Facilitation - 2 Days bikablo® basics Training in Brisbane - No draw...
Description
Meetings should be as short as possible while delivering great outcome. Drawing together is the best way to communicate efficiently and should be part of any great company culture. Do you facilitate meetings? A great drawing technique will enable you to facilitate your next meeting with inspiring drawings.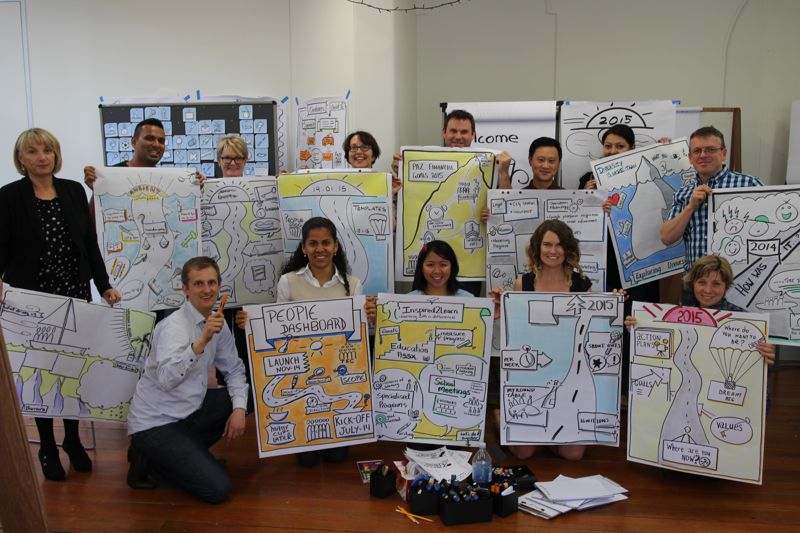 How does it work?
bikablo® is an easy to learn visual facilitation technique that helps you to facilitate meetings and workshops. You don't need any drawing skills and after the training you will be ready to rock and draw your own awesome flip charts and facilitate meetings!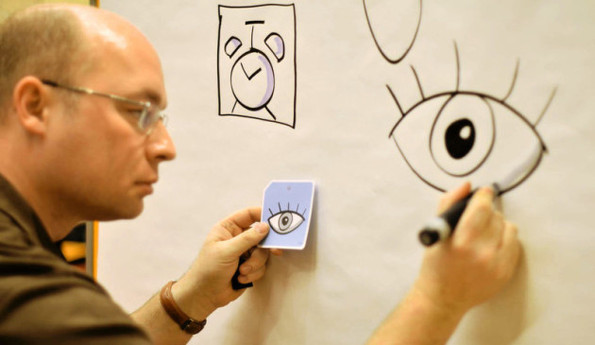 Learn the bikablo® technique!
Over the last 10 years hundreds of key visuals, figures and templates where created and turned into three visual dictionaries as well as into a step-by-step training program.
bikablo® Visual Facilitation - The world of visual language
In this fundamentals training you'll be guided step by step into the the world of visual facilitation. You will warm up your drawing skills before we move on deeper into more enhanced techniques.
Fundamentals Day (1st day)
On the first day you will learn the bikablo® drawing technique and by the end of the day you will be able to present your ideas visually. This includes the following learning objectives:
How to...
Write fast and readable
Draw figures
Combine figures and graphics
Use colours effectively
Layout a flip chart page
Prepare a visual meeting
After these fundamentals you will work with templates and create your final flip chart to take back to work.
Practitioner Day (2nd day)
After learning the basics we focus on the second day on how to apply the new learning at work. We will learn the following:
How...
to apply my drawing skills at work
to facilitate groups & agile teams visually
to capture conversations live (graphic recording)
do I get others involved in drawing together
Benefits
StarterSet (left): Every participant will get an exclusive StarterSet with 4 visualisation markers from Neuland and the StarterBooklet that summarises the principles and techniques on 32 pages.
10 awesome flip chart templates for your next meeting or workshop
More than 200 icons, figures and other key visuals
Shorter meetings through visual collaboration
Photo protocol of the whole course
15% Discount on advanced trainings
Membership of the bikablo® graduates LinkedIn Group
Our partner Neuland offers a discount on their product range to all participants
Who is it for?
Are you working in an area where communication and collaboration between people is essential? Maybe you work in one of these roles...
Manager & Leader
Project Manager, Agile Coach, Scrum Master or Iteration Manager
Trainer, Coach or Facilitator
User Experience Expert, Business Analyst
Product Owners / Product Managers
Agile Team Leader, Delivery Lead
Knowledge worker like Software Developers or Science
...then this training is especially for you!
What do participants say about the training?
"I attended Marcel's Bikablo training course in November 2014. It was fantastic and the results are really rewarding. Marcel makes the course fun, interactive and hands on. By the end of the training day i was totally able to sketch the Bikablo way :). I would definitely recommend Marcel's Bikablo training course. " Amanda Cassidy, CBA

"In spring 2014 I attended Marcel's bikablo® visual facilitation training. The training is a very well spent day of practical tips and tricks that has significantly added to my toolkit for facilitating client sessions. Basic skills if taught well can be perceived as advanced skills to audiences." Govert Mellink, PwC


What you will get on top!
Documentation: For your rework at home we will produce a photo documentation online including the input from the trainer and the working results of each learning group.
PDF Handout: Additionally you will get a digital handout about visual storytelling that includes further details around the subject for your own study.
bikablo® Graduates Community: All attendees who have participated in a bikablo® training are getting invited into the online community with lots of tricks and tips, links and recommendations. You are welcome to share your work and ask for feedback. You can exchange icons and key visuals with other people.
Neuland-Discount: Our partner Neuland offers bikablo® graduates a discount for the all products excluding books.
What to bring along?
Sleep well the night before and be on time. We are not waiting for you. Apart from a great energy and your printed Eventbrite ticket you don't need to bring anything along. There are several locations to have lunch nearby.
All materials are included in the training costs and no drawing skills are required!
Te training is presented by: