Sales Have Ended
Registrations are closed
Thanks for registering for this event as part of the Industry Mentoring Network in STEM! We look forward to seeing you there. Learn more about IMNIS and our upcoming events at www.imnis.org.au. #IMNIS #mentoring
Sales Have Ended
Registrations are closed
Thanks for registering for this event as part of the Industry Mentoring Network in STEM! We look forward to seeing you there. Learn more about IMNIS and our upcoming events at www.imnis.org.au. #IMNIS #mentoring
Description
Visionary leadership can drive transformational change across an entire sector. Visionary leaders inspire, empower, enthuse and respect. They work with you to make change happen. This is what the Industry Mentoring Network in STEM (IMNIS) is all about!
With a shared sense of purpose and desire for change, leaders across Australia's industry and academic STEM sectors join forces to foster a culture of innovation and collaboration through mentoring. Together, they are developing a new generation of PhD graduates who can engage with industry, kick-start collaborations, understand their career options, and network and transition with confidence across professional sectors.
This event celebrates their vision, their leadership, their drive and importantly, their unwavering commitment to the professional development of tomorrow's STEM leaders to create a better future for all of us.
Our Keynote Speaker Erica Smyth AC FTSE, accomplished Board Chair and Director within the energy and minerals sector, will share her leadership journey. Ms Smyth is a professional Company Director with more than 20 years experience on minerals, energy, science education and research boards. She is also a Fellow of the Australian Academy of Technology and Engineering. Ms Smyth will speak to her experiences as a leader and share what she considers the key attributes of visionary leadership in Australia and beyond. You will also hear from a panel of 2018-19 mentors and mentees about their positive, productive mentoring partnerships. This event also launches the 2019-2020 IMNIS Programs in Western Australia.
This event will be held on Monday, 29th July between 7:30am-9:30am. Registration opens at 7:30am (coffee/tea and a light breakfast will be available), proceedings begin at 8:00am and the event closes at 9:30 am. We will have a professional photographer on-site, so be sure to get a photo with our speakers, your colleagues and your mentor/mentee. For catering purposes, please RSVP by registering as soon as possible. Please indicate if you have any dietary requirements or childcare needs.
This event is for all participating mentors and mentees, and alumni of the IMNIS programs in Western Australia. Other STEM students, early-career researchers and industry professionals are also welcome to attend. Registration is essential.
IMNIS is a national initiative of the Australian Academy of Technology and Engineering. The Academy is grateful to IMNIS Partners - MTPConnect, METS Ignited, NERA, AusBiotech and Mentorloop - and Sponsors BHP, KPMG and CSL, for their ongoing support of this flagship initiative.
Industry professionals who mentor with IMNIS generously donate their time, energy and expertise to the development of Australia's future leaders in STEM. Universities and Institutes support their PhD students to participate. The Academy gratefully acknowledges their visionary leadership and investment in the future STEM workforce.
KEYNOTE: Erica Smyth AC

Energy and Minerals Sector Board Chair and Director

Dr Marguerite Evans-Galea AM

Australian Academy of Technology and Engineering IMNIS Executive Director & Facilitator

Sophie Cross

Curtin University PhD Candidate and IMNIS Mentee

Marisa Duong

The University of Western Australia Research Student & IMNIS Mentee

Jo Heyes

BHP Global Practice Lead - Closure & IMNIS Mentor

Dave McCarthy

Golja Haines & Friend - The IP Sentinels Principal, Patent & Trade Mark Attorney & IMNIS Mentor
Organiser of Visionary Leadership - Western Australia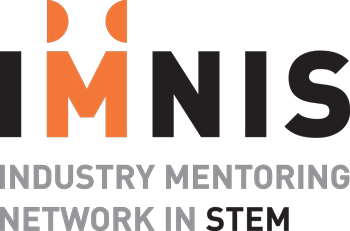 IMNIS is an award-winning industry national initiative of the Australian Academy of Technology and Engineering.
Working with experts in academia and industry, IMNIS connects motivated PhD students (mentees) in science, technology, engineering and mathematics (STEM) with outstanding high level industry leaders (mentors).
In a one-year mentoring program, IMNIS mentors and mentees meet in person in a professional setting for one hour each month. State-level networking events hosted by IMNIS allow mentors and mentees to connect more broadly.
IMNIS provides Australia's future leaders in STEM the opportunity to engage with industry, extend their professional network and learn from an outstanding industry mentor. Mentors are all volunteers generously sharing their time and expertise. IMNIS provides a diverse range of industry professionals the opportunity to engage with academia, share their mentoring skills, and 'give back' to the STEM community.
IMNIS has demonstrated success in providing industry mentoring to PhD students in universities around Australia and was recognised with a prestigious B/HERT Award in 2016.