TCC Virtual Movie Night — Sans soleil (1983) Presented to you by The Capitol Club RMIT!
About this event
Critics' 50 Greatest Documentaries of All Time
Due to the current Covid restriction, we are doing our movie night online on our discord channel (again)! This movie is available in English and French.
When: Friday 17 SEP, 7:00PM - 9:00PM
Where: The Capitol Club Discord, Front of House Channel
Sign up to this event, and we'll share more details on how to join this event via email. Looking forward to meeting you soon!
"Because I know that time is always time
And place is always and only place"...
(And what is actual is actual only for one time
And only for one place.)
- T. S. Eliot, Ash Wednesday (1930)
"It's a brilliant concept, executed by writer-director Vigalondo with a perfect balance of pop-culture irony and sincere storytelling."
- Rafer Guzman, Newsday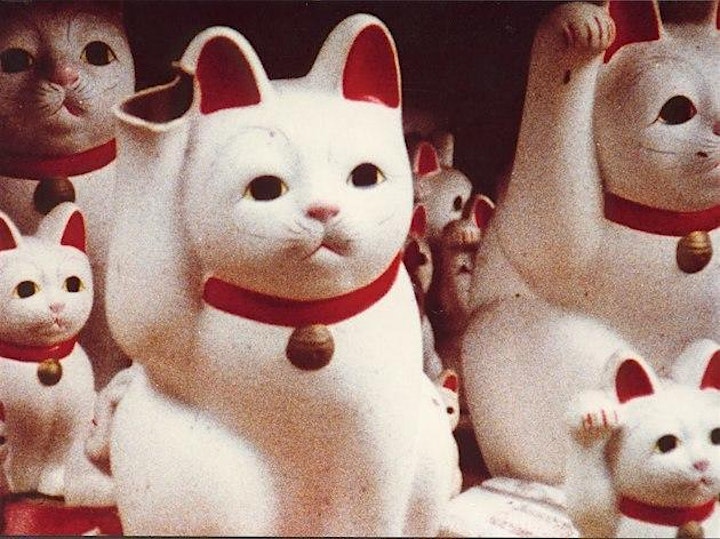 This experimental film by acclaimed French director Chris Marker collects footage recorded in various countries around the world and presents it in collage-like form. The movie features no synchronized sound, but instead ties the various segments together with music and voice-over narration, which ponders the topics such as memory, technology and society. As the scenes shift, locations range from Japan to Iceland to Africa, creating a truly international work.
Chris Marker, filmmaker, poet, novelist, photographer, editor, and now videographer and digital multimedia artist, has been challenging moviegoers, philosophers, and himself for years with his complex queries about time, memory, and the rapid advancement of life on this planet. SANS SOLEIL is his mind-bending free-form travelogue that journeys from Africa to Japan.
Source: IMDb, Kanopy, Rotten Tomatoes, Wikipedia