About this Event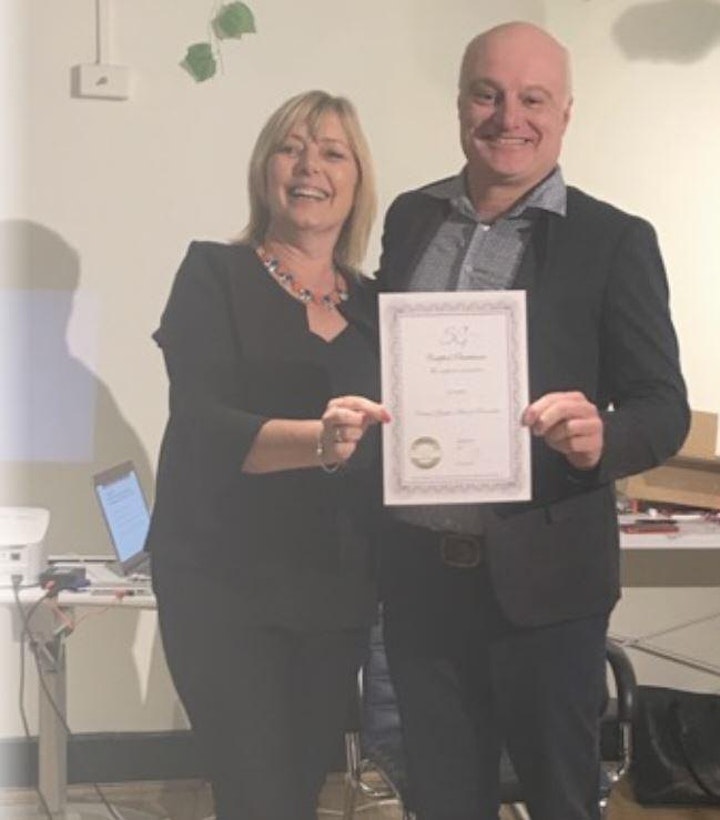 We are delighted to announce the Sheila Grangers Virtual Gastric Banding Training for Therapists in Australia. Last one for 2018 in June Sydney 2 7th-28TH with Trainer Ian James.
The FULL official Sheila Granger Virtual Gastric Band Therapy Program for Therapists
STEP-BY-STEP TRAINING through a tried and tested, four week, four session process that enables you to help your clients achieve the weight loss results they are looking for
KEY MARKETING SKILLS to attract as many clients as possible to your business
CERTIFICATION recognising you as an authorised, accredited Sheila Granger Virtual Gastric Band Therapist
SCRIPTS for all four sessions, CD recordings (hospital sounds, example of individualized ( script), complete manual and all the materials you'll need to set up your own VGB practice
LIVE VIDEO TELECONFERENCE with Sheila Granger
ALL THIS for the cost of first paying client booking, you will make back your ROI on the Program!
_____________________________________________________
Sheila Granger is making her world-famous Virtual Gastric Band Program available in Australia
"Having searched for such a long time to find the perfect partner to deliver training Virtual Gastric Band Program in Australia," Sheila Granger said, "I am so delighted and proud to continue my partnership with Ian James .
"Sheila has worked with more than three hundred clients now, so she really knows how this Program works. We had many, many trainers wanting to work with us on this project, and I'm convinced Jennifer is the one for us."
Ian is offering Sheilas Training exclusively in Australia. I attended Sheila's training in 2019 , the very first time i met Sheila, and was mightily impressed right away. It's a safe, affordable, fast-acting program that works where diets don't. So I'm very excited that Sheila and I are partners in Australia. In the past years since Sheila has been here, it's become more and more obvious how well the Program works for clients, as research and the testimony of thousands of clients confirm. For therapists it's a highly-effective, highly-structured Program in a box. You can launch your own Virtual Gastric Banding practice on the Monday after the weekend's training – and recover the cost of the training with your very first client!"
______________________________________________________
GASTRIC BAND SURGERY AND THE VIRTUAL GASTRIC BAND PROGRAM
As you know, gastric band surgery is a form of weight loss surgery, or 'bariatric surgery,' used as a last resort treatment for people with potentially life-threatening obesity, when all other treatments, such as diet and exercise, have been unsuccessful. Gastric banding involves surgery to place a band around the stomach, leaving a small pouch at the top of the stomach, which restricts the amount people eat, taking less time to fill and consequently feel full. Most people lose approximately half of their excess body weight within two years. The treatment is reversible and the band can be removed, if required.
Although gastric band surgery is often successful for aiding weight loss, as with all invasive surgery, there are potential risks and complications, including infection, blood clots, internal bleeding, gallstones, gastric band slippage and further surgery required to repair or adjust the band, if needed. For this reason, most surgeons typically only perform gastric band surgery for those with a clinical need. For those with private health insurance, the typical out-of-pocket cost of the various surgical interventions, including pre-operative assessment and post-operative care in the first year, is in the region of up to $20,000.00
Studies have revealed the potential of hypnotherapy as a useful adjunct to weight loss programmes, such as diet and exercise, and gastric-band hypnotherapy is an innovative approach that aims to support weight loss, similarly to gastric band surgery, without the potential risks and complications.
_____________________________________________________
AUSTRALIA'S FAT – AND GETTING FATTER
If you had the tools to help your clients with their weight, to help them succeed in losing weight where diets haven't worked, do you think you'd run out of work any time soon? Sadly, the statistics reveal that there is not much chance of that...
More than five million Australians are obese and in total 14 million Australians are overweight or obese
Obesity has overtaken smoking as the leading cause of premature death and illness in Australia
At current rates, by the time they reach 20, our kids will have shorter life expectancy than earlier generations, simply through obesity
More than 900,000 Australians suffer from diabetes
___________________________________________________
How does the Virtual Gastric Band Program work? Mind over matter
CONVINCES your client that he or she has had the restrictive mechanism fitted in their stomach
CHANGES how your client thinks about food, and
INFLUENCES small, realistic changes to your client's eating habits.
The therapy is about you helping your client develop a healthy, natural weight control system, based on the natural biological signals of eating when hungry and stopping when full, rather than forming an emotional attachment to eating. Hypnotherapy can address emotional and psychological issues at the root of your client's ultimate need to begin – and continue – overeating.
During the first session, you conduct a thorough consultation to establishes your client's current eating habits, and identify problematic areas such as comfort eating, not being able to leave food on a plate, even if full, large portion sizes, unhealthy cravings, and so on. You can then discuss with your client relevant areas such as healthy eating patterns, mindful eating, and exercise, before setting goals using visualization techniques - for example, your client imagining herself looking slim and healthy in a certain item of clothing.
Changing mind sets
During the gastric band "procedure," and using the script you're provided with in this training, you guide your client into hypnosis, until she reaches a point of deep relaxation, where you can access your client's subconscious and increase her susceptibility to positive suggestion. You then take your client descriptively through the operation step by step, from being put under anesthetic and the journey on a trolley to the operating theater, through to the operation and the application of the gastric band.
The use of hospital sounds and smells can be recreated to enhance that experience, such as the smell of antiseptic and the beeping of a hospital heart monitor - and in the training you'll receive your own copy of that hospital recording, as well as tips on other ways to increase the client's experience.
Although your client remains aware of what's going on around her, through the subconscious mind, the boundaries of what is real and pretend are blurred, so that imagining the surgical procedure can influence real physical responses in your client. Everyone experiences different effects from gastric band hypnotherapy, with some people experiencing the sensation of physical tightening in their stomach, while others are unable to identify any conscious connection to the 'surgery,' but are naturally eating less.
Following the gastric band procedure, subsequent sessions combine hypnotherapy, Neuro Linguistic Programming (NLP) and Cognitive Behavioral Therapy (CBT) techniques, such as guided imagery, metaphors, and certain aversion techniques, to help release any emotional blockages and reinforce the new way of eating. All these techniques are taught during this training.
Health benefits of the Virtual Gastric Band Program
Gastric band hypnotherapy can be useful not only for general health benefits through supporting weight loss in overweight and obese clients, it can also potentially reduce the risk of developing other conditions associated with obesity, such as diabetes, heart disease, cancer, and so on. It can also be useful for those with metabolic disorders potentially affecting weight, including polycystic ovary syndrome and underactive thyroid.
______________________________________________________
_________________________________________________
When: 9:00am- 4.00pm Saturday 27th and Sunday 28th June 2020
The Centre Bed & Breakfast
Phone: (02) 9398-2211
Address: 14 Frances Street
RANDWICK, NSW, 2031
Cost: $799
Early Bird Special: We have a strictly limited number of Early Bird Special Tickets available, offering FOUR additional bonus items:
FREE access to full two day video of the whole Sheila Granger Virtual Gastric Band Program, as delivered by Sheila in the US