Sales Have Ended
Registrations are closed
Thank you for registering to PositiveMedia's Virtual Business Breakfast Event. We look forwarding to having you join us. Join Zoom Meeting https://positivemedia-au.zoom.us/j/85848577642?pwd=eGJjbmRmTURxbUdXVjN3c0xiME9PZz09 Meeting ID: 858 4857 7642 Passcode: 2021 One tap mobile +61861193900,,85848577642# Australia +61871501149,,85848577642# Australia Dial by your location +61 8 6119 3900 Australia +61 8 7150 1149 Australia +61 2 8015 6011 Australia +61 3 7018 2005 Australia +61 7 3185 3730 Australia +1 312 626 6799 US (Chicago) +1 346 248 7799 US (Houston) +1 669 900 6833 US (San Jose) +1 929 205 6099 US (New York) +1 253 215 8782 US (Tacoma) +1 301 715 8592 US (Washington D.C) Meeting ID: 858 4857 7642 Find your local number: https://positivemedia-au.zoom.us/u/kcvBAvsLLx
Sales Have Ended
Registrations are closed
Thank you for registering to PositiveMedia's Virtual Business Breakfast Event. We look forwarding to having you join us. Join Zoom Meeting https://positivemedia-au.zoom.us/j/85848577642?pwd=eGJjbmRmTURxbUdXVjN3c0xiME9PZz09 Meeting ID: 858 4857 7642 Passcode: 2021 One tap mobile +61861193900,,85848577642# Australia +61871501149,,85848577642# Australia Dial by your location +61 8 6119 3900 Australia +61 8 7150 1149 Australia +61 2 8015 6011 Australia +61 3 7018 2005 Australia +61 7 3185 3730 Australia +1 312 626 6799 US (Chicago) +1 346 248 7799 US (Houston) +1 669 900 6833 US (San Jose) +1 929 205 6099 US (New York) +1 253 215 8782 US (Tacoma) +1 301 715 8592 US (Washington D.C) Meeting ID: 858 4857 7642 Find your local number: https://positivemedia-au.zoom.us/u/kcvBAvsLLx
PositiveMedia home of 89.9 TheLight, Australia's largest community station invites you to hear how to market with radio & make an impact.
About this event
Radio is a powerful media to market your business and help build your brand and solicit a quick response. PositiveMedia, home of 89.9TheLight Melbourne, offers a unique audience that can not be reached with commercial radio stations.
89.9 TheLight's content is positive, engaging and transformational and provides a safe environment for brands to market.
Attend this business breakfast event to learn how you can market your business and directly make a social impact in the community.
89.9 TheLight, is Australia's largest community broadcaster, bringing hope, positivity to 1.2 million monthly Melbourne listeners. As a community broadcaster, we create uplifting content and align with the community to transform our world.
Hear from current station sponsors how they have benefited by partnering with PositiveMedia to grow their businesses.
SPEAKERS
Miracles Day Campaign Manager, Christian Blind Mission, Mariska Meldrum
Mariska is passionate about inspiring Australians to change people's lives in the world's poorest places.  Mariska has run Miracles Day in partnership with 89.9 TheLight and 32 other Christian radio stations across Australia for the past five years.  For just $33, listeners can restore someone's sight. Since it started nine years ago, Miracles Day has inspired Christian radio listeners to give more than 250,000 gifts of sight-saving surgery to people living needlessly blind from cataracts in places like Nepal, Vietnam, Tanzania and the Philippines.  CBM is the world's largest non-government organisation working with people with a disability in developing countries.
Chief Executive Officer, 3P Corporation, Peter Ziggy
Chief Executive Officer of 3P Corporation, Peter Ziggy, is a holistic wealth creator, author and entrepreneur. He has a passion for the human side of money and is driven by his organisation's motto of Passion - People – Prosper.
"Wealth creation is a real privilege - you're delving into all aspects of a person's life - from wealth, health and relationships. I enjoy hearing how people do life, hear about their challenges, celebrations and disappointments. For me, to be a part of their journey is the ultimate reward."
Peter Ziggy's passion for simplifying the process of wealth creation is manifested in his book 'Money DOES Grow on Trees!'. He hosted a finance segment on Foxtel of the same name, where he delved into various financial strategies and topics to help educate viewers. In addition, Ziggy regularly appears on occasions as the 'go to' Finance speaker for PositiveMedia's radio station 89.9 TheLight.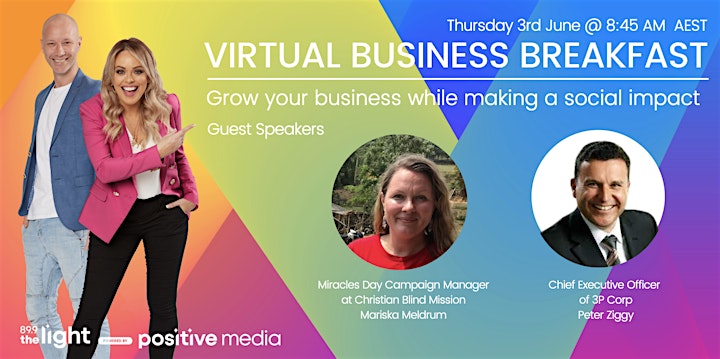 Organiser of VIRTUAL EVENT: PositiveMedia Business Breakfast
PositiveMedia home of 89.9 TheLight is Australia's largest community broadcaster delivering positive transformational radio.