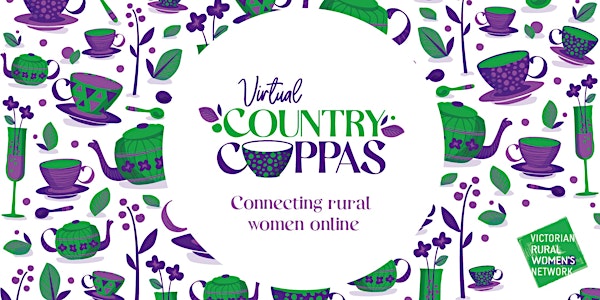 Virtual Country Cuppas - connecting rural women online
Sales Have Ended
Registrations are closed
Thank you for your interest in this event. Registrations have now closed for the 2020 Victorian Rural Women's Network Virtual Country Cuppas online event. Please subscribe to the Victorian Rural Women's Network (VRWN) to stay up to date with events, activities and programs. VRWN website and subscription details - http://extensionaus.com.au/VRWNetwork/
Sales Have Ended
Registrations are closed
Thank you for your interest in this event. Registrations have now closed for the 2020 Victorian Rural Women's Network Virtual Country Cuppas online event. Please subscribe to the Victorian Rural Women's Network (VRWN) to stay up to date with events, activities and programs. VRWN website and subscription details - http://extensionaus.com.au/VRWNetwork/
Description
Virtual Country Cuppas 2020
Are you missing connection with friends and colleagues? Do you need time out to reconnect with them while learning new skills along the way? The Victorian Rural Women's Network (the Network) is excited to announce a new, free online event for rural women — Virtual Country Cuppas.
Last year, the Network's face-to-face Country Cuppas event attracted 600 rural women to 32 statewide gatherings. Virtual Country Cuppas takes this successful event online. Virtual Country Cuppas encourages rural women to connect online over a cuppa with other women in their networks to share ideas and experiences.
By registering to host a Virtual Country Cuppa, you can bring together an online gathering of friends and colleagues to reconnect in a relaxed and supportive environment. You could host a morning or afternoon tea, after-work 'virtual drinks' or an online catch up with your favourite community or parenting group.
The Network will provide you with all the information and resources you need to make your online gathering a success. You can connect via a Zoom video chat or feel free to host your event on your preferred video conferencing platform instead (e.g. Facebook Messenger, Skype). You will have access to a free Zoom training webinar and further free personal development tools.
Virtual Country Cuppas will be held from 23 May to 31 May. You can choose any day and time over that period to host your own online event for up to 10 guests.
After registering on Eventbrite, you will be emailed a Host Pack to plan your online event and a link to a free Zoom training webinar on Thursday 21 May at 8pm-9pm (which will be recorded in case you can't make the webinar). You will also receive ideas and suggested discussion topics to help you structure your event and a wellbeing video with self-care tips that can be shared at your online gathering.
The Victorian Rural Women's Network will seek your feedback in a survey distributed after the event. You might like to share some of the ideas and discussion points from your online gathering in the survey to help us better understand the needs of rural women. You can also email feedback from your event to vrwnetwork@agriculture.vic.gov.au.
Hosting a Virtual Country Cuppa is easy
Register online to be a Virtual Country Cuppa host at Eventbrite by midnight 24 May. You only need to register once for your group.


You will receive an email and Host Pack from the Network (from Monday 18 May) with all you need to promote and host your Virtual Country Cuppa gathering.

Decide what type and size of event you want to host (a morning/afternoon tea, lunch or evening virtual gathering depending on what suits your group).

Choose a date and time slot to host your online event (between 23 May-31 May 2020).
For more information, see the Network's website or email vrwnetwork@agriculture.vic.gov.au
Terms and Conditions of Registration
You (the Host) agree to comply with the following conditions:
1. The information You provide to the Department of Jobs, Precincts and Region's (the Department) and the State of Victoria (the State) as part of Your registration and in hosting an Event will be used and handled in accordance with the Department of Jobs, Precincts and Region's Privacy Policy and the Privacy and Data Protection Act 2014 (Vic). For more information, a copy of our privacy statement is located at https://djpr.vic.gov.au/privacy. Enquiries about access to information should be directed to the Department's Privacy officer by email privacy@ecodev.vic.gov.au.
2. You will seek our consent before using any Departmental or State identification or logos or any property identified as the property of the Department or State (collectively 'Departmental Identification') You will use Departmental Identification in good faith and in such a manner as to enhance and promote the goodwill and reputation of the Department and the State. You agree not to use the Departmental identification in association with or in relation to any activity which is likely to adversely or detrimentally affect the goodwill and reputation of the Department or the State.
3. You must stop using or otherwise referring to the Departmental Identification once the Event is over.
4. You, in carrying out the Event, will not do anything which may bring the Event, the Department or the State into disrepute.
5. You, Your employees, servants or agents, or any other persons involved in the Event, will not be an agent of or in the service or employment of the State or the Department and You are responsible for all Your obligations as an employer or otherwise in relation to such persons.
6. You release and indemnify the State, the Department and their respective officers and employees from and against liability for or in respect of any physical injury to persons (including death), damage, loss or expense in so far as the injury, damage, loss or expense is attributable to Your or Your agent's action or omission, or Your use of Zoom or any other video conferencing platform in the course of or in connection with carrying out the Event or its preparation for the Event.'
7. You acknowledge that You are responsible for all the costs and expenses of, and associated with, the Event, including insurance.
8. These conditions shall be governed by, and construed in accordance with the law for the time being in force in the State of Victoria.
9. The Department and the State makes no representation and gives no warranty as to the performance of Event, and the Department and the State does not accept any responsibility for any errors or inaccuracies.
10. You will not promote, endorse, associate with/or support any activity or entity with, or as forming part of, the Event without the prior consent of the Department.
Organiser of Virtual Country Cuppas - connecting rural women online
Please contact us with any queries at VRWNetwork@agriculture.vic.gov.au

Subscribe to the Victorian Rural Women's Network at