Virtual community information sessions about ALL THE NEGATIVE IMPACTS OF COVID-19 ON COMMUNITIES AND SUPPORT SERVICES.
About this event
GLAPD had a meeting with community leaders last week to discuss the impacts of COVID-19 on our community members. They expressed many issues which included many not understanding the negative health and mental health impacts of COVID 19 and the restrictions as well as the importance of testing and vaccination. On the other hand they also talked about the Social and economic impacts of the pandemic.We have therefore decided to organised a series of 2 information sessions, one on Friday 24th Sept and another one on Friday the 1st Oct 2021 at 6PM.
Session 1: 24th Sept 2021 at 6pm
Physical and mental health Impacts of COVID-19, vaccination and support services.
Speakers:
1. Patrick Cashman - NSW Health
2. Tshimanga Beya - STARTTS
Session 2: 1st October 2021 at 6pm
Socio-economic impacts of COVID-19 and support available.
Speakers:
1. Eve Kibure - COVID-19 Caseworker GLAPD
2. Shaista Ali - Domestic and Family Violence caseworker
3. GLAPDRosemary Kariuki- Community Liaison Office - NSW Police
ZOOM details:
https://us02web.zoom.us/j/6122944876?pwd=UDZTZDJKZTZNOHpuQ1NiclJiS2tBUT09Meeting ID: 612 294 4876Passcode: 1KKwxP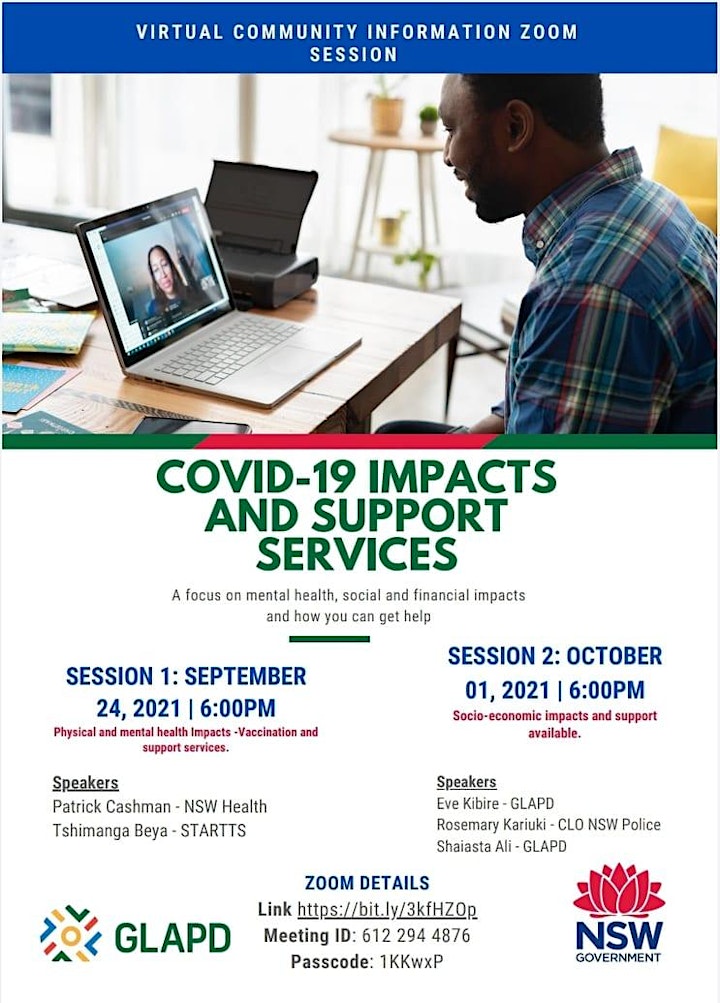 Organiser of VIRTUAL COMMUNITY INFO SESSIONS - COVID-19 IMPACTS AND SUPPORT SERVICES.