VIRTUAL BOOK CLUB - "The Gifts of Imperfection" by Brené Brown -5 SEP START
SXM&B Society presents the first book club that focuses on self-love, appreciation and personal growth!
About this event
Hi Sexy Minds!
The Sexy Mind and Body Society aims to provide an safe space for sexy minds and people to connect with others who also desire elevated mindset for their health and their life even in difficult times such as a lockdown.
𝑻𝒉𝒆 𝑺𝒆𝒙𝒚 𝑴𝒊𝒏𝒅 𝒂𝒏𝒅 𝑩𝒐𝒅𝒚 𝑺𝒐𝒄𝒊𝒆𝒕𝒚 welcomes those who are interested in building self-confidence through improving their health, personal growth, self-love, self-appreciation and friendship.
My vision is to have a million members as part of 𝑻𝒉𝒆 𝑺𝒆𝒙𝒚 𝑴𝒊𝒏𝒅 𝒂𝒏𝒅 𝑩𝒐𝒅𝒚 𝑺𝒐𝒄𝒊𝒆𝒕𝒚, to help strangers become friends and friends to become family online!
I'm so excited to announce the next book for our book club is The Gifts of Imperfection by Brene Brown!!!
⬇️ Here's a low down of what the book is all about!
♥️🗝️Brené Brown's game-changing New York Times bestseller, The Gifts of Imperfection, has sold more than 2 million copies in more than 30 different languages and is celebrating its 10th Anniversary in print.
💐 Forbes magazine named Gifts one of the "Five Books That Will Actually Change Your Outlook On Life."
📚 Through this self-help classic we find courage to overcome paralyzing fear and self-consciousness, strengthening our connection to the world and helping us to believe we are worthy of self-discovery, personal growth, and boundless love.
Hope to see even more of you on the 5th of September at 10am!
Join the Free Facebook Sexy Mind Book Club here!
https://www.facebook.com/groups/173844884573190/
Lots of Love,
Lily
Self-love Mentor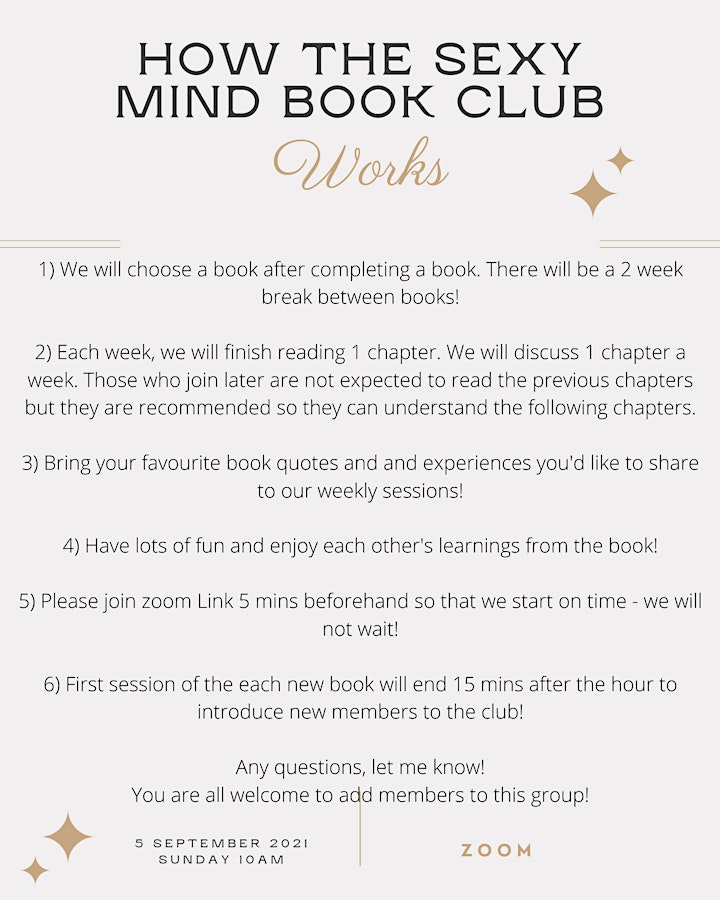 Organiser of VIRTUAL BOOK CLUB - "The Gifts of Imperfection" by Brené Brown -5 SEP START