Join us for Virtual Book Club where we will be discussing 'Happy Hour' by Jacquie Byron with fellow readers.
About this event
This month we will be reading Happy Hour by Jacquie Byron which you can access in eBook and eAudio through Libby with your library membership.
We'll be having a 'special guest' attend this month, so make sure you have your questions ready.
All books chosen for Virtual Book Club are available for multiple people to borrow at the same time - which means that you can download and read them anytime.
Happy Hour by Jacquie Byron
Blurb:
Growing older doesn't necessarily mean growing wiser.
Gin in one hand, paintbrush in the other, Franny Calderwood has turned her back on the world, or at least the world she used to love. Having lost her husband, Frank, in tragic circumstances three years earlier, 65-year-old Franny copes the only way she knows how: by removing herself completely from the life she had before. Franny lives a life of decadent seclusion, with only her two dogs, Whisky and Soda, a stuffed cat, cocktails and the memory of Frank for company.
Then the Salernos move in next door. The troubled but charming trio - beleaguered mother Sallyanne, angry teenager Dee and eccentric eight-year-old Josh - cannot help but pull Franny into the drama of their lives. But despite her fixation with independence, Franny's wisecracks and culinary experiments hide considerable trauma and pain, and when her eccentric behaviour has life-threatening consequences she faces a reckoning of sorts. Yes, Frank is dead, but did the woman he loved have to perish with him?
A story about one woman, two dogs and the family next door, Happy Hour is a hilarious and uplifting insight into grief, loss, true love and friendship.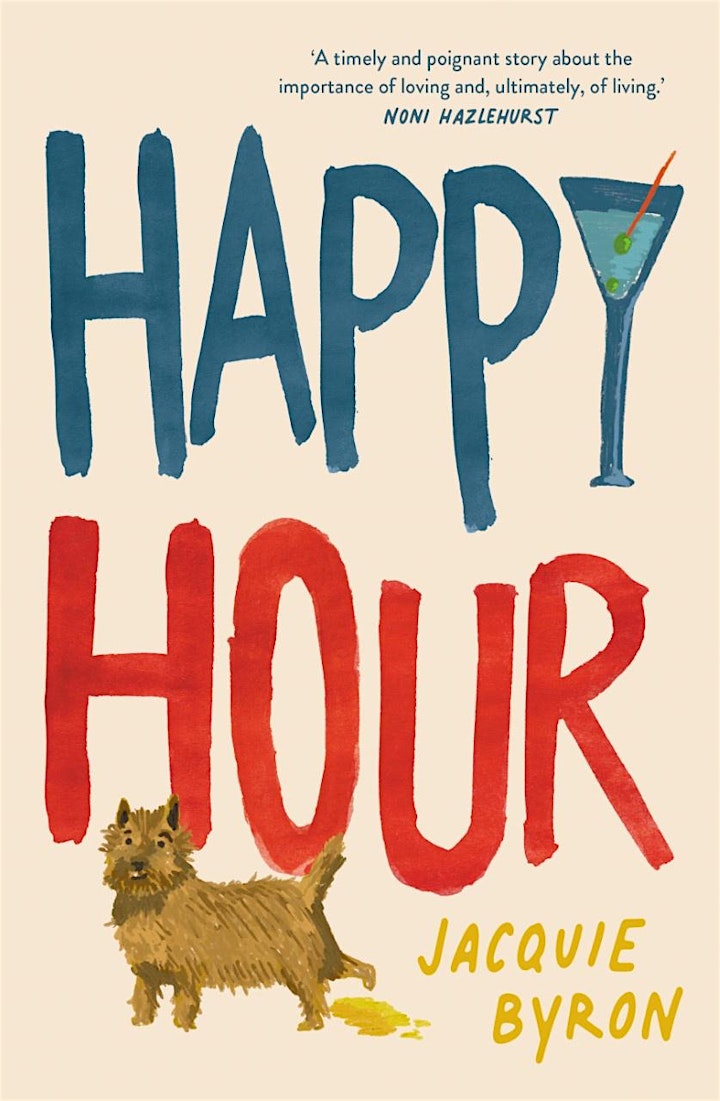 About the Author
Jacquie Byron grew up in Werribee, with tales of wishing-chairs and Trixie Belden. Her love of reading morphed into a love of writing, leading her to study journalism while waitressing her way around various bars and tables in Melbourne and, for a short stint, the UK. Collecting and sharing stories has kept her busy professionally for more than twenty-five years, taking her from the Ogden Museum in New Orleans to an IDP camp in Uganda. Shocking herself as much as those around her, Jacquie has been a motoring writer, a jewellery editor, a fashion publicist and more. Today she writes for business and for pleasure. Happy Hour is her first novel. Whisky is her first cairn.
Please contact the Adult Programs Team at Wyndham City Libraries on (03) 8734 2600 if you have any access requirements to participate in this session.
This Library program/event is being administered by Wyndham City Council using an event booking platform provided by a third party, EventBrite. Any personal information you submit when registering will be stored and processed by EventBrite in accordance with its Privacy Policy. Please note that EventBrite is a US based organisation, and your data will be held in US servers located outside of Australia. By registering for the program/event, you are agreeing to EventBrite's Privacy Policy.
Organiser of Virtual Book Club: Happy Hour (with author visit)