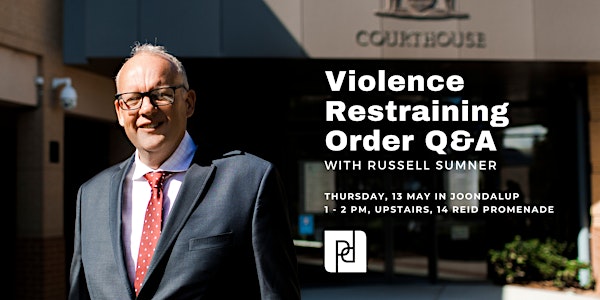 Violence Restraining Order Q&A Joondalup - May 2021
Sales Have Ended
Registrations are closed
Thank you for registering for this event. We will be in touch with a reminder closer to the time of the event. If you need to contact us prior to the event, please ring 9426 1328. The Team at Paterson & Dowding
Event Information
Location
Paterson & Dowding Family Lawyers
Unit 6 (first floor)
14 Reid Promenade
Joondalup, WA 6027
Australia
Sales Have Ended
Registrations are closed
Thank you for registering for this event. We will be in touch with a reminder closer to the time of the event. If you need to contact us prior to the event, please ring 9426 1328. The Team at Paterson & Dowding
A must attend event for anyone affected by family violence or who has received a restraining order from the Police.
About this event
This Lunch and Learn Q&A event invites attendees to ask general questions about the Magistrates Court process, family violence restraining orders, misconduct restraining orders, undertakings, and advice about firearms.
Experienced family lawyer Russell Sumner is experienced in dealing with all issues in relation to restraining orders.
Russell will provide practical tips on, and answer questions about:
Liability, imprisonment, eviction, incarceration
Dealing with the Police
Restricted and denied access to your children
Magistrates Court process
Family violence restraining orders
Misconduct restraining orders
Drafting undertakings
Advice about firearms
Anything else of concern
Not got any questions? Come along anyway, listen, engage and learn from Russell as he shares his knowledge. It could save you time and frustration, and you will leave with greater peace of mind.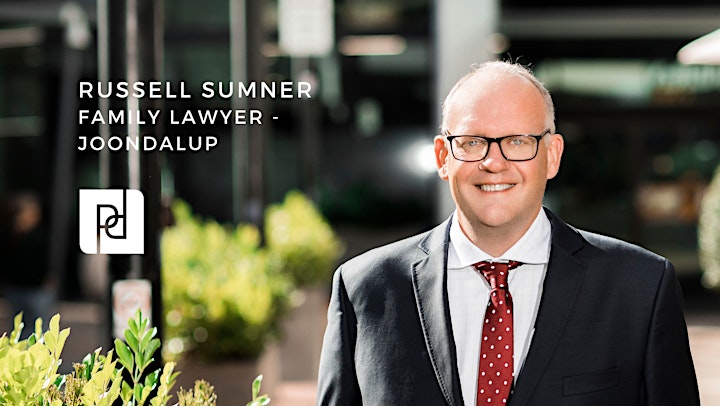 About the presenter
Russell Sumner works in all areas of Family Law and is experienced in children, Family Violence Restraining Orders, all types of property matters, spousal maintenance and child support.
Originally from north Manchester in the UK, Russell leads Paterson & Dowding's Joondalup family law office at Unit 6 (first floor), 14 Reid Promenade which is directly opposite the Court. You can read more about Russell on our website by clicking here
*Don't miss out. Bookings are essential and spaces are limited. Register now!
Please note: Although we cannot provide any legal advice during our seminars, each attendee will have the opportunity to talk directly to Russell and ask their questions.
Need family law advice urgently but can't make the event?
A P&D lawyer can help you today. Choose from -
A FREE 15-minute telephone/zoom meeting with a P&D lawyer if you just have a quick question you want to ask. Go to https://familylawyersperth.com.au/ complete the form and a friendly staff member will then be in touch to match you with a P&D family lawyer and book in a time, providing there is no conflict.
An hour long initial appointment with a P&D lawyer at a special rate for new clients. Please email enquiry@patersondowding.com.au and we will be in touch to finalise details.
Getting specialist family law advice early could save you time and money. Talk to a P&D family lawyer first, and make informed decisions.
Date and time
Location
Paterson & Dowding Family Lawyers
Unit 6 (first floor)
14 Reid Promenade
Joondalup, WA 6027
Australia