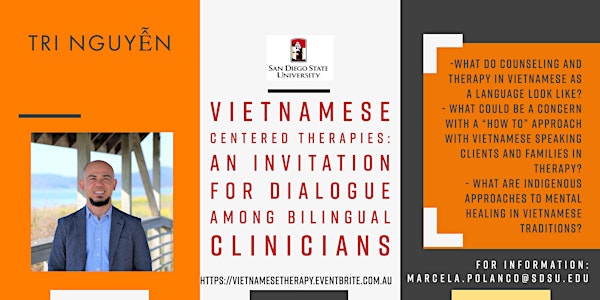 Vietnamese Centered Therapies: A dialogue among bilingual clinicians
Vietnamese Centered Therapies: An invitation for dialogue among bilingual clinicians with family therapist, Tri Nguyễn.
About this event
The SDSU Spanglish Certificate invites conversations about bilingual therapy across various languages. This workshop centers Vietnamese language and will be facilitated by Tri Nguyễn.
Tri Nguyễn is a 1.5 generation, bi-cultural/bilingual, Vietnamese American. He grew up in San Diego, California, and a first-generation college graduate. He has over 10 years of experience working in community mental health, particularly with Asian Pacific Islanders and monolingual immigrant communities. Currently, he is a practicing licensed family therapist at Naval Air Station Whidbey Island, WA. He also has a small online private practice offering therapeutic services to California and Washington State residents. He recently completed a PhD in Psychology from the Taos Institute and Vrije Universiteit Brussels (VUB). His dissertation examines the inter-relationships between interculturality, decoloniality and multicultural competence counseling practices.
This conversation will be guided by the following questions:
What do counseling and therapy in Vietnamese as a language look like?
What could be a concern with a "how to" approach with Vietnamese speaking clients and families in therapy?
What are indigenous approaches to mental healing in Vietnamese traditions?
Participants will leave this conversation with ideas about
What could be a role of decoloniality in counseling and therapy with Vietnamese speaking populations?
Shifting therapeutic stance from "how to work with culture" to roles of language and dialogues
Deconstructing how "culture" is used in therapy and counseling with Vietnamese speaking populations
Identifying ways to shift from languages that "essentializes" people to languages that promote "change and healing"
Identifying ways Vietnamese speaking clinicians could contribute to co-constructing a "Vietnamese-centered therapies"
1.5 CEUs for the Sate of California will be provided.
For more information contact: marcela.polanco@sdsu.edu

Organiser of Vietnamese Centered Therapies: A dialogue among bilingual clinicians