Description
VIDEO EDITING & MARKETING WORKSHOP FOR BUSINESS
With Rose Burnett | Grow Your Business Online Meetup - FRIDAY SEPT 1, 2017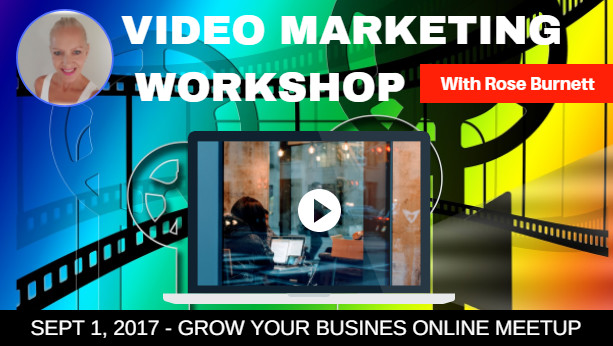 Join us for an informative workshop on how to create, edit and produce videos for your business to:
- Build Your Brand Online
- Generate More Leads & Sales for your Business
- Convince and Convert Web Traffic into Buyers
WHO THIS WORKSHOP IS FOR...
Business Owners and Entrepreneurs who are looking to grow their basic skills in video production and video marketing that you can do with just a laptop, video editing software, Youtube, Facebook and Vimeo.
WHAT'S COVERED...
There will be live demonstration on how to:
- Create videos using Powerpoint Slides and recorded Video
- Edit videos using video editing tools (video files, audio files, insert title slides and subtitles, export)
- Upload videos to Youtube, Vimeo and Facebook (Best Video Settings to Use)
- How to insert links and cards for lead generation on Youtube and Vimeo
- How to embed videos on your website
- Video Marketing for Lead Generation and Sales Conversion
Please Note: We are limited to 30 Spots only available for this workshop, so be quick!
PRESENTER
Rose Burnett has 13+ years experience in digital marketing, web development, content marketing, blogging, social media marketing and multi-media production. This Workshop is part of our regular calendar of events for 'Grow Your Business Online' Meetup Group of which Rose is the Organizer. Joined by Co-host Julia Buchholz, leading social media specialist in Perth.
VENUE: The Ballroom, Dome Cafe Maylands
COST: $10 per person for Workshop
BYO Coffee at the Dome - when you arrive at the Dome remember to order a coffee, staff will bring it round to the Meeting Room for you. (Approx. cost $5)
You can also join our Meetup Group - to get notified of more events like this, coming up.