VICTORIA ICG COACH AND CONNECT: Transforming Your Message with Your Body an...
Description
Welcome to VICTORIA ICG Coach and Connect for JUNE 2017
Are you ready to transform your self-talk to empower you?

Would you love to leave this event with tangible tools to revitalise your thinking, speaking and actions?

Is the time right now, to awaken your authenticity, engagement and magnetic presence?
YES!!
Then keep reading…
The ICG has a fantastic calendar of presenters for you in 2017 and we are continuing to ramp up the value for you with our theme for the year "MOVERS & SHAKERS". These events provide a fantastic opportunity to get in the room with like-minded individuals and phenomenal speakers.
This month we are committed to support you as you seek to make a difference on a larger scale to choreograph your communication to "Walk your Talk"


Please give a warm welcome to our JUNE Mover and Shaker, Dr.Gary Wohlman.
Dr Gary Wohlman will facilitate this unique presentation, awakening refreshing new ways for us to mobilise self-talk that is empowering, nurturing and healing – both with ourselves and in our interactions with others. Through his scenario-based, Monty-Python flavoured approach to generating breakthroughs in communication, by the end of this presentation you will come away with tangible tools to revitalise your thinking, speaking and actions ~ on all stages of your life.
The session will be highly engaging and theatrically-based, which means that you will have an opportunity to stage a personal challenge you may be facing in delivering your messages with greater effectiveness and impact. Utilising a combination of the latest findings in NLP (Neuro Linguistic Programming), Whole Brain research, and improvisational theatre techniques, you will find that, even in this short session, swift shifts will emerge that you'll find are easy to sustain and grow.
Dr Gary's dramatic flair and playful, engaging manner will also assist you to feel safe to make breakthroughs in your self- expression that you've wanted for years. His expertise and fine-tuned laser-beamed approach to catalysing shifts in your ability to communicate will also include outrageously fun moments where you'll be having such a good time riding this wave of ridiculosity you won't need to look back on the shy, fearful, hesitant and back-peddling communicator you used to identify with.
Be prepared to have the time of your life.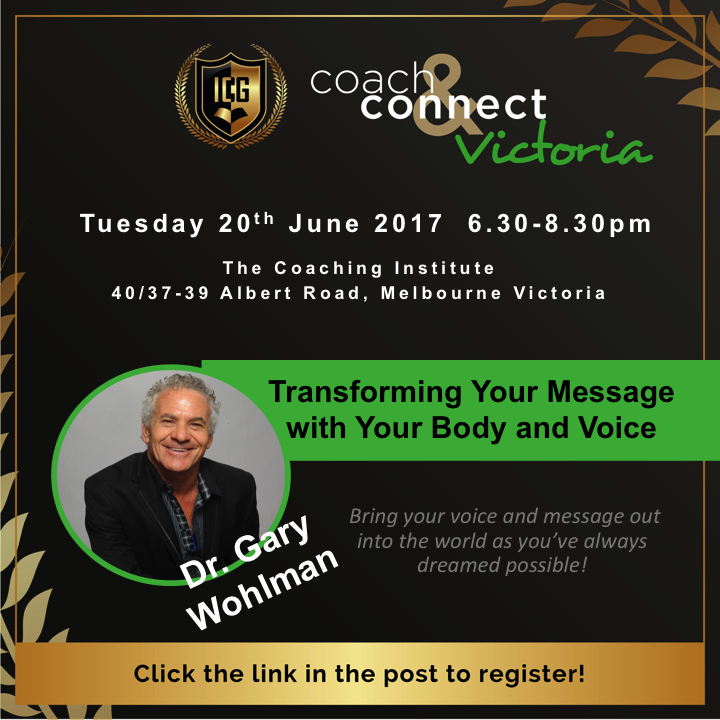 Introducing Dr. Gary
Dr. Gary Wohlman is an innovative presentation coach who has travelled the world training CEOs, managing directors, senior managers and executive committees of leading organisations, as well as professional speakers and entrepreneurs in a wide range of industries. His streamlined approach to facilitating personal and corporate communication combines over 45 years of performance-based leadership training, team-building and platform skills.
Known for his refreshing, interactive, wonderfully playful and sensitive audience-participatory style, Gary has an extraordinary ability in creating a safe and supportive atmosphere through which participants easily awaken their authenticity.
Dr Gary's clients generally come from two paths: firstly performers and leaders, high-profile spokespeople who love presenting on stage. Their goal is to persuade, entertain, inform or educate and leave an impression. Secondly, those that want to achieve similarly, yet may be challenged in expressing themselves, lost for words, floundering for material, simply stuck or nervous – afraid to be seen.
For Gary, there is always an overarching sense of achievement working with people to unlock the stored physical, emotional and creative energy – and release the related anxiety, tensions and self-talk holding them back.
COME IN COMFORTABLE CLOTHES AND BE PREPARED TO MOVE
PLEASE NOTE REGISTRATION: FROM 6:30PM
• EVENT START: 7.00pm

 • EARLY BIRD TICKET SALES: $20.00 through this site (plus booking fee)
• $25.00 on the door (CASH ONLY-NO RECEIPTS GIVEN) 

This is guaranteed to be a sell out event and the room will be packed. Don't delay in securing your seat. Purchase your tickets now
Jane Cann
Victorian ICG Coach and Connect Leader