VICTORIA ICG COACH AND CONNECT: Eliminate Stress, Pressure and Anxiety: Get...
Description
Welcome to VICTORIA ICG Coach and Connect for July 2017
We are delighted to announce we have the amazing Andrew Pearce joining us for our July Coach and Connect. Andrew is a true mover and shaker in the world of Anxiety Free Living.
Ask yourself:
Are you surrounded by all the resources you need, yet you fear taking action?

Do you hold yourself back and know you are self-sabotaging?

Would you love to get into flow and watch your results do the same?
Then keep reading…
The ICG has a fantastic calendar of presenters for you in 2017 and we are continuing to ramp up the value for you with our theme for the year "MOVERS & SHAKERS". These events provide a fantastic opportunity to get in the room with like-minded individuals and phenomenal speakers.
This month we are committed to support you as you seek to "let go and find your flow". Please give a warm welcome to our July Mover and Shaker: Andrew Pearce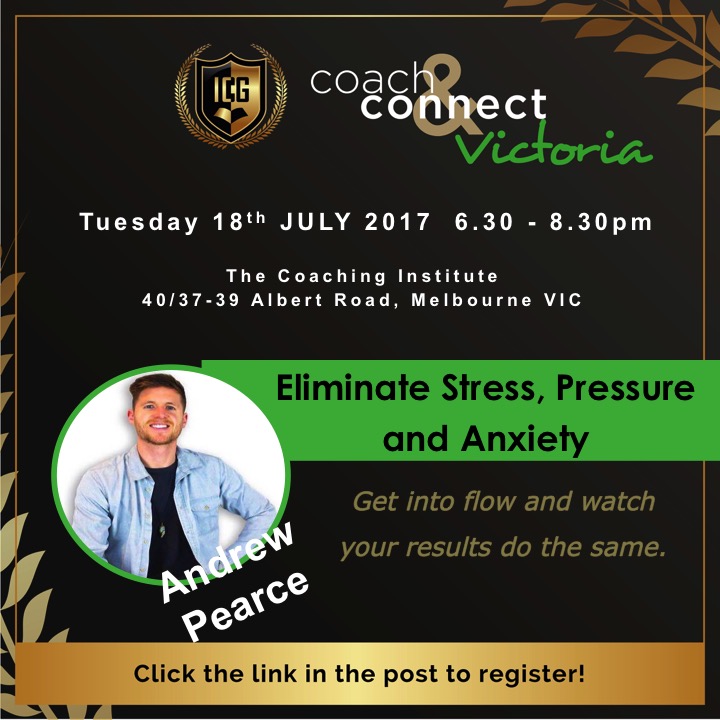 Introducing Andrew Pearce
Andrew works as a Professional Coach specialising in the area of Anxiety. He started at the Coaching Institute in 2014 and Andrew is now the C.E.O and Director of Programs at Anxiety Free Living.
Andrew has a passion for human behaviour, the workings of the mind and consciousness and this is what drives him to create a change in this world.
Check out Andrew's video introduction and a sneak peak of the amazing evening he has planned for us all.
Andrew will be sharing with us:

His personal journey and how he started to grow

The value of getting into flow and letting go of anxiety

How the most important asset in your business is YOU and working on yourself is a MUST.
PLEASE NOTE REGISTRATION: FROM 6:30PM
• EVENT START: 7.00pm

 • EARLY BIRD TICKET SALES: $20.00 through this site (plus booking fee of $2.08)
• $25.00 on the door (CASH ONLY-NO RECEIPTS GIVEN) 

This is guaranteed to be a sell out event and the room will be packed. Don't delay in securing your seat. Purchase your tickets now
Jane Cann
Victorian ICG Coach and Connect Leader