VICTORIA ICG COACH AND CONNECT: Delving Deep into the Mindset of a Successf...
Description
Welcome to VICTORIA ICG Coach and Connect for AUGUST 2017
Delving Deep into the Mindset of a Successful Coach: a conversation with Aidan Parsons.
We are delighted to announce we have the incredible Aidan Parsons joining us for our August Coach and Connect. Aidan is a true mover and shaker in the world of Business Coaching.
Ask yourself:
• Would you love to learn the success strategies of a highly successful coach?
• Are you committed to lean in and learn what it takes to run a multi-million dollar business?
• Who do you need to BE in moments of self-doubt and uncertainty?




The ICG has a fantastic calendar of presenters for you in 2017 and we are continuing to ramp up the value for you with our theme for the year "MOVERS & SHAKERS". These events provide a fantastic opportunity to get in the room with like-minded individuals and phenomenal speakers.
Introducing AIDAN PARSONS
Aidan is a Pay On Result Business Coach who has helped over 500 different businesses achieve their financial and personal targets over the past 5 years. With a experience ranging from multinational executive coaching to helping start ups right from the idea hitting a white board, Aidan has a lot to offer any room looking to grow their businesses.
As a student of TCI, Aidan has learned from the best in the business and has over the past 3 years brought his coaching business up to and beyond seven figures year in year out. Tonight he is bringing to Melbourne the process and secrets he has behind the curtain, that allow him to consistently have his phone ringing with leads, plus his vulnerability to be open and honest as he delves deep into the highs and lows of being a successful coach.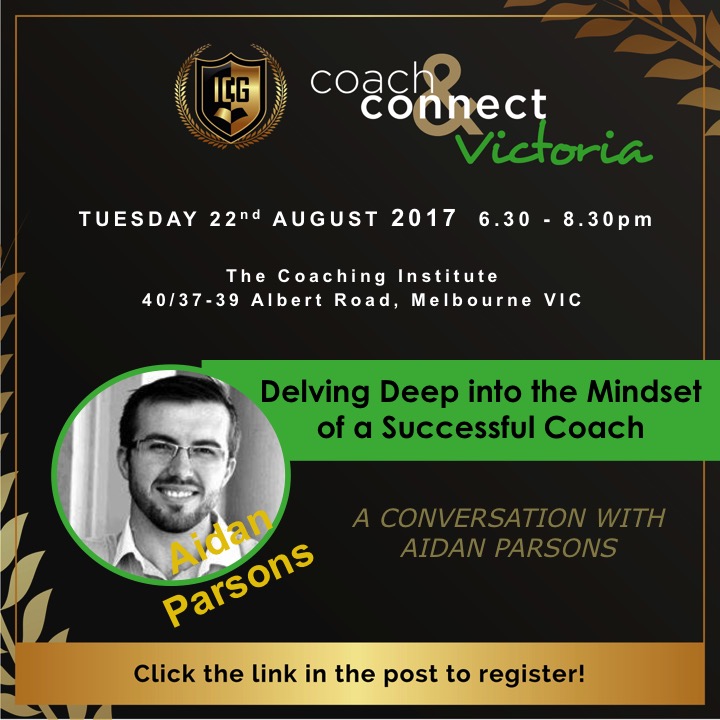 Aidan will be sharing with us:
• His personal journey and how his mindset created his success
• The values he lives by every day and his hunger to serve others
• Overcoming the doubts and fears - who he had to become to create a multi-million dollar business.
We are so looking forward to meeting you in the room.
Jane Cann
Victorian ICG Coach and Connect Leader