Description
A Master Class and Common Interest Work Group presented by SIRF Roundtables VICTAS.
Attendance is free for people from member companies of SIRF Roundtables in Victoria and Tasmania.
Hosted by: CSF Proteins Laverton Nth

Sort-Straighten-Shine-Standardise-Sustain
So simple but so few succeed.
Want to see what a sustainable 5S environment looks like?
Want to understand how you can get the benefits of 5S in your maintenance department?

CSF Proteins have kindly offered to host this 5S in Maintenance event so we can see what a sustained 5S environment looks like.
At this event we will learn the principles of 5S and how CSF Proteins have been able to sustain their efforts whereby it is now embedded in the way they work..
We will discuss:
The purpose of 5S
The principles behind 5S
The importance of leadership in 5S sustainability
The CSF Proteins approach to 5S
The value derived from a 5S environment
How to make it work
So come along and see what good looks like. Bring along someone you need to educate in 5S.

Seats are very limited so don't delay.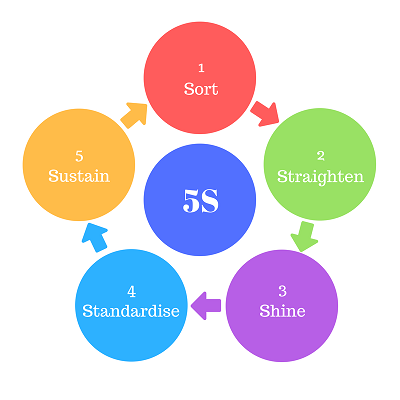 Agenda
8:30 am - Arrive and check in and Intros
9:00 am - Master Class Presentation
10:00 Morning tea
10:15 visit to CSF Proteins Site including workshop and store, followed by group discussion
11:45 am - Wrap up & event feedback
12:00 pm - Event ends
Who Should Attend?
SIRF Common Interest Work Groups are for anyone interested in the topic of the day, and have the broadest attendance range of any of our events. Likely of interest to likely of interest to Maintenance Managers, Team Leads, trades people and CI people. If you are involved in 5S in maintenance, workshops and stores. Chances are good that if you've read this far, this event is for you !

About SIRF Rt Master Classes
All SIRF Rt events are designed to provide a safe environment for open discussion with peers on the topic of interest they are working on, in and around. IMrt Masterclass events start with a two-plus hour detailed presentation on the topic by an experienced individual, followed by an open roundtable discussion on the topic. The format provides didactic learning about a complex, specialised subject, combined with the benefits of a Common Interest Work Group.


FAQs
What are my parking options for the event?
Parking is available on site
What are the PPE requirements?
Long pants, long sleeves, safety boots, safety glasses and hi-vis vest, hard hat if have one
When do I need to register by?
Registration typically closes three business days before the event for Common Interest Work Groups
Investment?
This event is included in SIRF Roundtable membership

Who can I contact for further information?
Alain LeBon on 0439 612 620 alain.lebon@sirfrt.com.au
Brian Niven on 0439 612 609 brian.niven@sirfrt.com.au