Description
A Roundtable presented by SIRF Roundtables Victoria and Tasmania


Automation Roundtable - via zoom
Industrial automation is progressing at a furious pace with not only what is increasingly possible but available in options to support business appetite for greater capability, better productivity and further improvements in safety, quality and cost. This leaves those in the Automation space with a bewildering array of technologies to work with, interact, integrate in with legacy systems to support the growing business needs to be more competitive.
To support businesses, including with more traditional approaches to Automation, those in the Automation space have the exciting prospects of Smarter factories utilising Industry 4.0, Artificial Intelligence, Industrial Internet Of Things, Big Data, Clouds and Cloud networks and opportunities to further harness the power of Modelling, Simulation, Visualisation, and Immersion with tools such as Digital Twin, Virtual Reality and Augmented Reality.
While all these prospects can be quite exciting, it can also be quite challenging for those in Automation roles, not only in the integrating and interfacing between all these systems, but also into what legacy systems exist and to match business expectations and including various change aspects. These systems can also tend to throw up concerns for cybersecurity and also how parts, knowledge, training, support and obsolescence are managed -often requiring a strategic approach.
This roundtable is a chance to learn and share on Automation. A chance to share best practice with others and also learn from others. The subjects cover anything related to Automation including technologies involved, and challenges around implementing, managing and supporting aspects around these.
Come along and be part of what will be a great event. This is an opportunity to hear about Automation and relevant aspects, network with your peers and find out what others in the best practice and beyond space are doing.


Hosted by Sirf Roundtables via Zoom Conferencing - no purchase of Zoom necessary to attend.

Four excellent presentations and opportunity for Roundtable discussion,
Speakers for this Roundtable - Watch this space !
---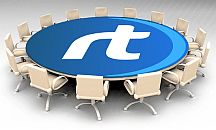 Roundtable Discussion - We will have the chance to share and be part of discussions on some of the important aspects around Automation.
---
Who Should Attend?
SIRF Rt Roundtable Events are for senior and middle management and specialists looking to learn from and discuss with peers the issues they are facing in and around their field of excellence. This Rountable meeting is likely of interest to Automation Engineers, Technicians and Electricians. Maintenance and Engineering Managers, Project Managers, Team leaders and Supervisors, Systems and Technology Managers and anyone interested in and involved in Automation.
About SIRF Roundtable Events
All SIRF Rt events are designed to provide a safe environment for open discussion with peers on the topic of interest they are working on, in and around. Roundtable Events like this one are where we get our name from, and they are organised around a topic or theme. Several speakers will present for between 20 and 45 minutes, with a time period for questions. During the event our expert facilitators will also conduct short roundtable discussions on different aspects or parts of the topic/theme throughout the day. There will be numerous opportunities for networking and sharing best practices. These are our premier local events, so don't miss out!

---
FAQs
What will I need to participate in this event?
Access to a PC/ Tablet / Smartphone with Camera and mic
What software will I require?
Access to Zoom either by downloading, or the web via computer, phone or tablet
How do I connect to my event?
You will be sent a link to access the event.
When do I need to register by?
Registration typically closes three business days before the event for Roundtable meetings
Investment?
This event is included in SIRF Roundtable membership
Who can I contact for further information?
Vic & Tas - Alain Le Bon 0439 612 620 alain.lebon@sirfrt.com.au
Vic & Tas - Brian Niven 0439 612 609 brian.niven@sirfrt.com.au
SA - Sean Lewis 0466 256 736 sean.lewis@sirfrt.com.au
WA - Chris Bush 0400 109 861 chris.bush@sirfrt.com.au