Description
"Like Siamese Twins in ensemble playing...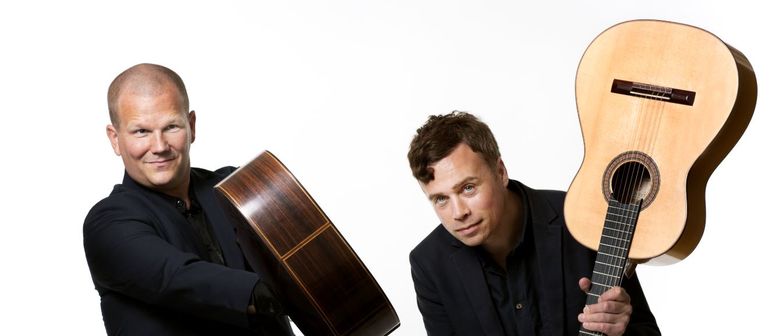 "
Süddeutsche Zeitung, Germany
Swedish guitar duo The Gothenburg Combo (David Hansson and Thomas Hansy) offers one of the most diverse, entertaining and surprising concert experiences in the Guitar world today! Their showmanship, breathtaking ensemble-playing, highly innovative way of using the guitars, warm sense of humor and deeply soulful musical performances have been praised by audiences and critics all over the world.
The duo's main focus is a generous and warm, often humoristic communication with the audience, particularly well suited for those who may be new to the acoustic guitar scene: the future audiences!
"Tenderness and delicacy, sensitivity and perfection. But also playfulness and exuberance, virtuosity and sheer joy... The Gothenburg Combo plays classical music with pop appeal, exudes an irresistible life-affirming sense of humor and belong with these qualities to the leading guitar duos of the world."
Westdeutsche Allgemeine Zeitung, Germany
The duo has been touring for over 15 years in Europe, North America, South America and Asia and have developed a great stage act. Recently they have toured and collaborated with the legendary American composer Terry Riley, "father of musical minimalism", written their first opera, produced "The History of Swedish Music" for the American Swedish Institute in Minneapolis, US and getting rave reviews for their album "Seascapes" among many other things.
"Expressing the spirit of both Jimi Hendrix and Andrés Segovia"
Jönköpings-Posten, Sweden
In 2004 The Gothenburg Combo won the first prize and the audiences's prize in "13eme Concours Internationale de Guitare en Duo" in Montelimar, France.
A selection of their critically acclaimed albums: "Seascapes" (a concept album on Jules Verne's "20 000 Leagues Under the Sea") "Guitarscapes", (including a unique version of "In C" by Terry Riley), "Sketches of the World" (including the suite "The Seven Continents"),"Soundscapes" (a tribute to Steve Reich) and "Hausmusik" (with instruments from the great luthier Hermann Hausers collection).