About this Event
VETERANS BUSINESS WORKSHOP
SYDNEY
Owning a business isn't easy. If it was, everyone would be rich.
We believe business ownership and entrepreneurship is one of the greatest, most creative and rewarding endeavours you can ever undertake.
But what if you're transitioning from military life to the commercial world? That's another challenge all in itself. How do you develop a strong plan for an optimistic outlook? How do you gain more skills and knowledge – so as you can put your best foot forward in the commercial and civilian world?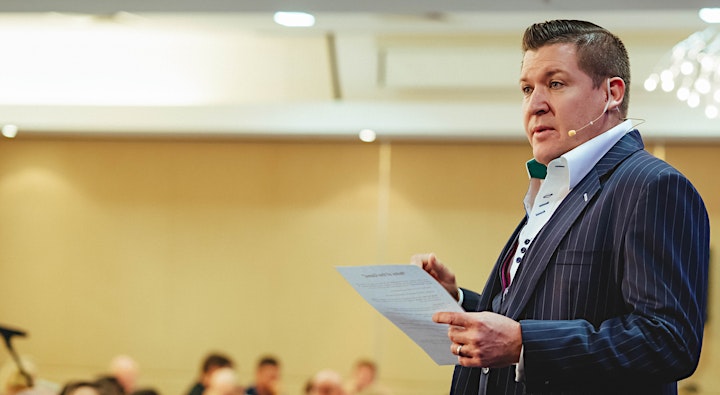 Bruce Campbell is recognised as the #1 Business Coach globally, (7 times), and has been extensively awarded for his work through various international bodies. He has an uncanny track record of coaching business owners, and people who want to get into business, to life changing financial results, and is an amazing mentor, focussed on coaching the person, not just the business.
His expertise in business strategy, marketing, sales, finance, international business, and human resource management, stem from working and coaching in a diverse range of industries over many years.
Bruce is actively coaching ex military business owners and has been pivotal in the success of helping them transition to the corporate world. At Entrepreneurial Business School, Bruce has also surrounded himself with 2 former Commandos from the 2nd Commando Regiment – (the two very good looking chaps you saw in the video that got you to this page) - Pete Waring and Brendan Caughey. Pete and Brendan work as Accountability Coaches within EBS and work closely with all of our clients by doing what the military taught them well – holding people accountable.
Bruce has an MBA from Aberdeen Business School (UK), has invested well over a million dollars in his further education, and most importantly, to him, has a "degree in life" with over 20 years business development experience, that he is wanting to share with "you".
We invite you to attend Bruce's Business Workshop. We have 3 workshops scheduled over 3 days – one in Sydney, one in Melbourne, and one in Brisbane.
Throughout these workshops, Bruce will change the way you think about business in general. Bruce will provide you with the information and tools;
• To help turn your advertising and marketing into an investment instead of an expense
• Increase sales and profits overall for your business
• Learn how to maximise your time efficiently to achieve the quality of life outside of the military world
This is not a theory-based workshop, you'll get practical value and tools that you can implement immediately to produce improvements to your business!
Bruce's goal is to educate you so you can avoid the mistakes many business owners make and to ease you into the first steps of creating a successful business in the civilian world.
Usually $97 a ticket this extended workshop will be a free, educational event that we invite all members of this group to attend. Upon attendance you will also be provided with a complimentary copy of Bruce's book "Where's My Cash Gone" - valued at $24.95.
Click the "Register" button to secure your seats.