Vegetation Management in Tasmania Field Trip IAG2019
Description
Tasmanian vegetation is conserved in wild, wonderful and waning landscapes. Tasmania is additionally one of the most geodiverse and montaine places on earth.
Join Distinguished Professor Jamie Kirkpatrick and Dr. Melinda McHenry for a trip to some of Tasmania's most magnificent wild places in the Tasmanian Wilderness World Heritage Area. Jamie and Melinda will regale you with tales of vegetation and landscape management at the bottom of the world.
Please bring clothing for very cold and possibly wet weather on the day. We will be travelling by coach and all food and drink is provided. The coach can drop you off to the airport by 6pm if required.
Estimated itinerary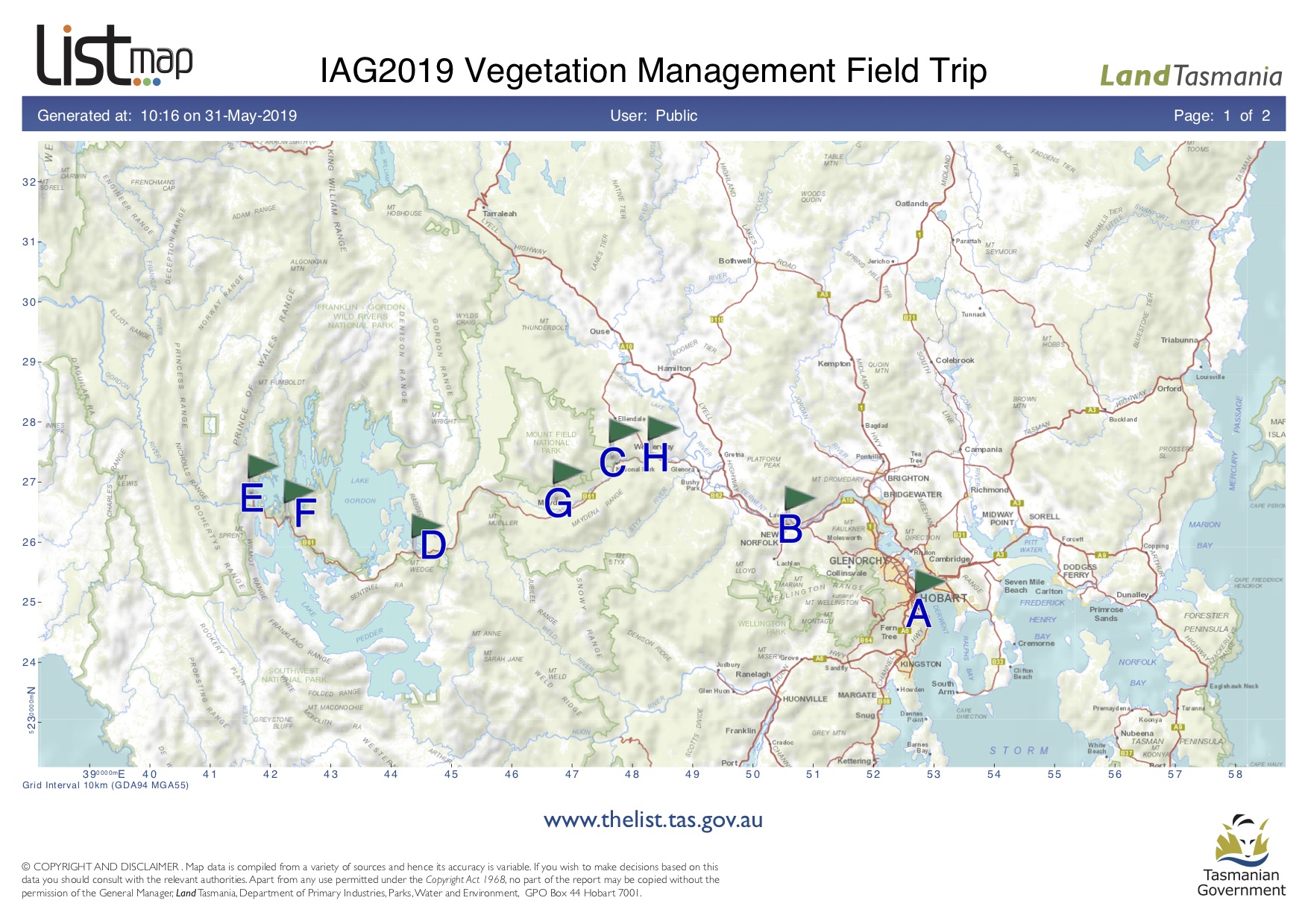 A. 9 am Depart Wrest Point
B. 9:45 am Stop in Derwent Valley - Coffee, a light walk and a discussion about vegetation management in a peri-urban landscape atop Sandstone and Mudstone Cliffs. The Derwent Valley is a burgeoning temperate horticultural region. Melinda and Jamie will explore the tensions in vegetation management that exist in an area on the edge of an agritourism expansion, and the changes that have occured in land management at the municipal level in Tasmania.
C. 10:45-11:45 am Mount Field and Russell Falls short walk - morning tea, short walk through the sub-alpine regions of Mount Field National Park. Jamie will discuss management of vegetation in Tasmanian National Parks.
D. 12:45 pm Mount Wedge, Sentinel Ranges lunch. A chance to take in the exceptional vista of the Tasmanian Wilderness World Heritage Area. Melinda will describe the complex geoheritage of the region, and Jamie will describe the management of vegetation in a UNESCO protected area.

E-F. 2pm Gordon Dam and Lake Pedder are considered to be acheivements in renewable energy - Tasmanian energy is almost exclusively derived from hydroelectric power. However, the unique landscapes of the Lake Pedder and Gordon region were decimated by the flooding of the region. Stands of Tasmania's rare Huon Pine were lost during the conversion, and adjacent regions have been impacted by wildfire. Jamie and Melinda discuss the tradeoffs between 'sustainable' land uses in this special environment.

G. 3:45 pm. Junee Cave. A chance for a short walk and afternoon tea at Junee Cave - a spectacular Karstic landform with co-adapted flora that is the outfall for a vanishing river further upslope. Melinda will describe the unique geomorpholgy and geoheritage of the region.

H. Short break at Westerway berry farm.

5-5:15 pm return.
The coach can then take guests to the aiport, arriving 6pm.