Sales Have Ended
Registrations are closed
Excellent! I'm excited that you're attending the VBH Ladies Connection Group zoom session. It'd be beneficial to have pen and paper on the ready. Keep an eye out for the VBH zoom session link in your email inbox and also check the junk box, just in case. regards Donna Arnold
Sales Have Ended
Registrations are closed
Excellent! I'm excited that you're attending the VBH Ladies Connection Group zoom session. It'd be beneficial to have pen and paper on the ready. Keep an eye out for the VBH zoom session link in your email inbox and also check the junk box, just in case. regards Donna Arnold
The VBH Ladies Network Zoom sessions - for small business women to learn, promote, discuss to build rapport through meeting & workshops
About this event
A unique group of business women who know the huge benefits of networking.
We meet to Mastermind or share experiences and knowledge as well as fortnightly workshops.
Visionary Business Hub Members have priority to promote themselves and select dates for their workshops.
The depth of rapport in this group furthers more opportunities for REFERRALS & COLLABORATIONS which leads to expansion in the client base as well as overall SAVINGS .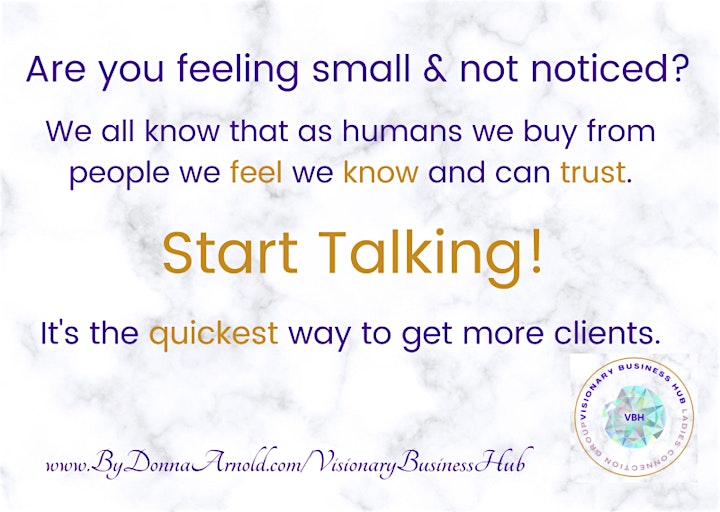 Organiser of VBH Ladies Connection Session for Business Women
IS THIS YOU?
Do you feel that time is ticking away?
Have you been in your business a while and not seeing results?
Are you struggling to gain traction?
A coach is not in the budget just yet?
Networking with community of like-minded women is just what you need!
We love connecting business ladies!!
We believe that the more we share and help each other with our own experiences & knowledge the better off we'll be.
In our networking zoom sessions, because we are a BOUTIQUE & UNIQUE group of ladies, we get to know you much deeper through Masterminding, regular self promotions and workshops.
This in turn leads to strong REFERRALS & COLLABORATIONS.
So bring your personality and let it shine through because in here all that you have to do is TALK.
How easy is that?