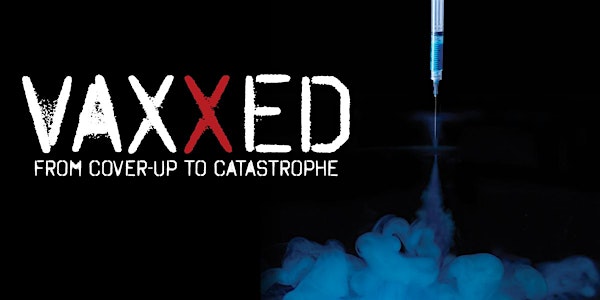 VaxXed Screening + Q&A: Sunshine Coast Hinterland QLD
Location
Secret Venue
Sunshine Coast Hinterland
Within a 20km Radius of Montville
QLD
Refund policy
Refunds up to 7 days before event
Sales Have Ended
Ticket sales have ended
Thank you for purchasing a ticket to see VaxXed: From Cover-Up to Catastrophe + Q&A with the VaxXed Team via Skype. The exact venue within Sunshine Coast Hinterland, QLD, will be sent to the email address and phone number/s you provided at booking. Questions: vaxxed@avn.org.au Media: auspress@vaxxedthemovie.com If you do not receive a text message or email with the venue location prior to 4:05pm on July 23rd, please email vaxxed@avn.org.au immediately. Please note that a camera crew will be on hand at the end of the Q&A to collect vaccine injury stories.
Description
CONTACT
MEDIA: auspress@vaxxedthemovie.com

GENERAL: vaxxed@avn.org.au
EVENT INFORMATION:
5:45pm: Doors Open
6:00pm: Film Begins Playing
7:30pm: Film Concludes. Q&A Begins.
(At least TWO of the US VaxXed Team will be joining via skype!)
8:15pm: Q&A Concludes and Film Crew will be present to collect vaccine injury stories.

US VaxXed Team Can Include: Polly Tommey, Dr. Andrew Wakefield, Del Bigtree, Dr. Brian Hooker, Dr. Suzanne Humphries.
IMPORTANT VENUE INFORMATION:
The exact venue will be announced to ticket holders via email and/or sms 2 hours prior to the event. If you do not receive this notification by 4:05pm on Sunday July 23rd, please email auspress@vaxxedthemovie.com immediately.

The general location of the venue is Sunshine Coast Hinterland, QLD (within 20km radius of Montville).
TICKETING QUESTIONS:
CONCESSION: Proof of concession is required upon entry.
- Children (Under 16)
- Students (where the category of study qualifies for concession on public transportation)
- Pension Recipients of Disability Payment, Carers Payment, Aged Payment.
- Health Care Card Holders
SMALL CHILDREN & TICKETING:
Infants and small children who can and will comfortably be seated on their parent/caregiver's lap for the duration of the film do not need a ticket to be purchased. Small children and older children who will require their own seat for some or all of the film, need to have a ticket purchased.
ABOUT VAXXED:
In 2013, biologist Dr. Brian Hooker received a call from a Senior Scientist at the U.S. Centers for Disease Control and Prevention (CDC) who led the agency's 2004 study on the Measles-Mumps-Rubella (MMR) vaccine and its link to autism.
The scientist, Dr. William Thompson, confessed that the CDC had omitted crucial data in their final report that revealed a causal relationship between the MMR vaccine and autism. Over several months, Dr. Hooker records the phone calls made to him by Dr. Thompson who provides the confidential data destroyed by his colleagues at the CDC.
Vaxxed: from Cover-Up to Catastrophe is a documentary film that compiles this information together, and interviews a range of medical doctors, university professors, and autism specialists.
To learn more about the film, the evidence, and to view the trailor, please visit: www.vaxxedthemovie.com
IS THIS DOCUMENTARY ANTI-VACCINATION?
No. The documentary makes the following four calls to action:
1. That Congress subpoena Dr. William Thompson and investigate the CDC fraud.
2. That Congress repeal the 1986 National Childhood Vaccine Injury Act and hold manufacturers liable for injury caused by their vaccines.
3. That the single mealses, mumps, and rubella vaccine be made available immediately.
4. That all vaccines be classified as pharmaceutical drugs and tested accordingly.
- Being pro Government transparancy is not anti-vaccination.
- Being pro large corporations paying their own lawsuit bills is not anti-vaccination.
- Being pro availbaility of safer vaccines that achieved the same immunity outcomes is not anti-vaccination.
- Being pro correct classification and testing of vaccines is not anti-vaccination.
Watch the documentary, and make your own judgement about its stance.

VIEWER DISCRETION:
This documentary contains adult language and themes. Some images and scenes may be distressing to some viewers. Viewer discretion is advised.
WARNING:
** RESELLING TICKETS FOR A PROFIT IS NOT ACCEPTABLE. ORGANIZERS MAY REFUSE ENTRY TO TICKET HOLDERS WHO ENGAGE IN TICKET RESELLING FOR A PROFIT. **