Description
Van Vicker in Australia
---
The Nollywood all time Celebrity is on the way to Australia in all States. The show will start in Melbourne on the 1st of December, followed by Sydney 2nd of December, then Adelaide on the 3rd of December. The following weekend he will be in Brisbane on the Friday the 7th of December and final show will be in Perth on the 9th of December.
This is a red-carpet event. Paparazzi everywhere. We have also invited Radio (such as SBS) and TV stations to attend and cover majority of the shows. You don't want to miss it.
They will be performances, drinks, music, dancing, meet and greet with VAN VICKER, and all the fun you can possibly think of.
This is Van Vicker's very first time to come to Australia and you can meet him in person. It's a privilege to meet someone with such a history filled with success. Don't regret it later. Tomorrow is not promised. Buy your ticket today, we might be sold out tomorrow. Tickets are currently running fast.
EVENT Dates
---
MELBOURNE - 01/12/2017 - @ SUNSHINE VILLAGE CINEMA + After Party

SYDNEY - 02/12/2017 - @ Parramatta RSL + After Party

ADELAIDE - 03/12/2017 - @ Star Theatre + After Party

BRISBANE - 08/12/2017 - @ Garden City EVENT CINEMA + After Party

PERTH - 09/12/2017 - @ Cannington Leisreplex + After Party
Benefits for attendees
---
Unlimited Proffesional photos on the red carpet Paparazzi everywhere

Awesome and entertaining Performances + Comedians

Gifts and pool winning opportunites - From Van Vicker

First to view the latest Film - Cops Enemy Film (made in Sydney)

Taking photos with the Main Actors & Van Vicker

Litt After Party until in the morning - All States

Special Meet and Greet Van Vicker

Get interviewed by radio and TV stations on the Red Carpet.

VIP will have Front scene/Priority Seats

VIP will Take Photos First with the stars

VIP will receive gifts and complimentary Drinks

Special Meet and Greet Van Vicker
About John K-ay Films
---
After releasing 4 Films and "Irreversible choices", Which is now on distributed by IrokoTV. Screened on Red Carpet in Sydney, Adelaide and Perth. John K-ay has flipped the page and started a new chapter. He is now Producing an Outstanding Feature Film, With High-end Quality Production (ProLive and Young Martin Production) Featuring a well known Celebrity Van Vicker who will be live on the Red Carpet Premieres in all states.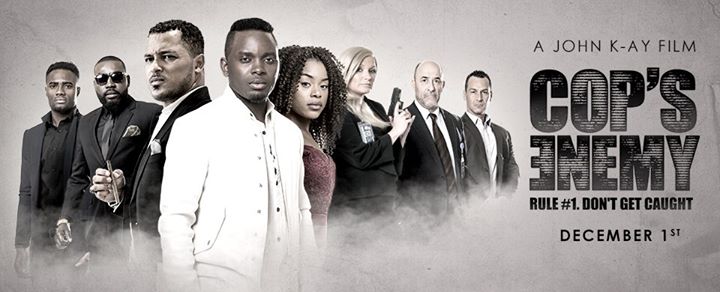 Cops Enemy Film:
---
In a city full of corrupt cops and mysterious kingpins such as Shadow, a young man Victor Kaapor fights to save his mother and the woman he loves. Which forces him to go undercover, 'off-the-books' mission to help the police take down an well-known unstoppable crew of Rich kids known as "Cop's Enemy". His only option is to betray the woman he loves, but as he gets closer to his goal he begins to realise that everything is not as it seems.


Directors : Prema Smith
DOP : Young Martin Production
Producer & Writer : John K-ay
Main Cast : John K-ay, Van Vicker, JP Yerma, Clarisse Dorica and Adjei-Nuamah & Joey Mens

Ticket pricing
---
General Admission - $40
VIP - $80


For more info:
www.Johnkayfilms.com | www.Copsenemy.com | info@Johnkayfilms.com | +61 412 626 432