UWA Business School Postgraduate Orientation - Semester 1, 2019
Description
A very warm welcome to all of our new postgraduate students both continuing with, and new to UWA and the Business School!

This session will be run by the Business School Student Experience team, and will guide you through getting started in your new course. There will be an opportunity to hear from and ask questions of past Alumni; a dedicated section on your specific degree facilitated by your course coordinator; and a chance to meet the other students commencing their postgraduate journey with you. This session is postgraduate-specific and is beneficial for all students to attend, even if you have studied at UWA before.
Need some course advice? There will be Course Advisers available prior to the session (and all week!) and we'd be happy to assist you with your enrolment. Come in and see us at the Business School Student Office (on the ground floor of the Business School).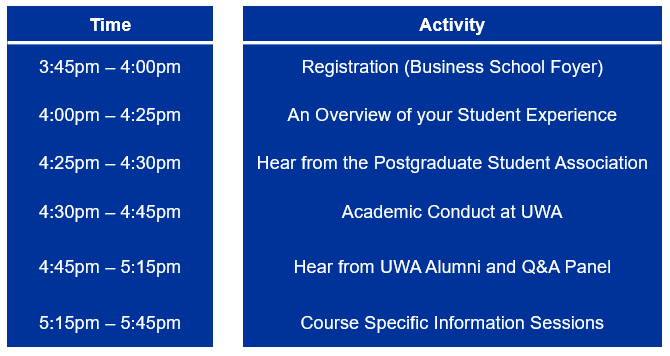 We look forward to meeting you!
The Business School Student Experience Team