Description
This event, hosted jointly by UTS Business School and the Postgraduate Business Society is an opportunity to network with fellow students and alumni, while gaining some insights into how to increase your professional profile by building your own personal brand and success stories from industry leaders by UTS alumni speakers. First session will be a workshop by someone who was an international student and now works in Linkedin followed a panel discussion with speakers from American Express, Westpac, Johnson & Johnson, Deloitte, UTS Alumni Relations, UTS careers and more.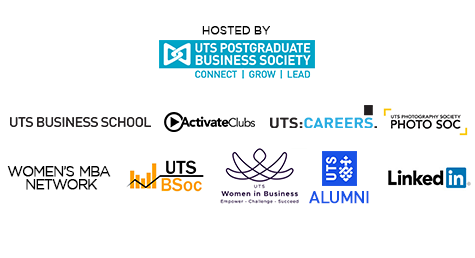 Discover the tips that will help you progress through every level of your professional life.
This event is open to all UTS Business School students and alumni and their guests
The event will be held at Aerial Function Centre.

NOTE:
If you have booked the ticket, you must attend. In case you want to cancel your ticket, please cancel it 5 hours before the event. Failure to do so will result in a ban from future PBS events.

Not yet a member of Postgraduate Business Society?
Sign-up now and enjoy inclusive perks and privileges free for both UTS Postgraduate Business Students and Alumni.
Follow #UTSPBS on LinkedIn, Facebook and Instagram for more updates!