The Amazing Australian Paraguayan Story - A 60 minute Musical Pub Theatre Performance with Queensland's best actors
About this Event
THEATREROO PRESENTS
A 60 MINUTE MUSICAL PUB THEATRE PERFORMANCE
UTOPIA -  the Amazing Australian Paraguayan Story 
Directed by Denny Lawrence (The Bill/A Country Practice)
In the 1890s, with an economic depression and widespread unemployment, a group of Australians set out for Paraguay, in South America, to establish a Socialist society. Their leader was the charismatic writer and orator Billy Lane, and colonists included Dave Stevenson, the cousin of Robert Louis Stevenson, and Mary Cameron, who later became Dame Mary Gilmore – commemorated today on the ten-dollar note.
UTOPIA is a new musical celebrating this little-known noble experiment. The songs range in style from Australian bush ballads to romantic melodies to fiery Spanish dance tunes. This 60 minute performance is not to be missed!
UTOPIA is written by Clarry Evans and Denny Lawrence who also directs. Featuring a renowned cast of Queensland performers:
Lizzie Moore (Opera Queensland), Elliot Baker (Friends! The Musical Parody), Matthew Newnham (QPAC Macbeth), Connor Hawkins (Trocadero, Brave New World Order), Cassie George (Live At The Trocadero), and the mercurial, violin-totin' Liz Young. This exciting new musical, with a four-piece orchestra under the leadership of musical director Sante d'Ettorre, will play at The Basement Theatre @ Twelfth Night.
OPENING NIGHT: Fri 26 Feb
Theatreroo's grand opening of their NEW HOME The Basement Theatre @ Twelfth Night will be on Fri 26 Feb
PERFORMANCE DATES:
Friday 26 February - OPENING NIGHT
Saturday 27 February
Friday 5 March
Saturday 6 March
Friday 12 March
Saturday 13 March
DOORS OPEN: 18:30
PERFORMANCE BEGINS: 19:30
Please arrive promptly to the venue with your ticket (mobile version is okay) and be prepared to sign in for COVID safe checks.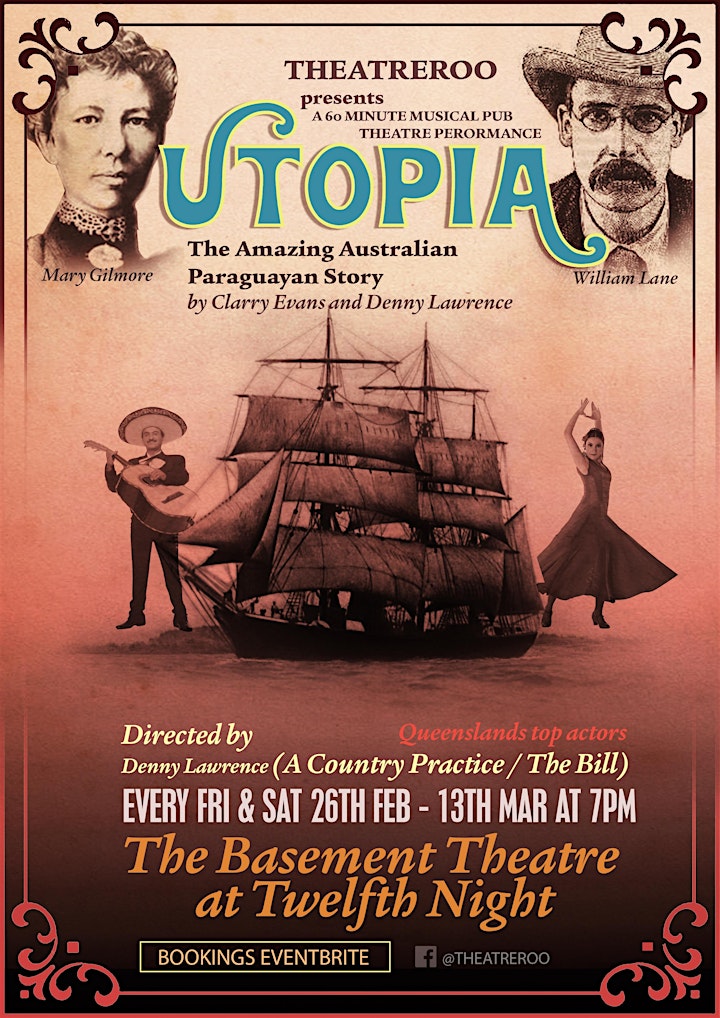 THE VENUE
Location: 4 Cintra Rd, Bowen Hills, QLD 4006
The Basement Theatre @ Twelfth Night is Theatreroo's new home for 2021!
A range of drinks and light refreshments will be available to purchase at the bar. There is on road parking.
ABOUT THEATREROO
Theatreroo provides a selection of original 60 minute pub theatre versions of record breaking stage shows. Delivering an exciting new concept that's bringing live theatre back to the people.