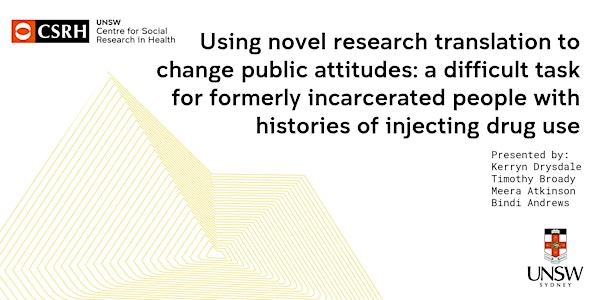 Using novel research translation to change public attitudes
CSRH seminar presented by Kerryn Drysdale, Timothy Broady, Meera Atkinson and Bindi Andrews
About this event
A difficult task for formerly incarcerated people with histories of injecting drug use
Challenges associated with transitioning from prison to community post-release are heightened for people with a history of injecting drug use. The attitudes of the general public, media and professionals in important services can be negative towards this group of people. Identifying interventions that can positively impact community attitudes towards prisoners and post-release programs may be an important step in strengthening the effectiveness of efforts to reduce recidivism. An NHMRC-funded research project drew attention to the difficulties of daily life and the systems-related challenges that people with a history of injecting drug use must navigate when they are newly released from prison. In this presentation, we discuss how collaborative research translation for and by community can serve as advocacy for change in services and systems, and in doing so, give voice to people who can find it difficult to have their experience heard. We will also present preliminary findings from an attitudinal change intervention that was conducted online, to ascertain whether novel forms of research translation do indeed have the capacity to change minds.
Kerryn Drysdale is a Research Fellow at the Centre for Social Research in Health at UNSW Sydney. She conducts research at the intersection of social inquiry and public health, particularly in the experiences and expressions of health and wellbeing among marginalised communities.
Timothy Broady is a Senior Research Fellow at the Centre for Social Research in Health at UNSW Sydney. His current research interests include addressing stigma and discrimination among communities affected by blood-borne viruses, HIV prevention, and the lived experiences of marginalised groups within society.
Meera Atkinson is a literary writer, interdisciplinary researcher, and educator. Writing across forms and genres, her work has appeared in many publications, including Salon.com, Best Australian Poems 2010, Best Australian Stories 2007, Meanjin, Southerly, and Griffith Review. Her books include creative nonfiction title Traumata (2018), The Poetics of Transgenerational Trauma (2017), an academic monograph, and Traumatic Affect, a co-edited academic volume. Meera teaches creative writing.
Bindi Andrews is a queer woman who has witnessed the trauma and long-term life impacts that incarceration can leave. She embraces the creative use of the arts to tell her and others' stories. Bindi currently works as a peer and health education officer within Sydney Local Health District, serving her community.
Register through Eventbrite now, and you will be sent the Zoom link to this event before the start.
Need assistance to register for this seminar? Ring +612 9385 6776.
Notice: This seminar will be recorded for educational purposes. Please contact the seminar organiser if you have concerns about this or would like more information about your rights under privacy legislation. Information on UNSW's privacy policy is available from
UNSW Legal and Compliance
.