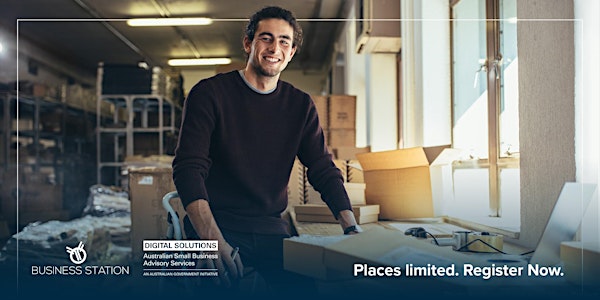 Using Ecommerce SEO to Get Your Products Found by Ricky [2OW]
Sales Have Ended
Registrations are closed
Thank you for your registration to our ASBAS Digital Solutions Event.
Learn how to optimise your online store to improve your google rankings, attract more visitors, and make more sales.
About this event
PLEASE NOTE: To register for this event you must be a business (0-19 employees)  and provide your ABN. 
This session will be recorded and sent to everyone who has registered. Register now!
Level : Beginner
In this workshop, you'll learn how to complete the essential SEO steps in order to improve your store's visibility and search engine ranking results.
Whether your store is a Shopify site, Woocommerce site, Wix, or any other, you will gain valuable insights into how to make changes that will improve your organic search traffic and, ultimately sales.
You'll learn:
1. How to optimise your existing website content including products and categories or collections.
2. How to improve your website's security;
3. How to improve your site's performance;
4. How to attract local customers.
5. How to Promote Your Content - Blogs, Social Media and Email Marketing;
6. About Recommended Tools, Plugins and Apps.
This workshop is brought to you by Business Station and AusIndustry under the Digital Solutions Program.
ABOUT PRESENTER
Ricky has a background in technology marketing and business development and has been a digital consultant for the last 10+ years. He specialises in Digital Marketing for small businesses, particularly eCommerce businesses, and he possesses excellent technical WordPress, Woocommerce, Shopify, and Digital skills. He is Google certified, a Shopify Partner, and enjoys assisting his clients to become successful online.
#seo #australiansmallbusiness #smallbusiness
About Digital Solutions - Australian Small Business Advisory Services
The Digital Solutions program is built to help small business owners develop their digital marketing skills, from social media to building a better website, making online sales, creating Google and Facebook Ads, and more. All with the advisory and guidance of experienced industry experts who keep you on the right track and help you learn with step-by-step support and check-ins.
In almost four years we've helped over 15,000 small businesses in QLD, WA and NT to become more confident with digital marketing. With generous support and sponsorship from the Australian Government, you can access over $1,000 value in business advisory, training and online resources for only $44.
At this event, we'll discuss how our program works and how we can help you to build a more resilient business.
Important – Participating businesses must be aware that this information will be provided to the Commonwealth Department of Industry, Science, Energy and Resources for program evaluation and reporting purposes; and businesses may be approached by a representative from the Department to complete a survey on the services provided.