Event Information
Location
Microsoft Technology Centre
1 Martin Place
Sydney, NSW 2000
Australia
Description
Unified Service Desk for Dynamics 365 Customer Engagement provides a configurable framework for quickly building applications for call centres so that agents can get a unified view of the customer data stored in Dynamics 365 for Customer Engagement apps.
The new Omnichannel Engagement Hub extends Dynamics 365 for Customer Service with a modern, customisable web application that enables agents to engage with customers seamlessly through channels such as live chat and text messaging.
In this hands-on training course, Dynamics 365 Customer Engagement professionals will learn how to deploy and configure Unified Service Desk and get a first look at the emerging capabilities of the Omnichannel Engagement Hub.
Who Should Attend?
This Unified Service Desk and Omnichannel Engagement Hub masterclass is designed for business applications professionals that deliver Dynamics 365 Customer Engagement in customer contact centres. Your existing role could be a business analyst, solution analyst, functional consultant, technical consultant or developer.
After attending this training, you'll be able to confidently configure and deploy Unified Service Desk and Omnichannel Engagement Hub for customer contact centre scenarios.
Curriculum
Day 1 - USD Configuration
In Day one you'll learn all about the benefits of Unified Service Desk. We'll then install it and walk through the steps involved in creating your first USD application.
Intro / Demo - Learn what USD is, why it can help you and all about its architecture.
Lesson One – Install USD - Learn how to install USD from scratch.
Lesson Two – First Global Tab & Toolbar - Start creating your first USD application by configuring your first tab. And also learn how to create toolbar buttons.
Lesson Three – Create Search Functionality - Create three different ways to search for your accounts and contacts.
Lesson Four – Create Sessions - Sessions are key to USD, learn how to create them.
Lesson Five – Debugger - You are going to get problems! Time to learn how to debug a USD configuration.
Lesson Six – Associated Views - Create an associated view of related cases.
Lesson Seven – Open Tabs in Sessions - Open cases (and other entities) in session tabs.
Lesson Eight – Notes - Give your agents the ability to make and save notes.
Lesson Nine – Generic Navigation Toolbars - Basic toolbars are great but let's learn how to reuse them with generic toolbars and actions.
Lesson Ten – Agent Scripts - Agents scripts help make the life of users easy! Learn how to created guided processes with USD agent scripts.
Q&A - We'll save time to answer any of your questions!
Day 2 - Advanced USD & Omnichannel
Day two will build on day one. In day one you'll have created a simple USD application. Now learn some more advanced options, including how to add JavaScript. Plus we'll look at the important process of migrating your configuration from development into production.
Recap of Day One - We'll kick off with a quick reminder of yesterday.
Lesson One – Scriptlets & RunScript Actions - Scriptlets and RunScript actions allow you to add JavaScript code into your applications.
Lesson Two – RunXrmCommands - Basic JavaScript is fine, but learn how to inject code directly into Dynamics 365 forms.
Lesson Three – Customization Files - We aren't going to create any .net code in this course but you will learn to know how to extend USD from customization files containing your code.
Lesson Four – Notification popups - Learn how to pop up a notification to users using custom forms.
Lesson Five – Best Practice Analyzer - Is your application any good? Learn how the best practice analyser will answer that question.
Lesson Six – Configurations - Learn how to give different agents different features by using configurations.
Lesson Seven – Omni-channel Engagement Hub – An introduction into Microsoft's new omni-channel engagement hub.
Q&A - We'll save time to answer any of your questions.
About Your Trainer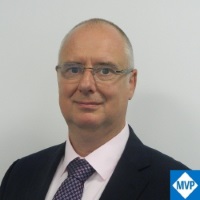 Neil Parkhurst has worked in IT for over 30 years with a focus on Dynamics CRM since 2007. He has implemented every version of CRM since v3.0. Collecting well over 20 Microsoft certifications along the way! He offers service including training and general consultancy to help Microsoft Dynamics partners and customers make the most of Unified Service Desk. Neil's USD Accelerator is available for free download from NPDynamics.com. The USD Accelerator has been created to help companies gain a quicker ROI from USD. Neil's thought-leadership and community contributions were recognised in October 2016 when he gained his first Microsoft Most Valuable Professional Award. He has also been recognised by Discover CRM for the Best Independent CRM Blog and by the D365UG|CRMUG as an All-Star in 2018. Neil lives in Dudley, UK, and is visiting Australia for the first time to deliver this USD training to you.
Pre-requisites
Experience with Microsoft Dynamics 365 for Customer Service is expected. No previous experience with Unified Service Desk is required.
A laptop that meets the recommended hardware and software requirements with a local administrator user account.
Date and time
Location
Microsoft Technology Centre
1 Martin Place
Sydney, NSW 2000
Australia
Refund policy