Description
The iconic USASA Pac-Crawl is back - UniSA's biggest, all-campus pub crawl!
Join your fellow PAC Crawlers, Blinky, Pinky, Inky and Clyde as we venture through a maze of Adelaide's top pubs and clubs in the West End. We have locked down stacks of drink specials across the night and will have some of your favourite snacks on offer too, including the 2 for 1 offer from Zambrero in the USASA Diary!
Waka Waka Waka your way through the venue maze with you and all your mates.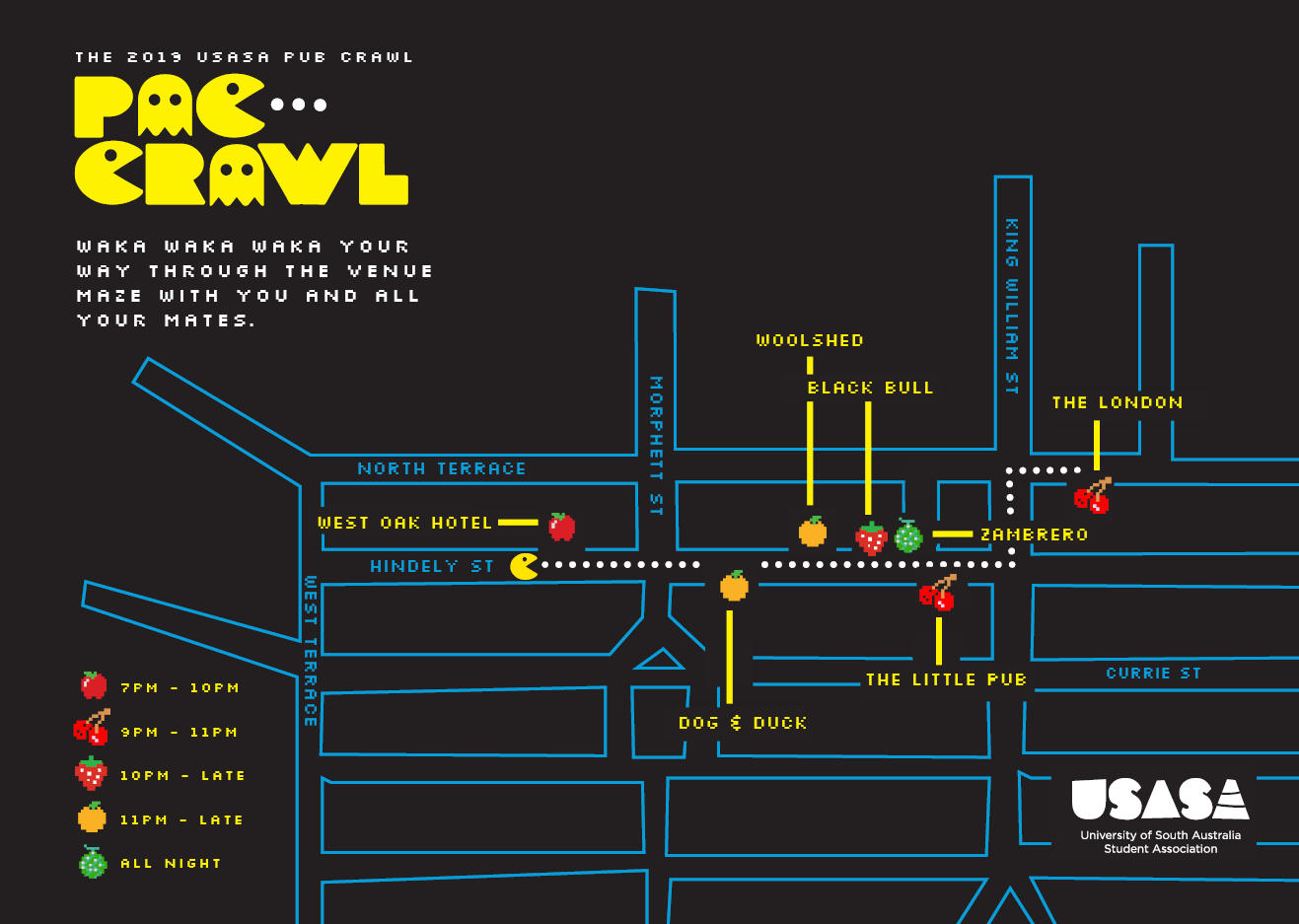 Secure your t-shirt to the PAC Crawl Pub Crawl from Orientation Week (Monday 25 Feb) until midnight Monday 25 March (if it hasn't already sold out!)
Get in quick - tickets are limited and always sell out in the first few weeks of Uni!
---
7 - 10pm
West Oak Hotel
*BBQ provided 7-9pm*
$5 Pints
$5 Base spirits
$5 house wines & champagnes
Free entry
---
9 - 11pm

The Little Pub on Hindley
$4.50 Base spirits
$5 Jager bombs
$5 Fireball whisky
$5 West End/VB Cans
2 for 1 Smirnoff double blacks
Free entry
The London
$5 Jagers
$4 Base spirits and skittlebombs
$3 Beer and cider
$2 Softies
$2 Vodkas between 8-10pm
Free entry
---
10 - 12am
The Black Bull
$5 Base spirits
$5 Tap pint beers
$5 Skittle bombs
Free entry
---
11 - Late*
Woolshed
$5 base spirits
*Drink specials till 1am
Free entry
Dog & Duck
$3 Fresh pussy shots
$5 Base spirits
$5 Tequila
$5 Skittle bombs
*Drink specials till 2am
Free entry
---
7pm-3am
ZAMBRERO
2 for 1 deal in the USASA Student Diary
$5 Local beers
$5 Tequila shots
$5 Frozen margaritas
---
Before you buy
You must be 18+ to attend at this event.
When selecting t-shirt size, please measure yourself according to the measurements given. USASA CANNOT re-order a different size for you. If the size you ordered does not fit, we suggest trying to swap it with a friend or posting on the Facebook event page to swap with someone else.
As per the UniSA Student Code of Conduct all attendees are required to behave in a respectful, considerate and safe manner.
USASA accepts no responsibility for the behaviour or actions of any attendees and each individual is responsible for the safety of their own person and possessions. An individual is personally liable for any damage they cause to a person and/or property. In buying a t-shirt you are recognising your personal responsibility at this event.
We want you to have an amazing time together, with a brilliant atmosphere, cheap drinks and multiple food options. We will have support staff on hand to ensure the night is really one to remember for all of the right reasons! And finally, please drink responsibly :)