US Elections: What it means for Australia and the region with Lydia Khalil
Description
How will a Trump or Clinton presidency impact Australia?
How will a divided America move forward in its relationship with its allies and in navigating its place in the world? What can we expect from a crumbling Republican Party and a divided Democratic caucus?
What decision will the American electorate make when having to decide between the two most unpopular candidates in recent memory?

Though the US-Australia alliance transcends domestic politics on both sides of the Pacific, in an unconventional election and an anti-establishment, highly polarised moment in the United States where Americans are struggling to redefine their place in the world, what has traditionally been can no longer be counted upon.American voters now have a choice between a safe pair of hands in Clinton who is nevertheless being nudged by her party further and further to the left and an anti establishment candidate who is calling into question the foundations and fundamentals of in the United States' core alliance structure and responsibilities.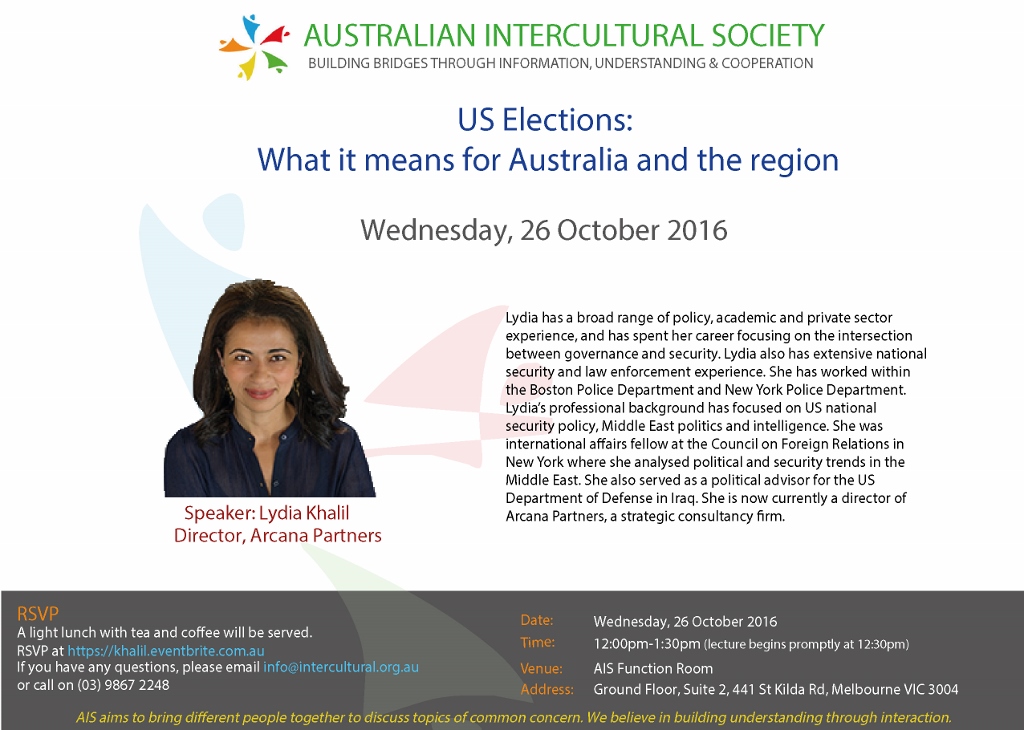 Biography of Lydia Khalil
She has a broad range of policy, academic and private sector experience, and has spent her career focusing on the intersection between governance and security — the rationales behind terrorism and counterinsurgency, effective policing strategies and the security and policy effects of new technology. She is currently a director of Arcana Partners, a strategic consultancy firm.
Lydia also has extensive national security and law enforcement experience. She was most recently a senior policy advisor to the Boston Police Department, working on countering violent extremism, intelligence and counterterrorism, and community policing strategies. She has also worked as a senior counterterrorism and intelligence analyst for the New York Police Department.
Lydia's professional background has focused on US national security policy, Middle East politics and intelligence. She was international affairs fellow at the Council on Foreign Relations in New York where she analysed political and security trends in the Middle East. She also served as a political advisor for the US Department of Defense in Iraq, where she worked closely with Iraqi officials on political negotiations and constitutional drafting. In Australia, Lydia held fellowships with the Australian Strategic Policy Institute and Macquarie University, specialising in intelligence, national security and cyber security.
Lydia is a frequent media commentator and conference speaker and has published widely on her areas of expertise. She holds a BA in International Relations from Boston College and a Masters in International Security from Georgetown University.
___________________________________________________________________

A light lunch with coffee and tea will be offered. If you have any special dietary needs, please let us know when you register for the event.
If you have any questions, please don't hesitate to contact us on 03 9867 2248 or info@intercultural.org.au.