Description
URBAN DAY RETREAT IN THE HEART OF LONDON




A Day of Nourishment, Healing and Liberation
Date: Saturday 29th April
Address: 42Acres Shoreditch, 66 Leonard St, EC2A 4LW
Cost: £75 for Full Day

Providing a temple, a space of deep nurture, healing and transformation. The central pillar of this day's Retreat is Liberation - supporting liberation from emotions, stuck and stagnant energy that may be holding you back from living your greatest flow and in turn your greatest truth and purpose.

Throughout the day you will move through a series of movement, deep rest, receiving and inspiration, each part of the day supporting you to move deeper within, to release and return to your true nature.

Held with Special guest Leo Cordero from Costa Rica and Carly Grace weaving together to provide a supportive and profound container of healing, held with honour and love we invite you to receive and open into greater Liberation together.
Please arrive for a 10:00am start, doors will close shortly after to begin the meditation. Please note no entry once we begin the session.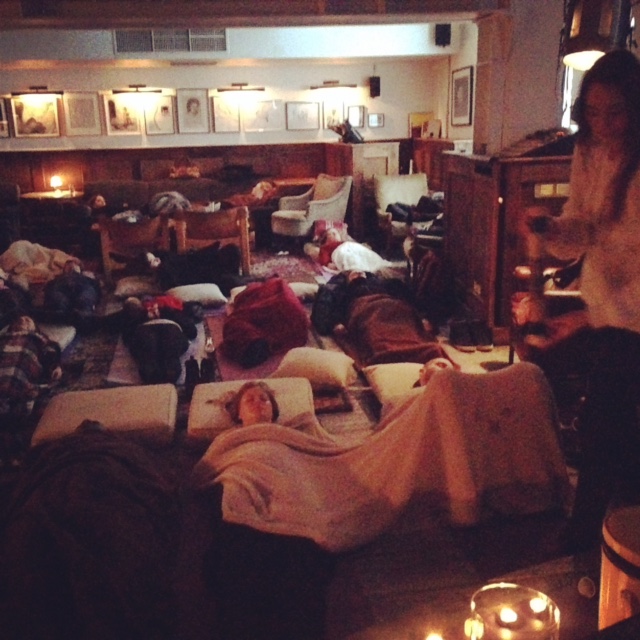 SCHEDULE FOR MORNING
10:00AM - 11:00AM: Hatha Yoga - all levels welcome
11:00 -11:45 Pranayama and Meditation
11:45 -12:00 Juice and Healthy Treat
12:00 -1:00 Introduction to Healing Oils Workshop with doTerra essential oils

​1:00 - 2:00 - Lunch, share and connect with like minded friends

SCHEDULE FOR AFTERNOON
2:00 - 3:00PM: Shamanic Blessing
3:00 -3:30 - Tea and Treat
3:30 - 5:00 - Yoga Nidra & Sound Healing with Alchemy Crystal Singing Bowls
Testimonials:
"Beautifully held space allowing me to access a really deep state of relaxation . The energies brought in and voice were truly exquisite. Highly recommended! I shall definitely be coming back. Thank you" Susan
"I wanted to thank you for a lovely session full of good energy, I had never been to a sound bath before and the feeling of clarity afterwards was amazing. I suffer from anxiety and it was just what I needed to reset! thanks again. I felt positively energised by the end of the session ! Thank you so much". Pip
"I want to thank you so much for yesterday, it was such a beautiful and powerful day full of love and healing. I fell asleep by the fire as soon as i got home last night and i felt so blissed out! I feel as though I let go of what no longer serves me yesterday ready to make room for new exciting ventures. Thank you for holding such peaceful and loving space". Terri
Carly Grace Bio
Carly leads through the power of Sound working with Alchemy Crystal Singing Bowls and Voice, she has dedicated her service to support individuals to return to their true nature and in turn their true potential through the weaving of Meditation, Energy and Sound Healing. Known for her deep and compassionate presence she provides a safe space for you to open and release blocks on a physical, mental, emotional, spiritual or genetic level, supporting you to feel empowered to create positive change.

Carly is based in London where she leads on going Sound Healing gatherings, she hosts regular Meditations in the workplace and Sound Healing and Well-Being Retreats in the UK and abroad. She worked as Co-Director of the London College of Spirituality, a grassroots organisation committed to personal and planetary evolution hosting inspirational events with guests from around the World. She is now supporting Sound Universe London to share the healing frequencies of the Alchemy Crystal Singing Bowls supporting others to connect with healing tools and share the gift of Energy and Sound Healing.
Leonardo Cordero Bio
Leonardo Cordero is fiercely committed to guiding people that wish to change their mindset to clean their lives. With over 13 years of experience working with clients guiding them to achieve remarkable success, his mission and commitment is to assist you to make that change. His intention is to support you to introduce habits that work, while letting go of the ones that don't and best of all, get to a place of self-understanding, so you can really enjoy life by creating a stronger reality for yourself in alignment with your own Divine Nature and purpose.

Leonardo is an Certified Ayurvedic Healer; a Certified Health Coach specialising in Holistic Detoxification & Purification, a Certified Yoga & Meditation Teacher and Shamanic Spirtual Healer Student of Shamans from the Amazons. His passion for healing is based on 4 primary pillars; Ayurveda, Yoga, Vipassana Meditation in the tradition of Goenka Ji and Shamanism under the guidance of his Teacher Taita Juan Chindoy from the Inga Culture from the Amazonian Colombia.