**UPDATED** Live Your Life On Purpose - ONLINE Virtual Workshop
Sales Have Ended
Ticket sales have ended
Congratulations and we look forward to meeting you at the workshop!
Sales Have Ended
Ticket sales have ended
Congratulations and we look forward to meeting you at the workshop!
Description
** UPDATED** LIVE YOUR LIFE ON PURPOSE Virtual Workshop ONLINE via Zoom
**Workshop Coronavirus Update**
We are committed to the health, safety and wellbeing of all of our LIVE YOUR LIFE ON PURPOSE Workshop attendees. As part of our commitment, we have made the decision to bring our Workshop ONLINE as a Virtual Workshop to help mitigate everyone's exposure to COVID-19.

We are excited to announce that our LIVE YOUR LIFE ON PURPOSE Workshop will go ahead as scheduled but rather than in person, it will be held online as a Virtual Workshop via Zoom.
There are 3 major advantages to this:

We can all attend in safety and doing our bit for containing the Coronavirus.
Our global followers can now finally attend one of our transformational workshops!
We can all work TOGETHER to get through these challenging times and bring more clarity, certainty and confidence in the future.

We believe in making an impact in everything we do and we are committed to delivering the highest value possible despite a change in the delivery format of the workshop from in-person to ONLINE workshop.

We have decided to offer even more value and more impact than ever before to the attendees of this Special event.

You will receive:

Copy of the recording of the workshop (Video + Audio + downloadable worksheets/manual)
Private 1:1 Coaching Call to dive deeper into your particular situation and give you tailored advice and recommendations to address your current needs
LIVE Q&A Group Coaching Session via Zoom (after the workshop) to answer your burning questions, help you best implement the content and keep you accountable
---


2020 will definitely mark a turning in human history...
A test from mother Nature to our resolve, our future vision and our resilience as a community. We cannot avoid what is already unfolding, however, we have a choice on how we respond.

When volatility, complexity, uncertainty and ambiguity (VUCA) reigns on the outside world, the most effective way we can navigate the crisis and find the blessings is to develop clarity, certainty, confidence and a sense of purpose on the inside.


Developing a growth mindset with mental clarity, emotional resilience and sharpening our authentic success strategies will be crucial to navigate the coming years.


Those who will successfully navigate these challenging times will be those that sharpen their personal leadership to create and add value to other people's lives.
If there was ever a time to to get clear on your path forward and breakthrough what's been holding you back so you can continue to grow, thrive and build the career/business and life that you desire - it's right now.
---


Want to know the smartest way to find your purpose and live with more fulfilment every day?
The single best way to truly be satisfied, inspire others and make a difference in those you care about most is to live intentionally with purpose every day.


You see when you're able to connect with your greater purpose and tap into your unique potential and talents...


Not only does your satisfaction and happiness in life increases…


So does your personal and professional success, your impact on the world and your ability to live a life full of freedom, joy and meaning that most people dream about.


At this workshop, expert coaches Drs. Olivier & Marcia Becherel will share with you everything you need to know to start living on purpose and achieve more success and fulfilment in life every day. This means you'll get better results, feel more fulfilled and in control while making a difference that matters.


Nothing to buy. No hype.


Just content, tools and techniques to help you move forward.
Join us for a hands-on workshop to map out your path to living on purpose, increase your personal and professional/business success, impact and fulfilment every day.
What you will learn at the workshop
The most effective way to find your flow by knowing your true values

Proven principles to find greater meaning and fulfilment regardless of where you are in life

Identify your #1 roadblock to your career, business and financial success

Learn how to better manage your internal state so you can stay cool under pressure

How to unlock your authentic vision and mission to create your legacy

How to achieve more success and fulfilment with less effort


Learn The 5 Pillars To Living On Purpose And Be Fulfilled Every Day...
(Refined and perfected over 10 years working with clients in a range of industries across the globe)

Clarify your identity and uncover your authentic success strategies
Claim your inner wealth and discover your competitive edge
Clear the roadblocks for unrivalled personal power
Create your compelling future vision and unlock your purpose
Commit to yourself with a Master Action Plan


This workshop is perfect for you if:
You want to do what you love every day. Be in control of your life and live by design, not by default… Be paid for what you love doing!

You want to feel a greater sense of purpose, meaning and success at work. Discover your purpose and align your career with it for greater levels of success and fulfilment.

You want to feel valued and make a difference through your original contribution. Unlock your unique talents, boost your confidence, get paid what you're worth and make a lasting impact.


Secure your seat now and see you there!


Don't miss out on this incredible life-changing opportunity!
Claim your ticket now before they are gone.
Our last two workshops sold out quickly.
What People Say About The Workshop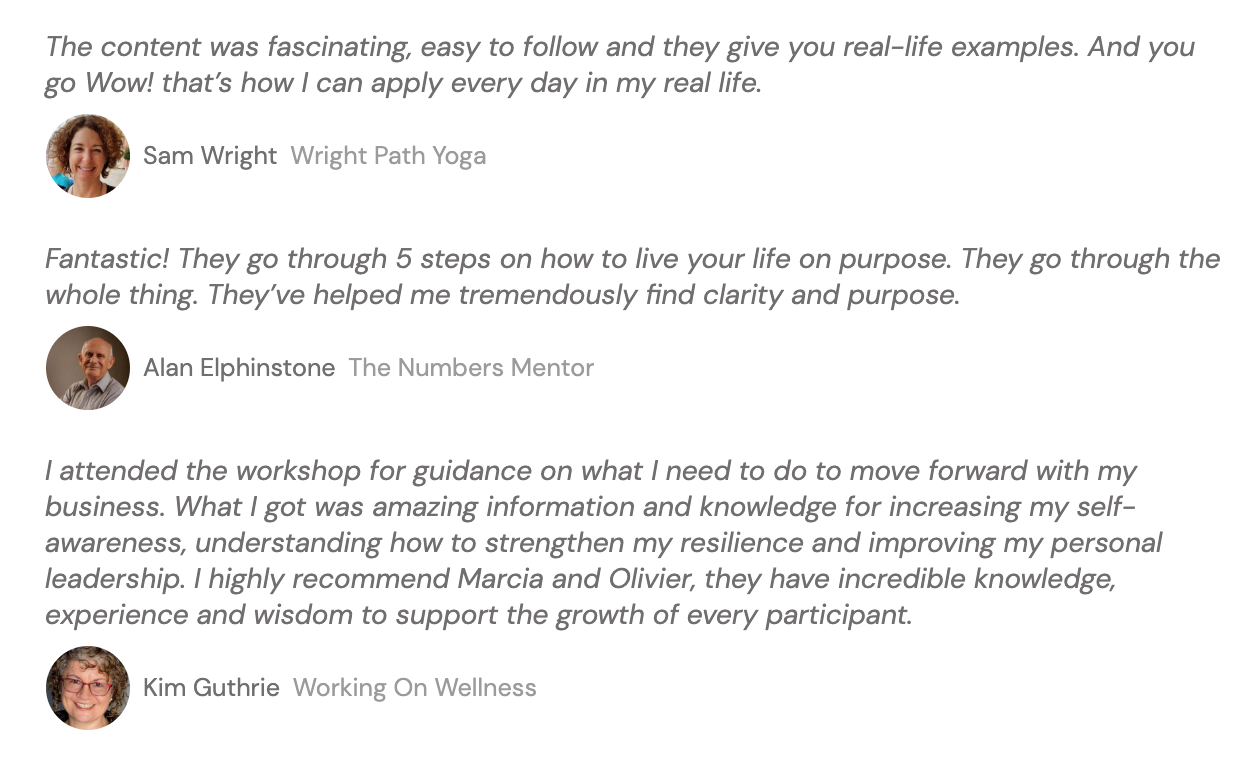 ---

Drs. Olivier & Marcia Becherel
Drs. Olivier and Marcia Becherel both firmly believe that we are here to make a contribution that goes beyond ourselves by sharing our knowledge, skills and experience on neuroscience, human behaviour, the mind-body connection and personal leadership to empower the leaders of today and tomorrow.
And that is why we love working with professionals, leaders and entrepreneurs because they are agents of change who want to make a broad contribution to society, and they have the influence and resources to make it happen.
Our mission is to educate and empower professionals, leaders and entrepreneurs to activate their personal leadership. By aligning mind, body and behaviours through science-based practical tools, we help them achieve greater levels of success, purpose and fulfilment every day.
PS. If you'd like to know more about Olivier and Marcia, visit our website at https://masterytosuccess.com.au
If you would like to get a sense of what to expect at our workshops, you can get a sneak peek here: https://www.youtube.com/playlist?list=PLFgtw2-C3gxtuNJG-Har_yF0cN2tal7Zo
Date and Time
Refund Policy