23 - 27 November 2021 | Online
About this event
Inspire. Challenge. Celebrate.
UNSW's Education Festival is a week-long series of activities encompassing the Learning & Teaching Forum and Faculty Education events. It provides a platform to recognise and celebrate our educators, and share educational practice in collaborative, cross-disciplinary ways.
Each event is centred around a theme chosen by the host faculty and features presentations, posters, roundtables and networking sessions to reflect on, challenge and inspire what we do next in Education.
The Friday afternoon event (hosted by the PVCESE Portfolio), will wrap up with the  annual teaching awards ceremony to celebrate achievements, among other exciting sessions including a lively debate.
Register to learn more about specific sessions within the program over the coming weeks, and to receive communications regarding access to the events.
***
Event delivery mode
The whole festival will be delivered online, with an additional option to attend the Friday afternoon event in person, on campus at UNSW Sydney.
Through this registration, you have a chance to express your interest in attending the Friday afternoon event in person, which is fully optional and will naturally be subject to safe return restrictions and requirements. The event will still be live-streamed for attendees to tune into online.
Note. There is a cap on in-person registrants due to current restrictions. As part of the safe return to campus restrictions, you will also need to be prepared to show double vaccination evidence on the day.
***
Program
Although faculties are hosting particular themes, each themed event will feature presenters across different faculties and parts of the university.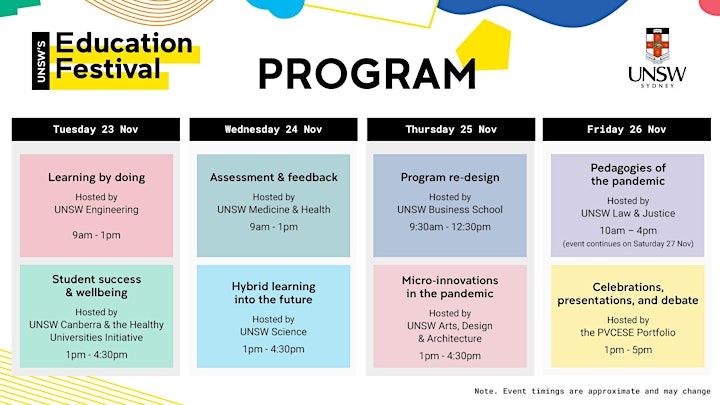 Learn more detail about the themes via UNSW's Education Festival webpage: unsw.to/edufest
Remember, all events within the festival are open to anyone across UNSW who is interested in Education!
If you have any questions regarding the event, please contact engage.pvcese@unsw.edu.au.