UNSW Postgraduate Information Session
Sales Have Ended
Registrations are closed
Registration for this event has ended, however we you can on the night at the event.
Sales Have Ended
Registrations are closed
Registration for this event has ended, however we you can on the night at the event.
Description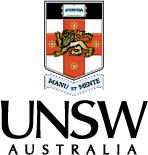 Join us for the combined UNSW Built Environment, Engineering, Medicine and Science Postgraduate Information Session.
Drop in at any time and speak with academics from all four faculties, as well as staff from UNSW Admissions and the UNSW Graduate Research School.
Find out about:
- Degrees and Program Details
- Research Degrees
- Flexible Delivery
- Pathways
- Career Options
- Admission Requirements
- Key Dates
In conjunction with the information sessions, we will have three guest speakers. Canapés and drinks will be available throughout the evening
5.30 pm "How to write a research proposal to apply for your PHD"
Jonathan Morris, Deputy Dean, Graduate Research School UNSW Australia
Associate Professor Jonathan Morris is a Medicinal and Biomolecular Chemistry scholar. His research interests include the development of strategies for the synthesis of biologically active natural products, with a particular focus on using chemistry to answer biological problems. His work on chemical inhibitors of the kinases that control alternative splicing has led to the formation of Exonate Ltd - http://exonate.com/management/
5.50 pm "The path to your dreams, taking the journey from zero to research"
Josiah Firth, PhD candidate and Engineering Student Ambassador
Josiah is an Electrical Engineer specialising in microfabrication of Liquid Crystal on Silicon (LCoS) devices. He is currently enrolled in his final year of a PhD at UNSW, working on biomedical applications for liquid crystal based sensing technology. Josiah is a Research Engineer and shareholder at Zedelef, a start-up sensing technology company, engaged in the commercialisation of liquid crystal based transducers developed at UNSW. Applications for this technology include: gas sensors, hydrophones, flow measurement, high-voltage sensors, Q-switch lasers and bio-potential signal measurement leading to brain machine interfacing.
6.10pm "Updates to the Master of Architecture - New specialisations"
Dr. Dijana Alic, Master of Architecture Program Co-Ordinator
Dr. Alic will discuss the new UNSW Architecture curriculum, a well-rounded architectural education PLUS the choices of four distinctive streams of specialisation; high performance architecture, housing, urban conditions and social agency. Each specialisation has a specific focus on how architecture responds to social and environmental challenges and will allow students to shape their future careers through the professional Master's degree.