The UNSW Art & Design Research Forums are a regular gathering of Art & Design academics to discuss their research and practice.
About this event
Research forum #4 How we practice counter narratives in public domains.
This forum responds to recent provocations to diversify narratives within the public sphere, including 'actual' public space and its associated public imaginaries. At a global scale, communities are calling for greater diversity and institutional change. It is not enough that diverse narratives simply be included but are instrumental in changing the ways that institutions operate at a structural level. This forum brings together creative researchers who are concerned with generating counter memories, narratives, spaces and publics. The orientation of these practices is towards unmaking, rupturing and reworking dominant understanding and the status quo upon which our current institutions are structured, in order to actively generate more diverse futures.
Speakers:
Dr Veronica Tello
Dr Prudence Gibson
Ramesh Nithiyendran
Dr Diana Baker Smith
Dr Felicity Fenner
Guest speaker:
Tristen Harwood – Indigenous writer and cultural critic (Naarm, Melbourne)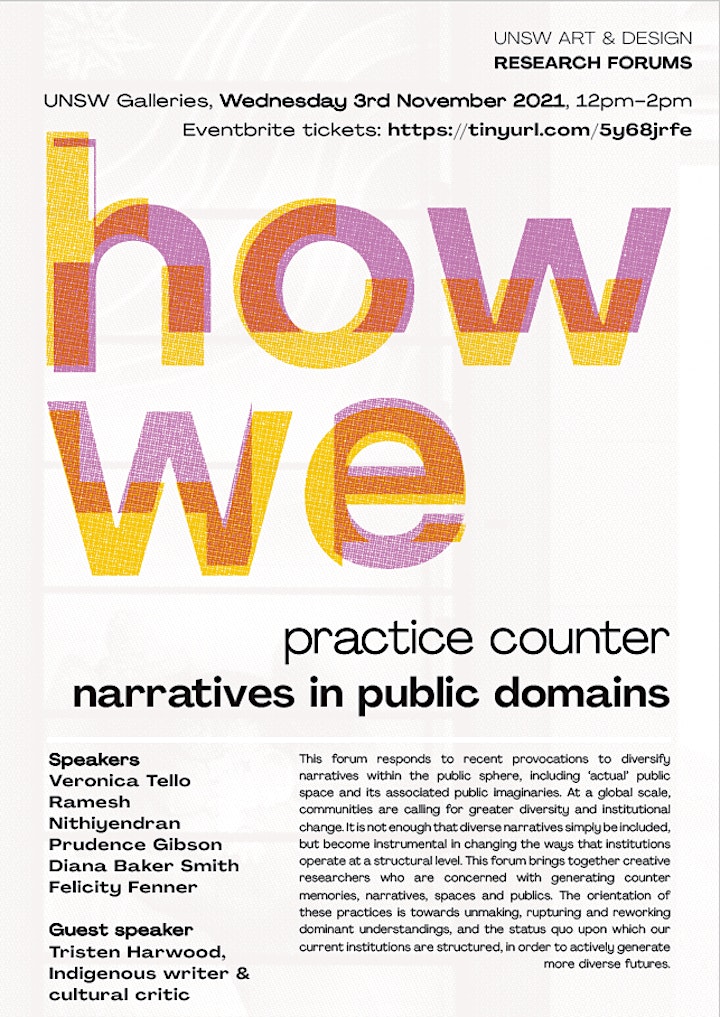 Organiser of UNSW Art & Design Research Forums 2021 #4
UNSW Galleries brings together the work of leading Australian and international practitioners, curators and writers working in the fields of contemporary art and design. It is a space for the presentation and interpretation of contemporary visual and material culture, and a site for gathering, conversation and learning. The program stresses the importance of learning through exhibition-making, using integrated projects and events across the year to engage audiences in conversation with commentators from a range of disciplines.