The UNSW Art & Design Research Forums are a regular gathering of Art & Design academics to discuss their research and practice.
About this event
Research forum #1 How we innovate with others.
UNSW's School of Art & Design has a strong history of innovatively collaborating with others: other academics; public institutions; private companies; other organisations and individuals; cultural groups; fellow species and ecosystems. Adaptive and diverse, there is no one-size-fits-all approach to collaboration, but a great wealth of practical knowledge and expertise generated through ground-up processes that is embodied by individual researchers that can inform future practice. This forum will bring together academics from across the school to look at how we innovate with others to critically unpack what methodologies have been generative in the production of diverse networks and flows of knowledge that we have created and contributed to.
Speakers:
Dr Gail Kenning
A/Prof Katherine Moline
Dr Michael Garbutt
A/Prof Ian McArthur
Guest industry speaker: Deborah Lawler-Dormer, Research Manager, MAAS
*In the event that the NSW lockdown is extended, this event will occur via Zoom: https://unsw.zoom.us/j/88411566292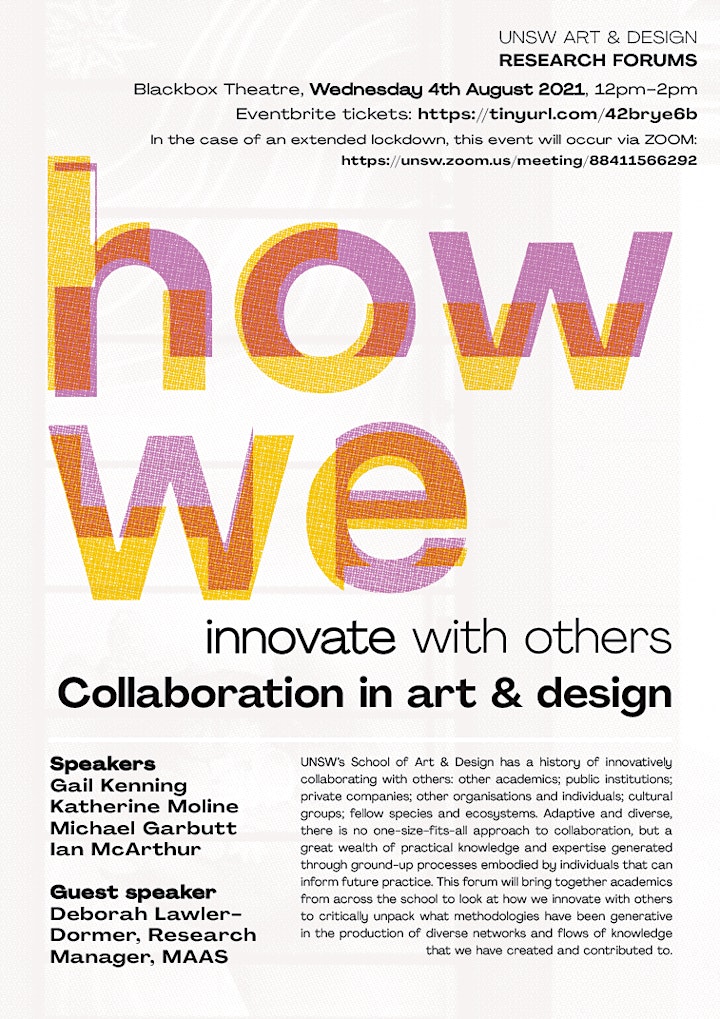 Organiser of UNSW Art & Design Research Forums 2021 #1