Description
A practical introduction to the Thematic Framing methodology and a rare insight into the creative process for the development of medical technology innovations.
---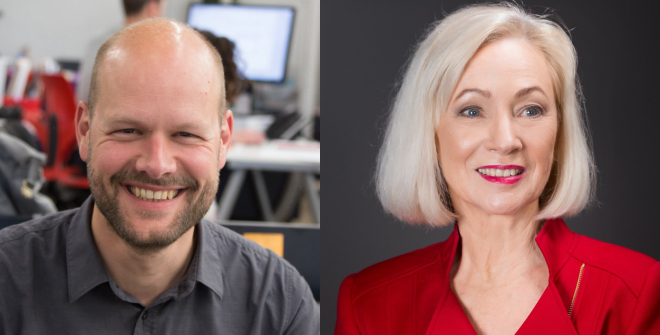 Presented by: Willem van Der Bijl, Design and Entreprenurship Group Leader, IDE Group (Sydney, Australia)
Host: Dimity Dornan, AO, Adjunct Associate Professor UQ, Founder of Bionics Queensland, Executive Director and Founder of Hear and Say, Queensland Senior Australian of the Year 2018
A partnership event by Bionics Queensland and IDE Group. This event aims to bring together researchers, medtech businesses, investors, regulators, clinicians and end users to help accelerate the commercialisation of new ideas and build better futures for health.
About the event:
Urgency exists for radical innovation in healthcare. However innovation in healthcare is often stifled by incremental design innovation processes and difficulties translating and integrating multiple stakeholder needs into valuable solutions. While human-centered design is understood to be a key element in creating meaningful innovation, information about the creative process and 'fuzzy front end' of medical device development is scarce. As a result, many healthcare solutions fail to meet stakeholder needs and fail to break free from existing paradoxes.
IDE Design and Entrepreneurship Group Leader, Willem Van Der Bijl will present a new methodology called Thematic Framing, developed in partnership by IDE and UTS Design Innovation Research Centre, that aims to tackle the complexities that too often stifle medical technology innovation. Willem will take audience members on a journey through the five stage Thematic Framing methodology, using case studies and practical examples, to show how complex problems can be unraveled and pieced back together to create opportunities for radical innovation.
Key takeaways:
Explore the five stage Thematic Framing methodology through case studies and practical examples

Learn how IDE product developers are using the Thematic Framing methodology to advance medical technology innovation

Network with likeminded peers and professionals from the medical technology industry
---
About Bionics Queensland (BioniQ)
BioniQ has been established to advance research and commercial endeavours across the broad spectrum of human bionics in the state of Queensland. The spectrum of disciplines driving bionics breakthroughs is broad with inputs from neuroscience, the brain-computer interface, bio-fabrication, robotics and materials engineering. Bionics Queensland will look for the intersections in diverse fields by acting as the conduit to identify synergies and help to unlock commercial opportunities. Read more about BioniQ here.
About IDE Group
We love working together to build better futures. We use our values, creative intelligence principles and process to create products and services that change lives and grow new organisations. Since 2003, we have grown over 70 organisations and realised over 250 projects across the medical technology landscape, including respiratory care, drug delivery, radiology, radiotherapy and point of care diagnostics. Find out more here.