What is the Tarot? A deck of cards not for bridge, but for inner work. This workshop will unlock the Tarot's mysteries for life guidance.
About this event
Why the Tarot?
What does the Tarot say to you? Does it speak to you of witchcraft? Do you see magicians sitting around the fire doing tricks? Do you see it as a tool for black magic and the casting of curses and spells?
Like everything in life, the Tarot is a tool, and how we use it – for good spells or bad – is up to us. It depends on our intentions and our goals. The Tarot deck we will look at in this workshop is the Thoth Tarot by Aleister Crowley and Frida Harris (artist). This is a traditional tarot deck, with the 21 Trump Cards and the four suits (Wands, Swords, Disks and Cups) that represent the elements Fire, Air, Earth and Water (Spirit, Mind, Body and Emotions). Each card represents an different aspect of human life and character - with the trump cards representing different archetypes within us, as sourced from history and mythology (such as the Fool, the Hermit, the High Priestess, the Artist) and help us to reflect on these aspects or characteristics within ourselves.
The individual suits - represent these different aspects of being a human and govern different parts of our life (Spirit, Mind, Body + material things, and Emotions / Feelings). Each card has a full description in the accompanying book, which we can refer to when this card comes up for us.
But isn't it a load of hogswallop, I hear you say?
Well, like anything, you need to trust that the Tarot has something to offer you in order to use it, or to attend this workshop. It is my belief that the universe is a life force within itself and has its own particular intelligence. It is my belief that the universe is conspiring for our highest growth and development as human beings - and particularly as souls on a human journey. So if you trust in the awesome power of the universe, and you trust that there is guidance available for you everywhere, then trusting that the cards that come out of the Tarot is not a big jump.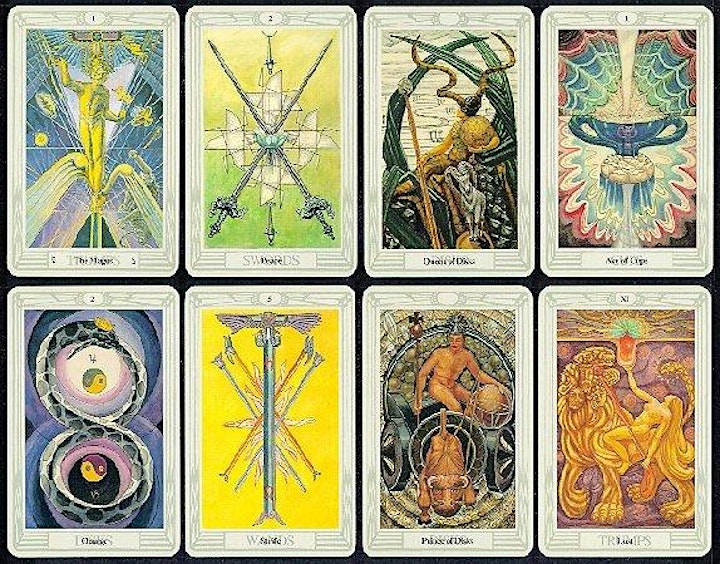 Above are some of the cards from the Aleister Crowley Thoth Tarot Deck.
About the Thoth Deck From WIKIPEDIA
The Thoth Tarot is a divinatory tarot deck painted by Lady Frieda Harris according to instructions from Aleister Crowley. Crowley referred to this deck as The Book of Thoth, and also wrote a 1944 book of that title intended for use with the deck.
Crowley renamed several of the trumps compared to earlier arrangements, and also re-arranged the numerical, astrological and Hebrew alphabet correspondences of 4 trumps compared to the Rider-Waite tarot deck in accordance with Tarot of Marseilles, his 1904 book The Book of the Law (Liber AL vel Legis) and its "New Commentary." In the "New Commentary" and The Book of Thoth, Crowley demonstrates that his trump arrangement forms a double loop in the zodiac-number and letter-number correspondences compared to the Rider-Waite tarot deck where there is no loop. There are interpretations as to why the Thoth Tarot deck does not follow Crowley's new arrangement having only a letter-number double loop and one of them is that it follows the same Golden Dawn arrangement as the Rider-Waite tarot deck.
Crowley originally intended the Thoth deck to be a six-month project aimed at updating the traditional pictorial symbolism of the tarot. However, due to increased scope the project eventually spanned five years, between 1938 and 1943 and both artists died before publication in 1969 by Ordo Templi Orientis.
What Happens on this Workshop?
We start with an Introduction to the Tarot including:
What is it
How did it develop?
Historical background
Who uses it and why?
Then we will look at:
The Thoth deck by Aleister Crowley + Frida Harris
Why I chose this deck
An overview of a couple of other major Tarot Decks
The importance of energy - keeping them for your hands only
The meanings behind the major suits + trumps
How to play with the Tarot for yourself and some different spreads for different questions / occasions
Guidelines on using Tarot as guidance for others
Before, lastly:
I will do a few short readings for some of the participants
And we will have questions and answers
What if I miss it?
This event will be recorded and the Zoom recording will be available online as a secret link for a month after the event for any attendees who miss it.
No refunds are available once ticket is purchased.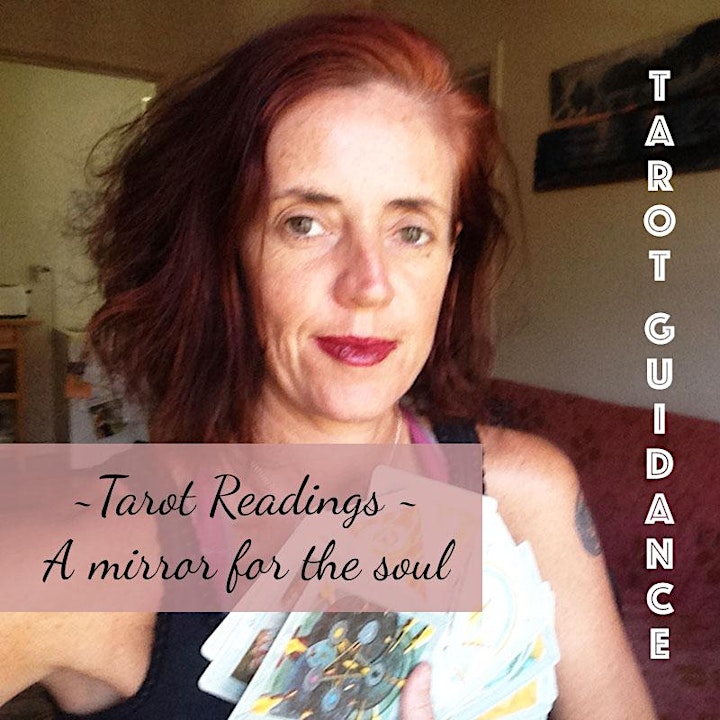 About Your Host: AKASHA LOVE
(Spirit name of Michelle Taffe)
Akasha has been working with the Tarot for many years (she has had her deck for 25 years and always has it with her, having taken it on her many journeys and travels around the world). She is fascinated by Tarot as she finds it a powerful tool for inner self work, for self understanding, and she also loves sharing the mystery of the Tarot with others.
As well as a Tarot Reader and Teacher, she is a Soul Alchemist and Yoga + Meditation Teacher. It is her passion to help people to discover the answers within them to all of life's mysteries. As well as a passionate traveller through inner worlds, she is a passionate traveller through outer worlds, having lived in 7 different countries and travelled through more than 30. She also speaks four languages fairly fluently (as well as English, the language of the Romans, what are known as the Romance languages: Spanish, French, Italian). During her world travels she always encounters the Tarot and people who love the Tarot, as it speaks a universal human language: the language of the soul.
Akasha is a qualified Yoga Teacher (Samma Karuna, Thailand, 2018) with a regular practice spanning 15 years. She is also a qualified Meditation Teacher (Mindfulness Works 2018) and has over 10,000 hours of meditation practice, as a daily practitioner for the past 15 years. She also has a daily Tarot practice for connection with her guides and higher self.
As a Vipassana Retreat Facilitator, she has been an assistant teacher at Silent Meditation Retreats at Monasteries in Thailand from 2013. She is also a Reiki Master (Level I and II Reiki certificates given to her by Margot Brock in Melbourne 2017 / 19).
Akasha offers workshops and retreats around the themes or Self Love and Soul Alchemy to help you connect inwardly and align with your true self, as well as one-on-one guidance through Tarot Readings. Her events include meditation practices, yoga (if it is in person), creative practices and various modalities for Self Inquiry.
Find out about Tarot Readings at: www.akashalove.life/shop
Testimonials from Past Events
'Introduction to Mindfulness' Course, by Mindfulness Works: Geelong and Bendigo, Victoria, 2018
"Michelle was amazing and would and will recommend to others"
Libby Mears
"Instructor was very personable, and shared her vulnerabilities. Very knowledgable. Went the extra mile and wrote key messages on the whiteboard. Encouraged the sharing of experience. Meditation sessions were very relaxing."
Kerryn S
"Michelle has an incredible story to tell and uses her personal experience really effectively. I could have heard more about her insights. Michelle was the key factor. Enjoyed structure of the course."
Michael J Watson
"Michelle tuned into the group and gently built trust and connections over the time with us She was very effective."
Ros Williamson
Radical Self Love Retreats, 2018 – 2019, Australia and Bali.
"Attending Michelle's Radical Self Love Retreat in Bali was an amazing experience, perfectly timed, and delivered all I was seeking and more.
The location was perfect and I felt warmly welcomed and deeply nurtured from the moment I arrived until the moment I left. Michelle created a beautiful, open, loving, safe space for me to connect with myself in ways I hadn't realised that I could or even needed.I very much enjoyed the daily yoga and meditation practices which served to help connect with my mind and body in ways I hadn't before and by the end of the 6 days had me feeling very pleased with my achievements and confident to continue my practice once back home.I absolutely loved the daily self-love workshops and gained so much from them.
Michelle covered so many meaningful topics, which guided me to some powerful realisations and an overall deepening love and appreciation for myself.Michelle is a lovely being and an amazing facilitator who is so clearly living and growing in self-love and who is also deeply drawn to helping others to dive deeper into themselves and deeper into their own self-loving journeys.I would absolutely join another of Michelle's retreats, and for anyone seeking a safe, loving space to connect with oneself on a deeper level, I'd highly recommend attending."
M Galvan, Radical Self Love Retreat, Bali April 2019
"I joined Michelle for her Radical Self Love yoga and meditation retreat, and I am so glad I did.The weekend consisted of meditation, workshops and yoga – all of which were challenging, and subsequently more rewarding.
Michelle created a programme that fostered deep reflection and subsequently garnered profound personal insights. As a very private person I thought I would be uncomfortable given the personal nature of the workshops, but Michelle created a warm, non judgemental, accepting space in which I felt comfortable sharing, and getting deep into the heart of things. The time I spent with Michelle was really valuable, and many changes have come about in my life as a result."
Thanks Michelle! X"
Annette Carling, Radical Self Love Retreat, Victoria, June 2018
Date and time
Location
Refund policy
Organiser of Unlock the Mysteries of the TAROT