Description
Have you ever wondered - "Is this it?" "Is this as good as it gets?"

Are you overworked, stressed or burnt-out living what feels like an ordinary life? Maybe you have a burning desire to live a more meaningful life OR perhaps you're just looking for that edge to unleash your natural passion, purpose and potential in life!


---


You're not alone!!
This unique and transformative one-day workshop is created out of recognition that an increasing number of women are feeling exhausted, overworked and burnt-out juggling a career with taking care of their health and devoting time to their family and doing what they love.
'Unleashed!' is about unleashing your natural talent and being true to your values and abilities to carve out a life you love! This day is about putting yourself first for once and having the courage to discover, design and take action to start creating a life in tune with who you really are.
"Let go of who you think you should be, embrace who you really are" – Brene Brown
Join three of Australia's leading coaches - Kylee Fitzparick , Gill McLaren and Jo-Anne Bowyer; who, with over 60 years combined experiene, specialise in the advancement of women, neuroscience-based leadership, life-design and transformational storytelling to unlock your real power and potential!
A breakthrough in self-compassion and putting you first

Freedom from guilt, procrastination and pleasing others to fulfil on what really matters to you

Clarity and confidence to design and live a life YOU love.

Identify and remove the barriers holding you back from living a courageous life

Unleash your natural ability to produce results and live a life you love

Time-out to reconnect with what you care deeply about

Discover, embrace and prioritise your values

A direct access to living a more courageous, connected and confident life.

Insights that enable you to effectively navigate the balance of your personal and professional life
---
WHAT YOU GET:
Engaging real-life conversations that enable you to identify and remove the barriers to your natural ability to produce results

An effective sounding board to authentically communicate your ideas and express your deepest passion while having the experience of being heard, known and appreciated

The opportunity to connect with a group of like-minded women with the same energy, passion and commitment as you to think, plan and live their best life.

Practical exercises and mindfulness tools that you can implement immediately or take away with you to bring power to those areas of life that are important to you (and others)

A full day with three of Australia's leading performance and leadership coaches who specialise in the advancement of women, neuroscience-based leadership and transformational storytelling.

A healthy lunch with gluten-free and vegetrian options.

Special 'one-off' discounts on upcoming programs in 'Best-Life Design', 'Your Story Matters' and 'Co-Lab - A group-based performance and leadership accountablity program'
---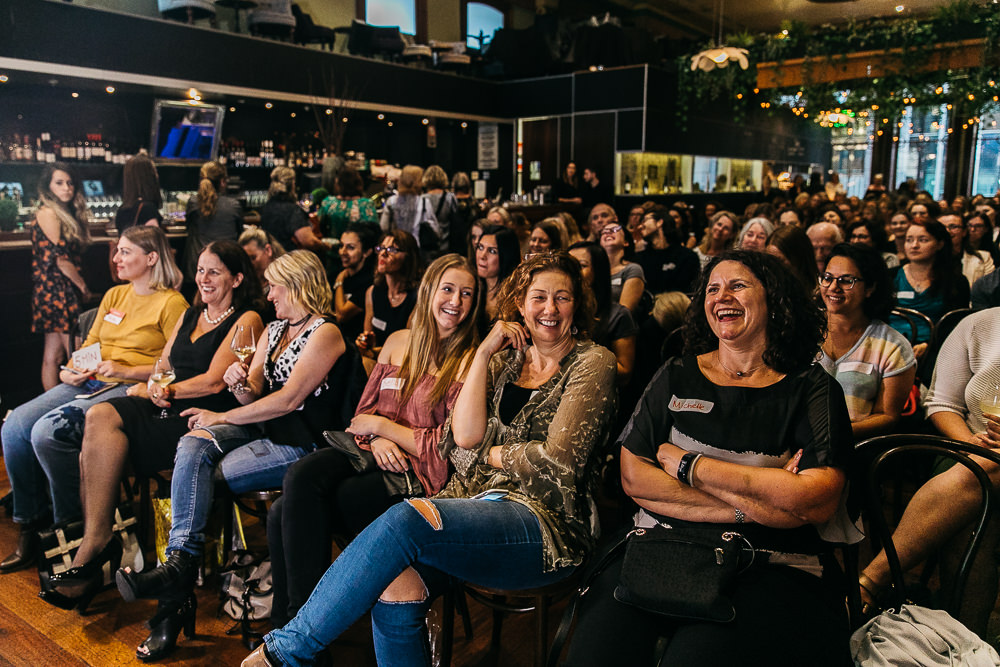 Transformational! Uplifting! Insightful and Authentic!
What people are saying about us:
"TEAM Women Australia provides a valuable platform to inspire, connect and build confidence in women. It is a wonderful program and I was honored to share my own passion for women's equality and leadership." - Tracey Spicer, Journalist and Media Personality

"Kylee's ability to share her real-life experiences with the audience creates a sense of safety and openness which sets the scene for the speakers of the night. Her desire to make a real difference to women's lives is something she should be commended on and something that is still needed in society today. - Nicole Monterforte, Founder NUBODY Australia
"Gill has the gift of sharp and flexible thinking – able to take any situation, put it through a solid thought process and present it with candor and a clear perspective. Having a keen interest in people and putting herself in another person's shoes is what enables her to do her job so well." - Pheobe Tan, Brand Manager COCA COLA
"Jo's work is ground breaking. Her ability to identify issues, think strategically and then train and motivate others to fulfil on her plans are legendary." - Dee Mahon, Director of Change at Catalyst Coaching and Consulting
---

About The Facilitators:
Kylee Fitzpatrick - Founder & CEO, TEAM Women Australia
Kylee is one of Australia's leading talents in harnessing the power of storytelling to impact change. With over 15 years as a performance coach, leading large-scale organisational change and facilitating personal development programs in self-expression, leadership and communication, Kylee specialises in empowering women between 30-55 who are juggling their career, business and entrepreneurial paths with the needs of their family.
Described as passionate and energetic, its Kylee's practical and no nonsense approach that earns her the trust and respect of others. She has a reputation for being a generous and compassionate leader who helps others get to the root of what really matters and navigate complexity to produce results.
Kylee is a proud indigenous woman, wife and mother of three on a mission to emower women to stand up for themselves and each other living a compassionate, courageous and confident life.
Gill McLaren - CEO, Syntegrate & Co-Founder, TEAM Women Australia
As the Founder and CEO of Syntegrate, Gill adapted strategic planning approaches from the business world and applied them to create a unique coaching and personal consultancy approach that enables her clients to achieve success in all aspects of their life.

For the 20 years before starting Syntegrate she worked in executive leadership roles across the UK, Australia, Malaysia and Singapore in the areas of General Management, Strategic Planning, Commercial, Customer and Marketing at Coca-Cola.

Gill's own Life Design journey started while she was in a c-suite role seeking to define and design her best life. The approach has been in development for over a decade to allow all the learnings to be applied into a Life Design program that is intuitive, enlightening and confidence building.
Jo-Anne Bowyer - Coach and Partner, Encite Partners
Jo-Anne brings together her training in Neuroscience, Ontology (who people are BEING and how they SHOW UP), Integrity & systems as a source of performance and 14 years of performance coaching to enable people to produce breakthrough results in business.
With a deeply connected network of aligned experts and other talented individuals, collaboration comes easy for the benefit of her clients and partners.
A mother of two and married to a dedicated ultra marathon runner, Jo-Anne grapples with finding time for her many other passions - EQ & Mindfulness and the well being of the whole individual.
Jo-Anne's real strength lies in her ability to connect and build deep relationships; starting from a place of vulnerability and a desire to be of service to people's pursuit of fulfilment, leadership and performance in any field.
---
Registration Details:
For the option to pay direct visit our website here.