University of Adelaide | Adelaide Dental School CPD Day
Description
100 years of Adelaide Dental School
Adelaide Dental School has been the cornerstone of oral health education and training in South Australia for 100 years. The University of Adelaide accepted its first cohort of dental students in 1919, and the Adelaide University Dental School Society (AUDSS) was founded the same year.
In 2019, we are proud to celebrate our centenary anniversary and 100 years of improving smiles and oral health.



Celebrate with us
To acknowledge this significant milestone, Adelaide Dental School will host a Continuing Professional Development Day in October 2019.
Join guest speakers Professor Paula Moynihan, Director of Food and Health at the University of Adelaide; and Professor Hien Ngo, Dean and Head of Sharjah Dental School, for our Continuing Professional Development day as we ask "Adelaide Dental School: 100 years – What's next?"
When: Friday 18 October 2019
Time: 9:00 am - 4:00 pm
Where: Exhibition Hall, National Wine Centre, Corner of Hackney Road and Botanic Road, Adelaide, (map)
RSVP: Friday 11 October 2019
CPD hours apply. Certificates will be provided electronically after the event.
Guest Speakers Professor Paula Moynihan Director of Food and Health at the University of Adelaide
Professor Paula Moynihan is Director of Food and Health in the Faculty of Health and Medical Sciences. She is an internationally renowned researcher in the field of nutrition and oral health (> 130 publications). Her research focuses on the interrelationship between nutrition and oral health across the life-course, including the impact of diet and nutrition on dental caries, sugars and health, and the impact of compromised oral health on nutritional wellbeing. She also researches novel approaches to dietary intervention using co-development methods, and mixed methods evaluation. Recent projects include evaluation of Public Health England's Change4Life Sugar Smart Campaign, and evidence synthesis pertaining to risk factors for Early Childhood Caries (tooth decay in children).
Professor Hien Ngo, Dean and Head of Sharjah Dental School.
Dr. Ngo has extensive experience in private practice, research and education.
As an educator, he has published and lectured extensively on the topics of dental materials, minimal intervention dentistry and clinical management of caries. He serves on the editorial boards of several dental journals. Over the last 15 years, he has been very active as an international speaker and have contributed to numerous major international meetings, e.g. FDI, Chicago Mid-Winter, IDEM, ADA Congress, CDA. It is estimated that his courses have attracted over 50,000 participants.
In research, he is active in the areas of dental materials and cariology. After spending over two decades in private practice and the University of Adelaide, he joined the National University of Singapore in 2007. He was invited to the University of Queensland as Professor and Chair of General Dental Practice in 2010. In 2012, he moved to the University of Kuwait as Professor of the department of General Dental Practice and Director of Comprehensive Dental Care. In 2016, he joined the University of Sharjah, United Arab Emirates, as Dean of its Faculty of Dental Medicine and Executive Director of the associated dental hospital.
At present, his main focus in research revolves around the clinical management of caries, especially in the elderly and medically compromised patients and the interactions between the glass-ionomers and the oral environment. He has been a technical consultant to several dental organisations and was co-inventor of several dental products.
You will also hear the latest from our DClinDent Program in Prosthodontics, Endodontics, Special Needs and Maxillofacial Surgery.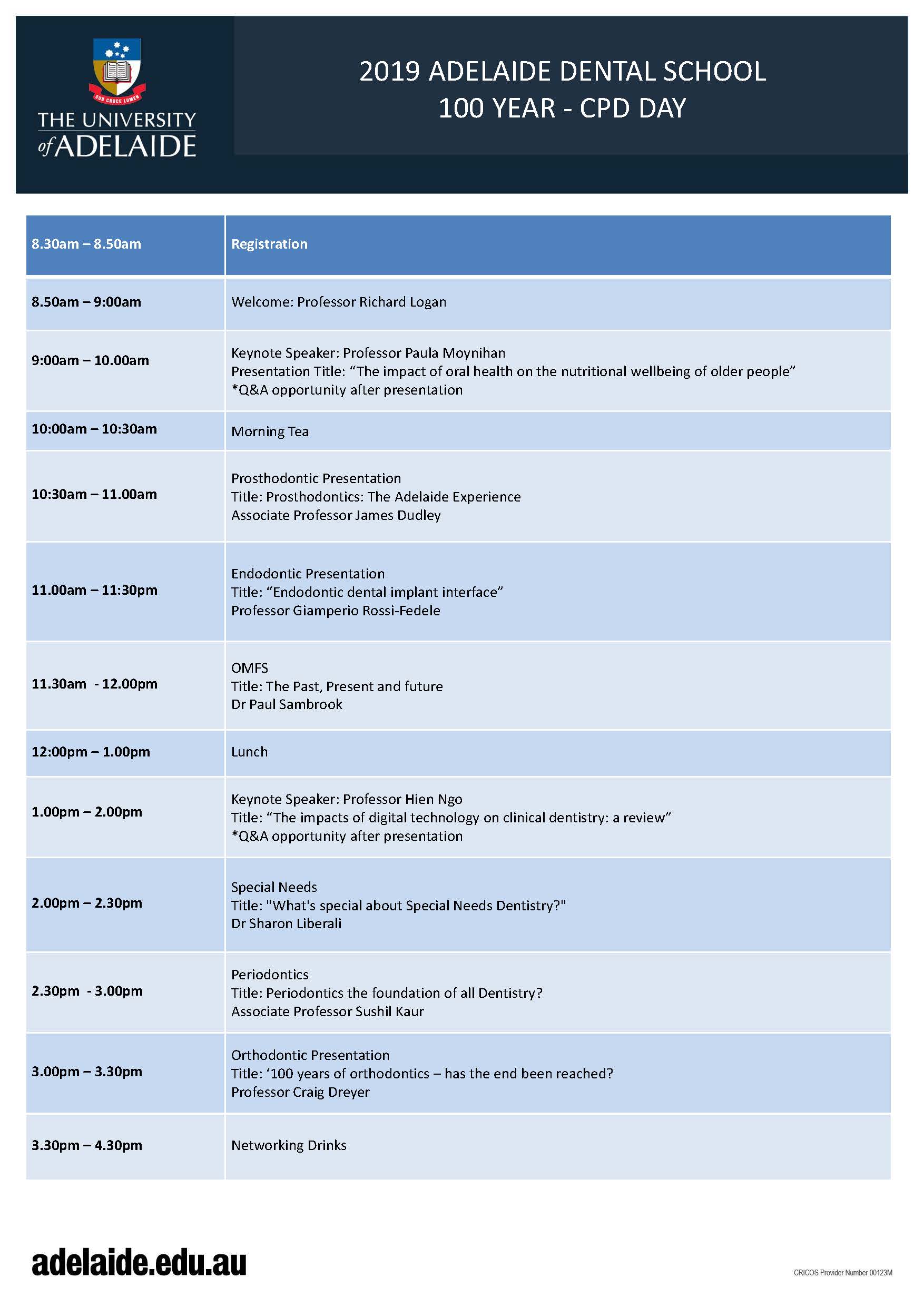 ---
All proceeds of the evening will support the Adelaide Dental School's Community Outreach Dental Program, delivered in conjunction with Housing Choices South Australia (formerly known as Common Ground).
Adelaide Dental School's Community Outreach Dental Program provides oral health care services to some of the most vulnerable South Australians in our community, including those who are experiencing homelessness, are low income earners, or have arrived in Adelaide as refugees.
The service encourages people to turn their life around by removing the barriers created by poor oral health—empowering them with the confidence to put their best foot forward.
Dental services are provided by a small team of volunteer dentists, hygienists and therapists at the Light Square Common Ground complex in Adelaide's West End. They are assisted by fifth year students from the University of Adelaide's dentistry and oral health degrees.
---
This event is proudly supported by: