Промоција на две нови книги од две сродни души (Book launch of two new books from two soul mates)
About this event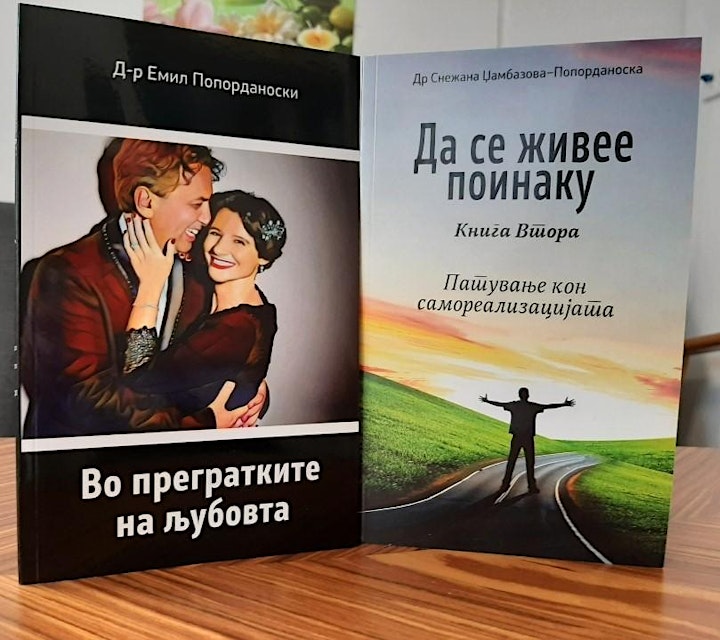 Настан кој може вистински да ви го промени животот!
Промоција на две уникатни книги во една вечер!
Срдечно Ве покануваме на промоцијата на најновата книга за личен развој ,"Да се живее поинаку: " Патување кон самореализацијата (Книга Втора)" од Др Снежана Џамбазова -Попорданоска ( на македонски и англиски јазик) и на уникатната збирка на љубовна поезија "Во прегратките на љубовта" од Др Емил Попорданоски( на македонски јазик).
Повелете на специјална дружба со авторите - брачниот пар Снежана и Емил, исполнета со позитивни вибрации, добра енергија и многу љубов!
Настан кој не сме да се пропушти!
Event which can truly change your life!
Launching two unique books in one night !
We cordially invite you to the book launch of the latest book for personal growth, "Another Way of Living: A Journey to Self-realisation (Book 2)" by Dr Snezhana Djambazova -Popordanoska (Macedonian and English) and the unique love poetry book "Embraced by Love" by Dr Emil Popordanoski (Macedonian )
You are welcome to socialize with the book authors - the married couple Snezhana and Emil - to a special event filled with positive vibrations, good energy and abundance of love!
Don't miss out!
Organiser of УНИКАТНА ПРОМОЦИЈА НА ДВЕ НОВИ КНИГИ (UNIQUE LAUNCH OF TWO NEW BOOKS)