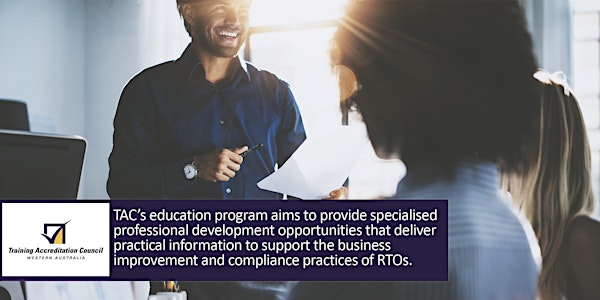 Understanding RTO Responsibilities in Recognition of Prior Learning (RPL)
Understanding RTO Responsibilities in Recognition of Prior Learning (RPL)
About this event
The Standards for RTOs 2015 require an RTO to offer RPL to individual learners (Clause 1.12). In the Glossary, RPL is described as "an assessment process that assesses the competencies of an individual that may have been acquired through formal, non-formal and informal learning". RPL must meet the rigorous requirements of assessment as detailed in Clause 1.8.
This 2½ hour workshop deals with common misunderstandings and confusions about RPL and related concepts, examines the requirements of the Standards, then presents an approach to RPL that supports the needs of the individual, industry, the RTO, the Training Package and the Standards.
The workshop will build upon the assessment processes and practices discussed in the TAC Fact Sheets and the TAC Workshops on Assessment and will provide a two-stage RPL process that supports applicants, manages workload, and preserves the credibility of RTO VET certificates. The workshop will be supported with a new RPL TAC Fact Sheet.