Understanding Electricity – Using the Tiny Science Lab Electricity Set - Online Course - Ages 11 to 15
About this event
Nine fun and challenging Science Lessons with Jacob Strickling - Science Teacher.
Understanding the basics of electricity using the Tiny Science Lab Electricity Set
Who? Students Aged 11 to 15
When? Tuesday's 8:45am to 9:45am from Tuesday 5th October to Tuesday 30th November 2021 (AEST)
What? Understanding Electricity using the Tiny Science Lab Electricity Set
Tickets? $100 Pays for the Online Course and Digital Worksheets
Equipment This Eventbrite ticket only covers the cost of the online lessons and digital worksheets. It does NOT cover the cost of the electricity set which needs to be purchased separately from Tiny Science Lab.
Use the following link to get a 20% discount which brings the cost of the Electricity set and postage down to $146.29
https://www.tinysciencelab.com.au/discount/makesciencefun?redirect=%2Fproducts%2Fjunior-electricity-set-send-home-set
The Tiny Science Lab Electricity set consists of:Plastic Slimline Stationary with foam infill to store the equipment.Click Circuit Parts (3 two click connectors, 2 three click connectors, 2 four click connectors, 2 five click connectors, button switch, slide switch, red LED, 2 battery boxes, loudspeaker, IC for music, Motor, Flying disk, 3 Light Bulb Bases, 4 globes and 2 alligator jumper leads)An Ammeter and a Voltmeter to connect to the Click Circuits (These are very exciting as I developed this product and it is the first time a proper ammeter and voltmeter have been produced for the click circuits)A super magnetComponents to make a tapping switchComponents to make a motorComponents to make a loudspeakerComponents to make an electromagnet1m or plastic tubing for electricity / water analogiesA mercury tilt switchParts to make a loudspeaker LED lights – variety of coloursLength of Nichrome wire
Tickets? Only one ticket required per zoom login. This means if siblings share a computer only one ticket is required.
Preparation?
1. Purchase the ticket through Eventbrite,
2. Purchase the electricity set at Tiny Science Lab
https://www.tinysciencelab.com.au/discount/makesciencefun?redirect=%2Fproducts%2Fjunior-electricity-set-send-home-set
3. Purchase 4 AA batteries.
4. Print out the worksheets which will be emailed at the beginning of the course.Location? Your home, the kitchen or dining room are perfect.Lesson Date Activity
1 Tuesday 5th October Introductions / Energy, Power and Electrical Appliances (Note: No equipment required for this lesson)
2 Tuesday 12th October Lamp / Batteries / Switches /
Morse Code – Make a switch
3 Tuesday 19th October Loudspeaker
How do loudspeakers work? Make a loudspeaker
4 Tuesday 26th October Series Circuits
Current / Voltage / Resistance - Ohm's Law
5 Tuesday 2nd November Series Circuits – Going Deeper
A water circuit analogy – Resistance Experiment
6 Tuesday 9th November Parallel Circuits
A water circuit analogy – Further Resistance Experiments
7 Tuesday 16th November Magnets, magnetic fields, electromagnets and ferrous fluid
8 Tuesday 23rd November Motors. How do they work? Making your own motor
9 Tuesday 30th November Power - Learn all about power
Anticipated Questions (AQ's)
I already have a Brainbox/ Clip Circuit / Snap Circuit set – do I need to buy the full Tiny Science Lab Electricity Set? Preferably yes as there are many components used in this course that are only available in the Tiny Science Lab Electricity Set.
Is there a cheaper option for the equipment? Not that I'm aware of.
What does a lesson normally look like? This is a live lesson with Jacob as the Teacher, explaining what students are to do, demonstrating, answering questions, teaching etc.
What is the maximum class size? 24 logins.
Will we need the camera on? Preferably yes. Jacob can only engage with student's who have video on. At the beginning of the course Jacob must also see that it is a legitimate child participating in the class.
Is the zoom class recorded? No it is not. If your child misses a lesson for whatever reason, then they miss out on that lesson.
Is Zoom safe? An email link to the zoom class will be emailed out to ticket purchasers. The waiting room function and passwords will be enabled to ensure genuine students are admitted to class. Jacob does not record the lessons for future viewing.
Is the class safe? Children need to be supervised by a responsible adult as Science activities can be dangerous.
What are Jacob's credentials? Jacob is a Science Teacher with 24 years experience. He has a current Working With Children Check and clean police record. Jacob has 4 children of his own and with his wife Rachel currently home educate their two youngest.
Can I invite others to buy tickets to the Course? Absolutely! The kids will love doing the class with their friends or cousins. They'll just need to purchase their own ticket and equipment
I have a number of children, do I need to buy multiple tickets? It's one ticket per Zoom login. Generally 1 or 2 can gather around a single device.
My child is dyslexic can they still do the workshop? Absolutely! They can read through the worksheet a number of times prior to the lesson. They won't be put on the spot to read and Jacob won't ask for a close look of their completed worksheet.
I've got more questions. Have you read through the description twice? Have you read through the Anticipated Questions? If you still don't know the answer then contact Jacob on jacob@makesciencefun.com.au
Syllabus Links
Physical World
Outcomes
A student:
› discusses how scientific understanding and technological developments have contributed to finding solutions to problems involving energy transfers and transformations SC4-11PW
Content
PW1 Change to an object's motion is caused by unbalanced forces acting on the object (ACSSU117)
Students:
a. identify changes that take place when particular forces are acting
b. predict the effect of unbalanced forces acting in everyday situations
PW2 The action of forces that act at a distance may be observed and related to everyday situations
Students:
h. describe the behaviour of magnetic poles when they are brought close together
i. investigate how magnets and electromagnets are used in some everyday devices or technologies used in everyday life
PW3 Energy appears in different forms including movement (kinetic energy), heat and potential energy, and causes change within systems (ACSSU155)
Students:
a. identify objects that possess energy because of their motion (kinetic) or because of other properties (potential)
c. relate electricity with energy transfer in a simple circuit
d. construct and draw circuits containing a number of components to show a transfer of electricity
e. investigate some everyday energy transformations that cause change within systems, including motion, electricity, heat, sound and light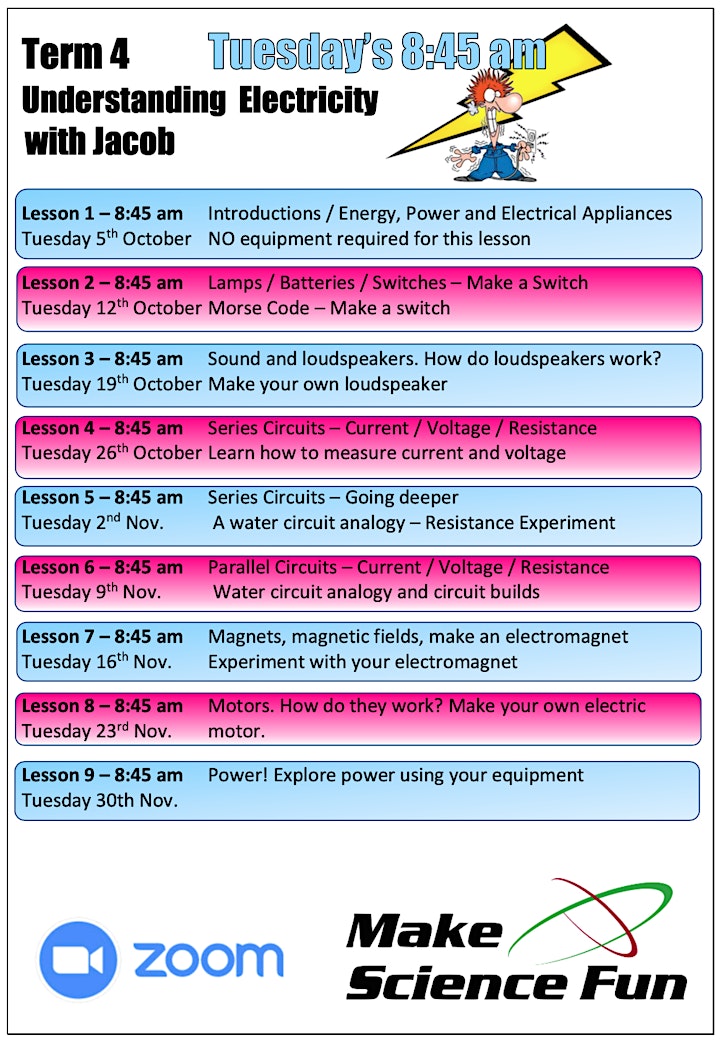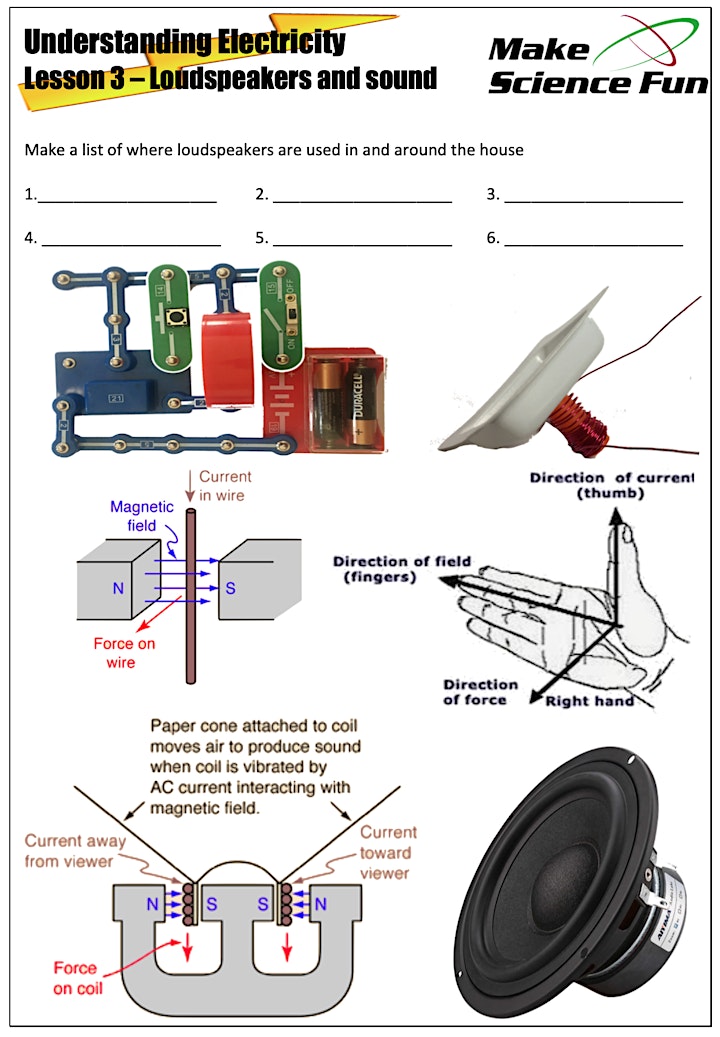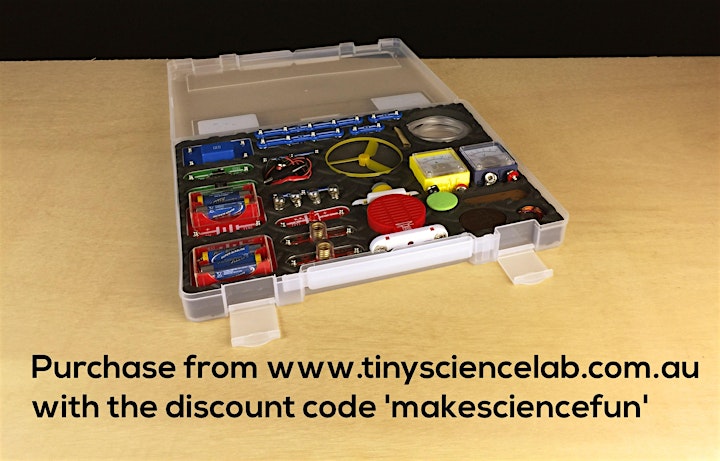 Organiser of Understanding Electricity - Online Course with Jacob - Ages 11 to 15
Make Science Fun is the brain child of Jacob Strickling.
Jacob is a passionate Science Teacher.
He spent 24 years teaching Science in the class room and now focuses his time on home schooling his youngest two children and producing fun Science videos.
Jacob enjoys provinding hands-on Science classes to online community.